The importance of baguettes and boulangeries in France is paramount. It is the lifeline of the country and has been for about 300 years or so. Today well over 30 million baguettes are sold every day in France. La tradition, as it is called in many boulangeries, is made with a light yeast dough formed into long sticks of bread with a crisp crust. Eaten with every meal in France, and a staple in most restaurants, smothered with jam and butter or used to dip in sauces, it is a delightful light and crunchy bread.
Boulangeries aka Bakeries are a huge aspect of life in French. From delivering people their daily bread and croissants they also provide the desserts for many family tables. One of the most charming stereotypes is to see is a person walking down the street with one or two baguettes under their arm, and they are always eating the end of the baguette as they walk. It's a French tradition and I love it! If you come early in the morning, your baguette will still be warm from the oven. It is a cliché that French people eat croissant every morning; chances are however they will eat baguette with butter and jam every morning. You can order it blanche (more white), or bien cuit (more well done), depending on your taste or goût. It comes in grainy wheats and cereals which also make the most incredible bread crumbs or croutons, fried in butter, herbs and garlic.
Bread even had a critical role in the French revolution. Back in the 18th century, the royalty and wealthy ate wheat bread with a vast range of meats and vegetables prepared by chefs. On the other hand, the peasants ate rye bread the sometimes-contained hair, sawdust or dirt, as ingredients were scarce. Which gave birth to the famous quip of Marie Antoinette when told that the peasants had no bread to eat, retorted with "Qu'ils mangent de la brioche", translating to "Let them eat cake". You see, bread was their only real consistent source of food. The majority of a peasant's diet came from bread, and an adult male could eat as much as two or three pounds of it a day. There was no such thing as brioche or cake for poor people. In fact, the riots that resulted in the fall of the Bastille on 14th July 1789 and helped start the French Revolution began as a search for arms and grains. Parisian peasants suspected that the rich and nobles had been grain hoarding in anticipation of higher prices, and took to the streets in protest.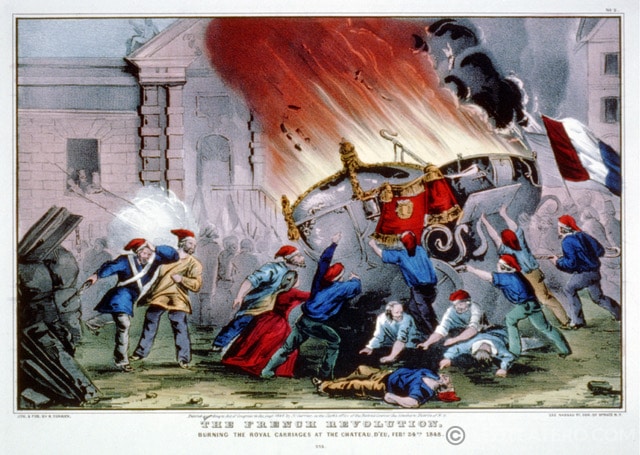 As for the shape and style of the baguette, there are several versions of how it became so popular in France. My favourite is that when the workers were building the underground metro system in Paris, the workers would get into fights and sometimes they would turn deadly as each it was common for every worker to carry a knife to cut the large loaves of bread at lunch. So, the people in charge of the metro asked bakers to create longer and thinner loaves of bread, so no knife would be needed. Another favourite version is that a law was created by the government forbidding bakers to wake up before 4am, so they needed to come up with a bread that did not need so much time to rise like traditional bread, creating the baguette. The third which was from the 19th century, said that they were created because Napoleon wanted bread that was easily stackable and transported, unlike round loaves which were common at the time.
The word baguette comes from the Latin baculum which became baccheto (Italian) meaning staff or stick. Like many products in France, there are rigorous laws around what qualifies or doesn't qualify as a baguette. It can only include the four ingredients: flour, salt, water and yeast. It is traditionally around 24 to 30 inches in length and needs to have been baked on the premises where it's sold. But for all this precision, making a baguette is a surprisingly simple affair; bakers start by whisking together water and yeast, before adding in the flour and letting a dough form. Salt is then added and the dough is kneaded until elastic and smooth, then the surface is cut open and then it's left to rise in a basket lined with couches or cloths. Its then baked until golden brown and dusted with flour. And the key to knowing if it's a good batch? The gentle snap and crackle it should make as you press the crust.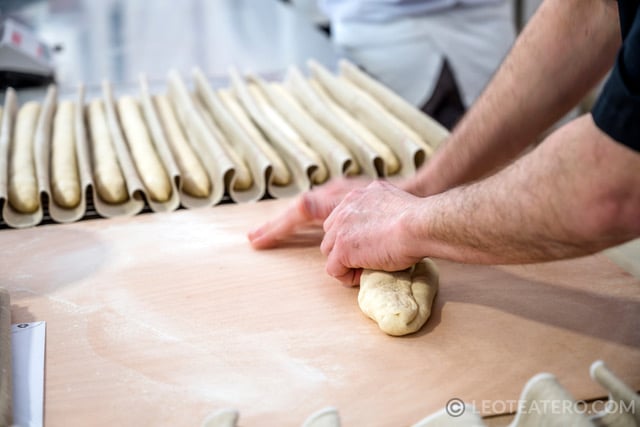 Le Grand Prix de la Baguette began in France at the end of the war, to decide who made the best baguettes, and it is still exist today. Nearly 200 bakers compete every year in front of a panel of judges, following strict guidelines. They are evaluated based on baking, appearance, smell, taste, and crumb. The winner receives 4000€ and supplies France's president their daily bread for the duration of that year, until a new winner is chosen. Today, they are a symbol of France known world-wide.
The Best Boulangeries in Montpellier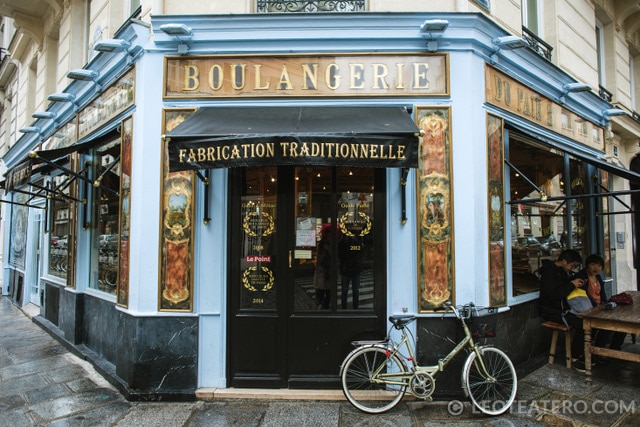 France has over 32,000 bakeries or boulangeries as they are called in France. I put together a short list of the 10 great bakeries in Montpellier.
Maison Bonnaire, 45 rue St Guilhem (at Jeu de Palme). This is my main place to buy bread. Their baguette is very good but they also have loads of other traditional breads, great large bread for charcuterie or cheese platters. One called Le Bucheron earned them a bakery award in 2014. Their eclairs are unbelievably fabulous, original and tasty, same with the cakes. They also are known for their Panettone, an Italian brioche. Expect a line-up, but well worth the wait.
Des rêves et du pain, 10 rue Eugène Lisbonne, Montpellier. I would suggest this is the most popular and renowned bakery that won the TV show La Meilleure Boulangerie de France, a few years ago. They make lots of tarts, desserts, brownies, but everyone comes for the bread. The is always a line-up and they routinely sell out too.
Maison l'Oeuf, 15 rue du Faubourg (near the Saint Denis Church. It is a relatively new bakery and again very popular. I go here more their pies and also their grainy baguettes. The egg form pastries they do are absolutely delicious.
Elementaire Boulangeries, 578 avenue de la Mer-Raymond Dugrand in Montpellier. It is a lovely pastry shop in the Port Marianne district, close the Jacques Coeur Basin. Well known for their desserts and the view of the park.
Scholler: two locations, one in Montpellier and the other in Castelnau-le-Lez. This is an institution, extremely well known and delicious. Their galette des rois is divine, and both stores are stand-alone buildings with large parking lots.
Boulangerie Patisserie Ortholan, 146 avenue du Toulouse. The pastries and desserts are out of this world designs. They have all the basics for bread and then interesting additions like cassis rye bread. They also sell their wares at les Halles Plaza, a place by the Comédie and third one on rue de la Loge across from McDonalds.
Maison Tessier, 8 rue Saint Guilhem (near les Halles Castellanes). They make the list because they are opened 365 days a year, which makes it very special. They make a special bread called Grand Siècle which is a thicker baguette and divine.
L'Authentique, 7 rue du Faubourg de la Saunerie (south of Observatoire), located near Maison l'œuf by Saint Denis, they have loads of traditional breads and pizzas as well as traditional desserts.
Au Rythme du Pain, 11 rue du Faubourg Boutonnet (near Stade Philippidès). Their petit choux is to die for! They also make wonderful nutty breads.
Ô Pain Délicieux, 18 rue Bernard Délicieux (near Marché Beaux Arts), They exclusively use natural sourdough and are known for the brioche and cookies too.
While France consumes a lot of baguettes every day, shockingly it is not the country that eats the most amount of baguette daily. Indeed, with 49 000 000 baguettes eaten daily, Algeria is the country that eats the most baguettes every day. Morocco and Tunisia also eat baguettes daily and in Vietnam, the baguette is used to create the national sandwich: the banh mi.
And here is my final tip, baguettes also freeze beautiful, you can re-bake them from mildly-stale or frozen by coating them in water and placing them in a hot oven for 7 minutes and presto crispy with a soft interior. I always keep two or three half baguettes wrapped in plastic in my freezer just for those days when I want fresh bread but don't want to leave the house to get it.
Vivre ma France,

Receive the news in your emailbox
If you like this articles , you can subscribe to our weekly newsletter.