Another little family weekend trip turned out to be a discovery of a new town and region in Occitanie. Located far from our beaches, nestled in the mountains, we reached Castres, aka the little Venice of Occitanie, known throughout the country for its rugby team and its pharmaceutical and cosmetics manufacturing. So, after 2 hours of driving through stunningly winding roads past the Montagne Noire we found Castres.
Located north of Carcassonne and east of Toulouse, Castres was built on the ruins of a Roman village, giving the city a history well over 2000 years.  The brightly coloured houses with corbelled facades and basements immersed in the river, built alongside the Agout River in northern Occitanie.  The alignments of the facades along the river are reminders of the city's first vocation linked to the textile industry.  Here tanners and leather makers worked along the banks using the water source not only for shipping, but also for their trade. Second and third stories were used for drying their work and the top stories for living quarters.
Houses along the Agout River

One of several bridges



Agout River

Colourful buidings
Its most famous son is Jean Jaurès, one of the most prominent and earliest socialist political figure in the late 19th century, whom every French person knows by name as a humanitarian and pacifist advocate and for his contribution to workers and social rights. He was born and started his political career here in the 19th century. A teacher, philosopher, then later writer and journalist turned politician. Serving as the Member of Parliament for Tarn for 17 years in two different periods. He was the premiere spokesperson for the entire working class bringing his eloquence and pen to the service of social improvements of the day.
After the publication of the famous article "J'Accuse" by Emile Zola in 1898, Jaurès defended Captain Dreyfus since it was not merely an individual affair, but the sufferance of a falsely convicted man and his political consequences. A true pacifist, later he tried to make people aware of the consequences of the imminent 1st World War. Sadly, he was assassinated and became for many in France; the first man to die in the 1st World War, although technically he was killed the day before the war.
When he was first elected.

Days before his assasination
Musée de Jean Jaurès
You will find at least one street or place (like a town square) named after Jean Jaurès in most every French town and city. He remains a demigod in socialist France. Here, in Castres, there is a museum dedicated to him located near the main town square which is named after him, where the weekly market is also located.
Place Jean Jaurès
During the reign of Henri IV, a period of great prosperity occurred, and numerous private Hotels Particuliers were built for the new Magistrates, both Catholic and Protestant. Many are still around today and can been seen on a walking tour of the city. Hôtel de Nayrac combines bricks and stones creating harmony between the corbelled turrets and lattice bays around the door. Hôtel de Viviès, Hôtel Jean Leroy and Hôtel de Poncet are other examples of these kinds of expensive merchant homes.
Hôtel de Viviès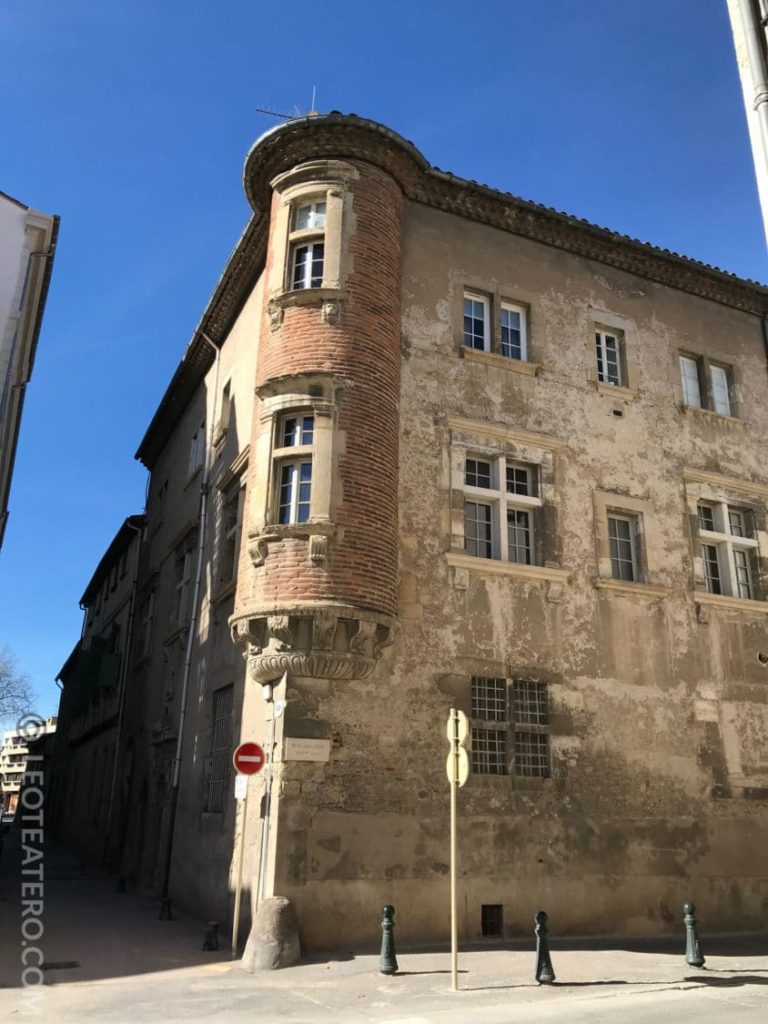 The Bishop's Palace and sumptuous manicured gardens also border the Agout River. You will also find the belfry from the original 9th century abbey is still located inside the palace, which was designed by Jules-Hardouin Mansart, one of the architects of Versailles. André Le Nôtre designed the exquisite gardens behind palace in the 17th century and more than 300 years later its embroidered boxwood hedges follow the exact pattern as they did when they were laid out. They create a stylized and elaborate natural decoration that you'll want to step back to see properly. There are two of these formal parterres, as well as four English flowerbeds and a chestnut grove at the back. The gardens also have a slightly irregular trapezoidal shape so that they'd seem symmetrical from the windows of the palace.
Boxwood Hedges

Bishop's Palace Fountain

Coned Shrubs

Bishop's Palace Gardens
The Bishop's Palace is also home to the Hôtel de Ville (city hall) as well as the Goya Museum, which is sited as one of the most important collections of Spanish Art, outside of the Louvre, in France. Works include Goya, Velázquez, Pacheco, Miró and Picasso.
Portrait of Thomas Harlan, Gouache

Witches' Sabbath, Goya
Other catholic monuments include Eglise Notre Dame de la Platé, whose carillon has 33 bells and has not stopped ringing since its installation in 1847.
The Carillon of Église Notre Dame de la Platé
We also stayed at the beautifully modern renovated family owned hotel, Grand Hotel de Castres, which has been hosting guests since 1909. Located along the Agout river between Place Jean Jaurès and the Bishop's Palace our room overlooked the river. In the summer you can take the Riverboat, Le Miredame along the banks of the river.
One of the satisfying things about eating out in Castres is that you can have a meal where every course is a local or regional specialty. The starter could be melsát, a typical charcuterie made with pork offal and tastier than it sounds, or bougnette, another cold-cut involving pork belly, breadcrumbs and egg cut into slices. Main course can be confit de canard (cured duck legs), parmentier de canard (duck parmentier) or cassoulet, which is a variety of pork and poultry cooked slowly in a stew with white haricot beans. And for dessert there's poumpet, a flaky pastry filled with a lemon and Bergamot orange paste; this preparation was imported by the Moors in the middle ages.
Duck Confit

Cassoulet
The city also boasts several festivals during the year, including Venetian Carnival in partnership with Colori d'Italia. The program features parades in the city centre of Venetian Masks of France, concerts and musical strolls as well as a ball. This past weekend was the carnival, but check out the Ville de Castres website for photos and information. Next year's event takes place after Mardi Gras in France.
Locals dressed in Venetian Costumes.
It's a great city to wander around, not too big yet not too small, with a relaxed atmosphere and the warmth of the southern culture so typical in Occitanie. Should you consider visiting, the summer season will allow you to enjoy the gorgeous surrounding mountains and rivers for hikes, swimming and kayak. And get ready for hearty meals.
Vivre Ma France,

Receive the news in your emailbox
If you like this articles , you can subscribe to our weekly newsletter.