I've always had a thing for flowers. Perhaps it stems from my childhood; my mom, who is a big gardener, always had fresh flowers and flowering plants in the house. And so, at a young age, I learned that taking care of a living thing makes us feel good about ourselves. If you want to create a warm environment, flowers are the way to do so as it signals the brain that you're entering a safe and welcoming space.
I'll talk about my tips and tricks with flowers later, but first the key to having affordable flowers in your home year round is to buy what is in season. So let's first talk about seasonal flowers.
Spring
Le printemps is the biggest growth time for flowers and flowering plants and it's no coincidence that spring and summer are the busiest time for weddings and events. Spring plants include violets, daisies, peonies, fruit blossoms; bulbs of all kinds like daffodils, hyacinths and tulips and lilacs. Irises are big in France and they line the streets everywhere in Montpellier. Try different bouquets like the grandness of forsythias, or elegance of poppies, both grow wild in France and are easily accessible in the wild.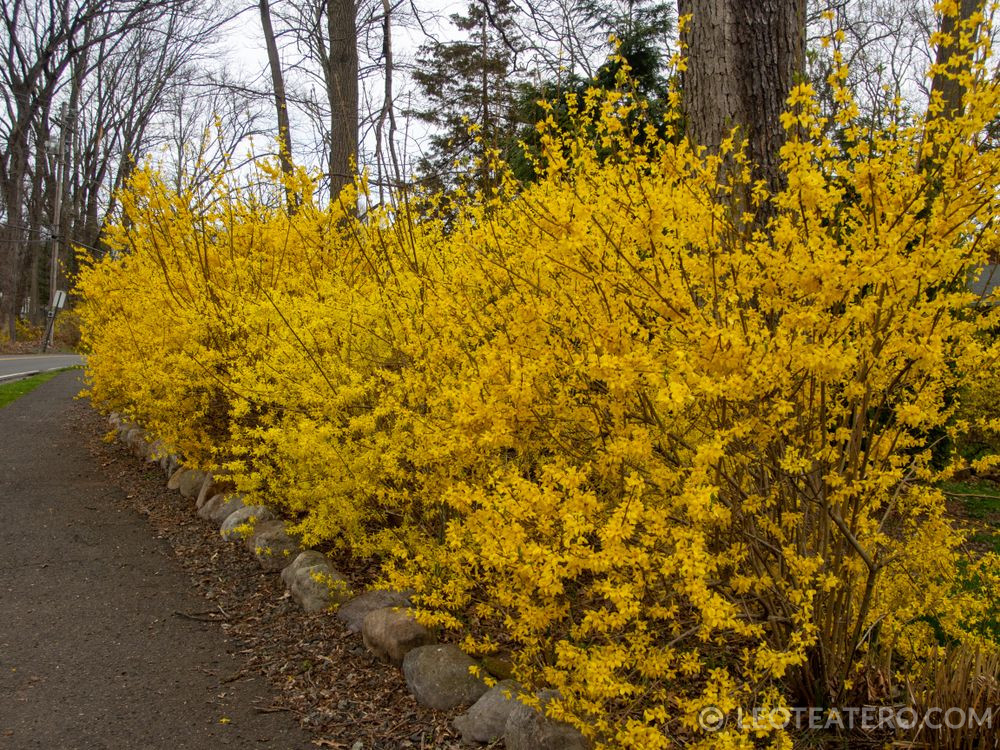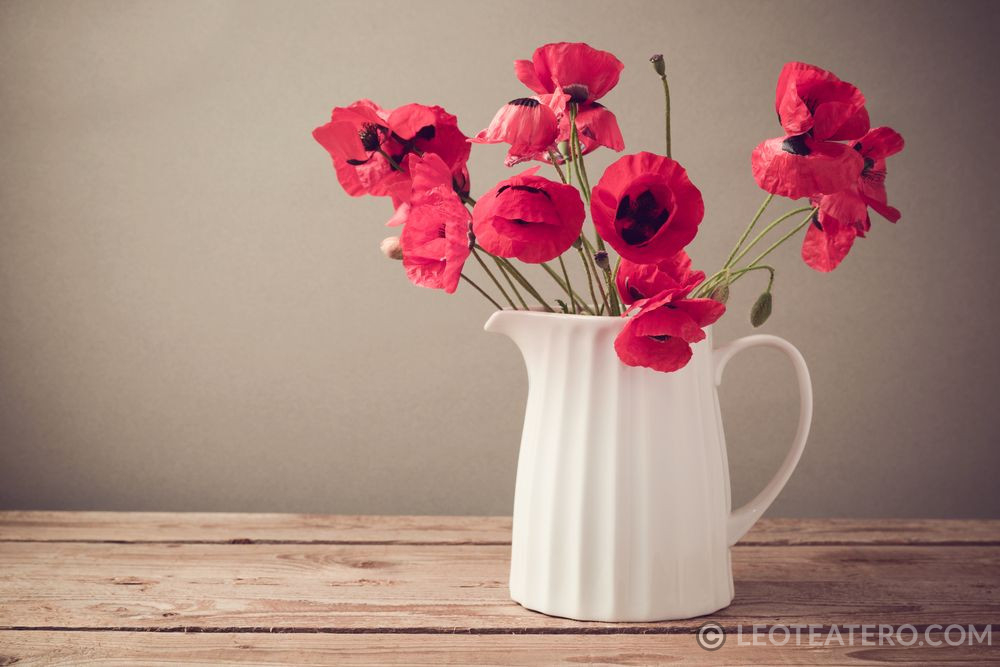 For my spring table, I buy bulbs at the local big market, le marché des arceaux and plant hyacinth surrounded by daffodils, for a grand total of 12€. The daffodils bloom first and create great support for the hyacinth to grow straight and not topple over. They last for just over three weeks. You can replant many bulbs immediately into a garden and they will take for the next year. But do check with the seller as to whether they are hybrids or not. Hybrids usually cannot be reflower again.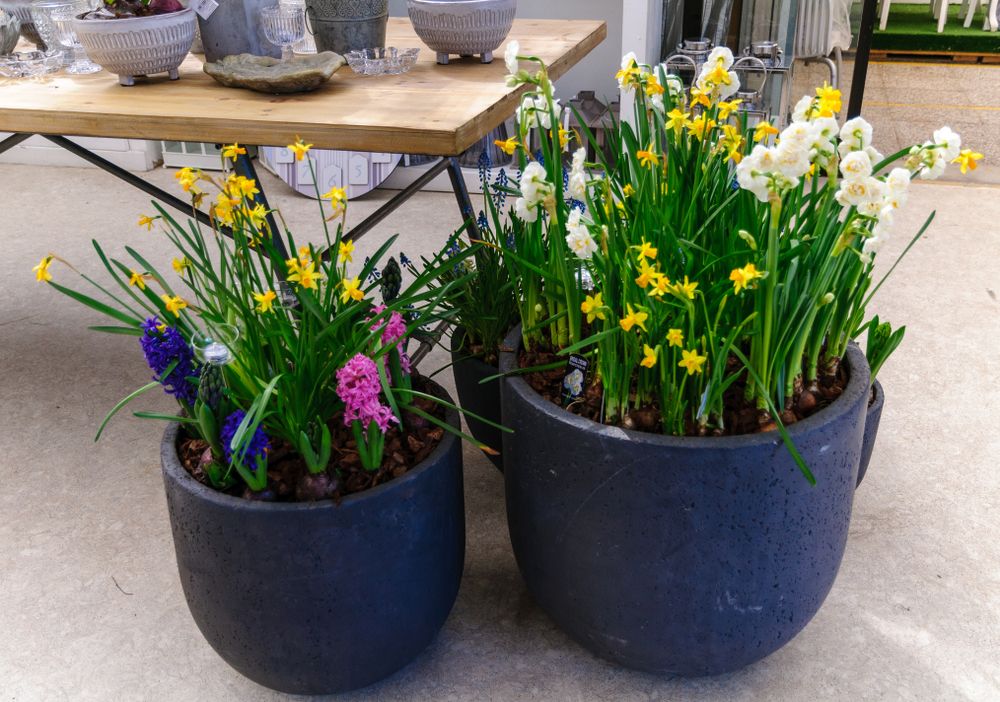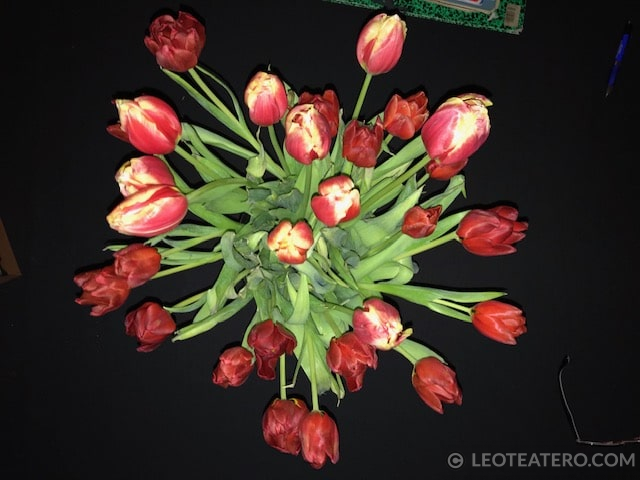 In France on the first of May, la fête du muguet (Lily-of-the-Valley Day) is celebrated. The custom on this date is to give these flowers to friends and loved ones for good luck. The date is coincides with Fête du travail (Labour Day) and the French government permits individuals and workers' organizations to sell them tax-free on the streets.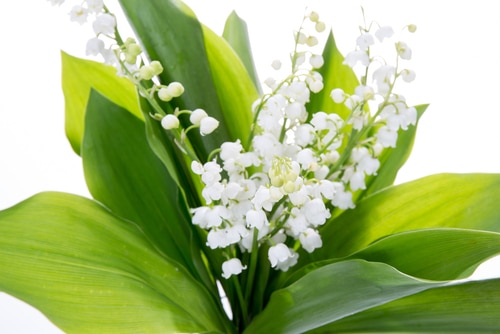 Many orchids flower at the end of the winter, are abundant in France and are shockingly inexpensive. A great orchid will cost maybe 12€ as compared to $40 in Canada. I give my collection of orchids a water bath for three hours every Sunday afternoon and they flower well. I also use many cut orchids for my events. It is an affordable flower and as you can see below, you don't need many to make a big impact.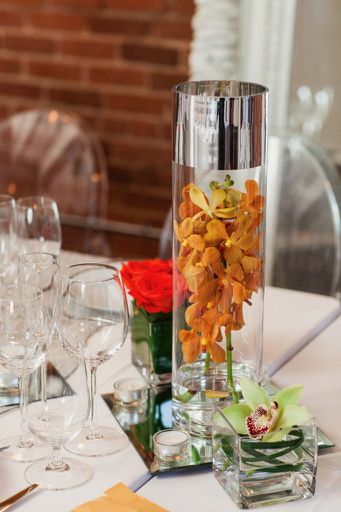 Summer
Spring and summer flower seasons do tend to be one big season really. Irises continue to bloom into mid summer. Lilies will begin in the spring and bloom until the fall. But there are some summer flowers, like sunflowers, peonies, delphiniums, azaleas, gladioli, tulips, asters, chrysanthemums, gingers, lilacs, and many types of lilies.
The flower of Paris, the traditional fleur-de-lys is a stylized iris, symbolizing faith, valour and wisdom in French culture. It is also sometimes mistaken for the lily, which also has been an important part of French and Florentine monarchy.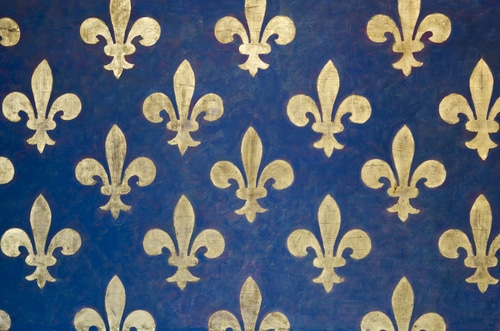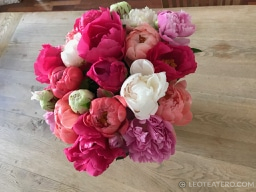 As there are so many choices, I never buy the same thing annually for the summer. Just what looks good and is inexpensive. I like my summer flowers formed and tied like bridal bouquets. I'll do a blog on arranging flowers later this year, it's not as hard as it seems.
Autumn
As the growing season starts slowing down, there are still some flowers from summer that last. Sunflowers often continue to bloom well into the fall. Seasonal fall flowers can include marigolds, carnations, chrysanthemums, roses, daisies, lilies, alstroemeria (Lily of the Incas), dahlias, and hydrangeas.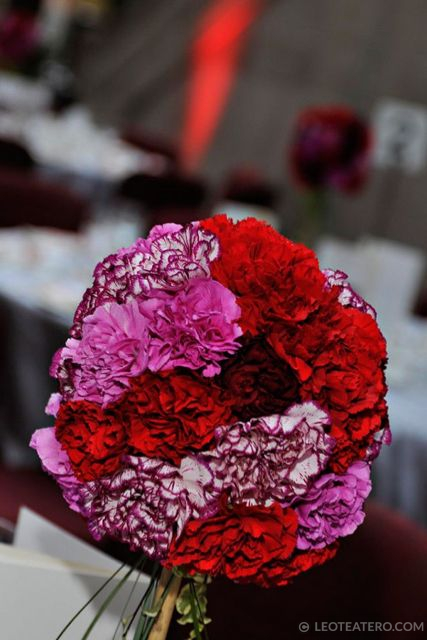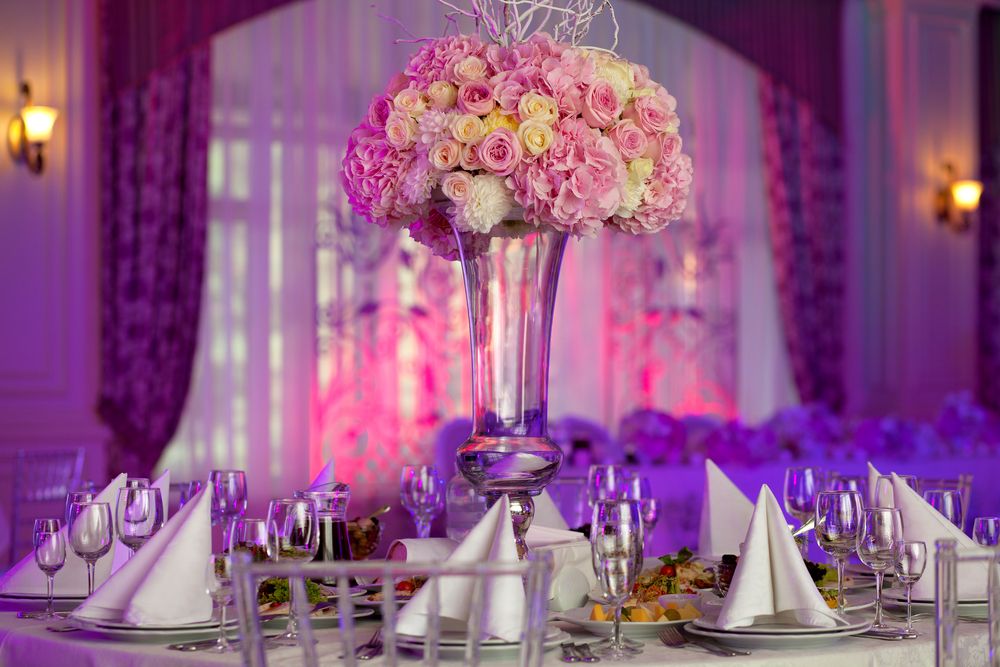 Being a hydrangea lover, I was pleasantly shocked to learn that there are over 800 varieties of Hydrangeas in France, most notably in Brittany. There are huge bushes everywhere, some easily reaching ten feet high. Every shade you can imagine is represented, from deep blues, purple, raspberry, pink, and of course the popular white. Sometimes, I dry the darker ones for year round colour.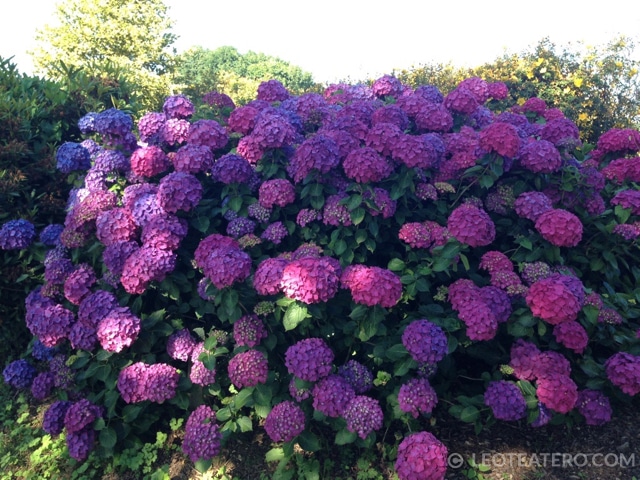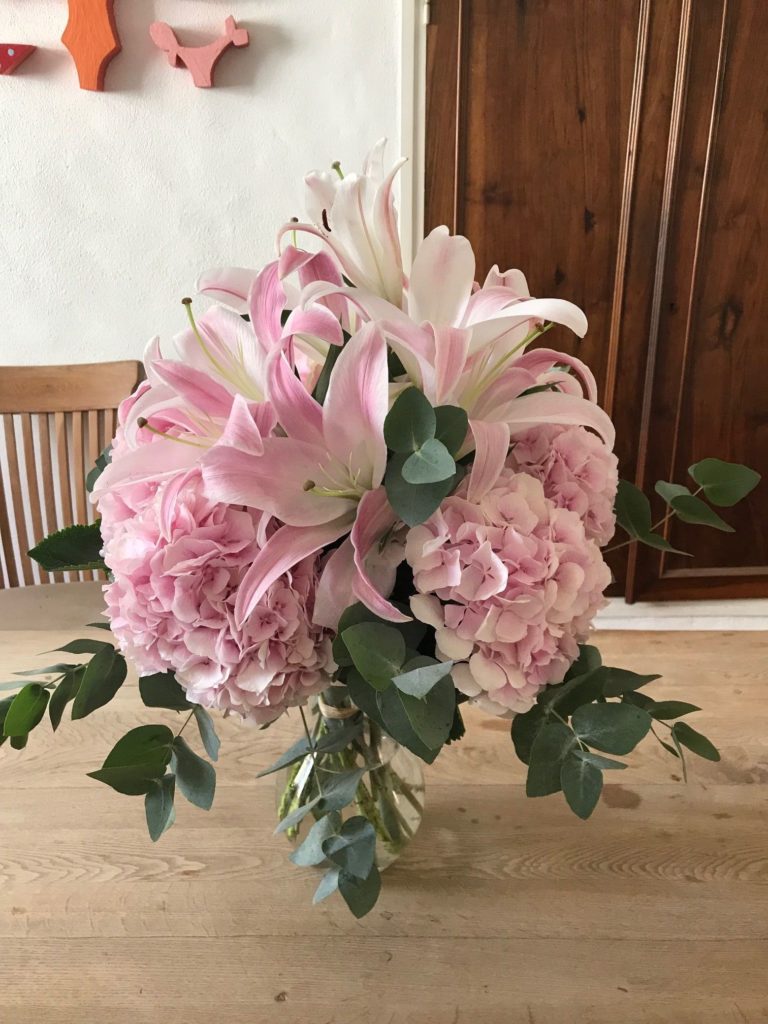 Winter
I buy more flowers in the winter months, unlike most people who buy during the summer. Flowers are a less common gift or decoration in winter than during any other season of the year. Poinsettia plants, sell in the tens of millions every year as Christmas gifts or holiday decorations.
I would rather buy the other popular holiday flower the amaryllis. Near the end of November, I buy two or three, when they are inches high and pot them together. You are guaranteed at least four to five weeks of greenery and flowers, but you need to use supports like bamboo. Again, these bulbs can be replanted and bloom again in your garden.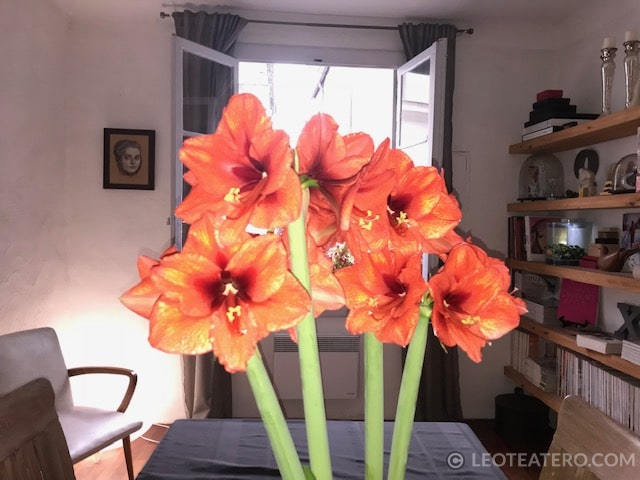 Other popular winter flowers include roses, delphiniums, carnations, chrysanthemums, and the Star of Bethlehem. Another favourite of mine is the mimosas tree, the symbol of winter here in Montpellier. This bright brilliant yellow tree begins blooming in early February and is always on my table shortly thereafter.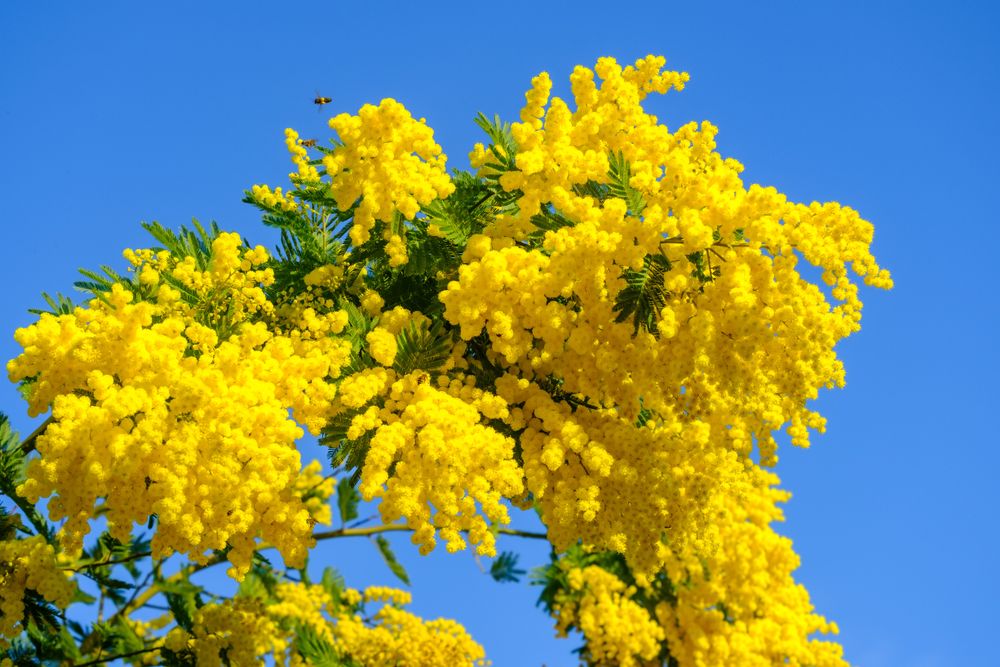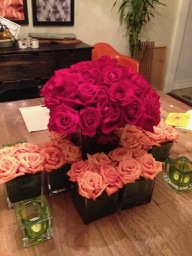 Most flowers come from the Netherlands, which possesses just over 50% of the cut flower industry. Other markets include United States (California), Ecuador, Columbia, Kenya, Malaysia, Vietnam, Belgium and Germany, each possessing single digits of the pie. The reality is that many flowers now are available year round. Roses, gerbera daisies and lilies can be bought throughout the year. But don't ask for a tulip in August, they'll be as precious as hen's teeth.
Where to buy flowers
Supermarkets. While it may seem like a great idea, chances are the pricing is the same as a small flower shop and the stock and staff are not up to snuff. So stop giving corporations your money and give it to the little guys.
Markets. These are independent florists and you can get good quality. I love buying flowers after my shopping at the food market, le marché des arceaux. For me it's the icing on the cake.
Floral shop is the best place to go. They will have most everything in stock and can deliver within the same day and they are professionals. But do check them out on line first and read the reviews. I can recommend the following places in Montreal (NDG Flowers), Toronto (Teatro Verde), Paris (Marché-aux-fleurs on Ile Saint Louis) and in Montpellier (Joséphine and Hélène Jean Fleuriste, who is located at Les Halles Castellane).
Event florists are another way to get flowers. These are the designers of bespoke flowers for events and weddings. I worked with many over the years and can assure you their work is transformative and the prices usually reasonable.
Flower tips and myths
When you cut flowers place them in cold water, not warm. With few exceptions, warm temperatures rob the flower of food and water, often resulting in dehydration. Warm water can be used to force bulbs to open more, but it will shorten the length of the bloom.
Do not add sugar to the water; instead add a tablespoon of bleach. Bleach discourages the growth of bacteria and keeps yeast and fungi away.
To extend the life of your flowers, trim the stems every three days and change the water at the same time.
The old rule of making table arrangements with many kinds of flowers is just that, old. I rarely do, mostly; I use one flower and lots of them.
If you are bringing them as a hostess gift, make sure they are ready to go, tied like a bouquet, preferably in a vase, so they only have to add water.
If you need to buy from a supermarket, go with one kind of flower and buy at least 12 of them, 18 is better. Bring them home and re-wrap them all in one package of brown paper or old newspaper. Tie with a ribbon
You can follow full floral etiquette and chose your colours with historical significance, as each colour and flower represents a certain message. Additionally there are birth flowers for every month.
Flowers that are from trees, like lilacs hold up much longer if you remove the leaves, crush the stems ends, and place them in a container of wood alcohol (methanol). Let them stand in a cool place, out of drafts, for about an hour (or a little longer if branches are large). Remove and put them in cold water in a refrigerator overnight. This works for other branch flowers like, apple and cherry blossoms.
For Hydrangeas, you need to slice the stem downward on an angle, trying to open as much surface as possible for maximum water retention, as the stems have difficulty absorbing water.
Having allergies does not mean you cannot have flowers in your home. Allergy-friendly petals come in a rainbow of different colors, shapes, sizes and scents. Try orchids, lilies (stamen removed), hydrangeas or geraniums if you're worried about your allergies.
Pets and plants do not mix. Roses, orchids and African daisy are pet friendly, but do check before bringing flowers home, especially if you have a cat. Lilies, daffodils and tulips are not.
For those of you with backyards, think about installing flowering plants that will provide wonderful bouquets at home. Hydrangeas, lilies, forsythia or even a fruit tree for blossom branches in the spring. It will save on your flower budget and help keep fresh flowers in your home.
I will leave you with a great thought which I recently came upon, "If you want to change someone's perception of you, give them flowers". I completely agree.
Vivre ma France,

Receive the news in your emailbox
If you like this articles , you can subscribe to our weekly newsletter.