As many of you know I am a big fan of gin. It's been my go-to drink for years and now friends of mine are actually making and selling delicious artisanal gin with the recent launch of La Thériaque Spiritueux. My dear friends Lana and Sunshine not only launched their product line last year (that's right, during the pandemic) but they were also met with delightful results. It's now the rage here in Montpellier and they are starting to expand all over France. It goes to show you that it is never too early or late to start a business. I've even got excellent recipes with their products including one for making salmon gravlax, later in this blog. But first let's talk about these two ladies and their business.
Lana and Sunshine are two American women living in the South of France making natural spirits from our adoptive home. They both have dedicated their careers to their passions: food and drink. They both started their careers in the United States — Lana as a sommelière and Sunshine working for a cookbook publishing house. Later they moved to France where they met while each working as export-managers for French wine companies. Their common love of the conviviality of wine and spirits, their passion for local products and traditions and their desire to express the beautiful and rustic landscape of the south of France led them to create La Thériaque Spiritueux.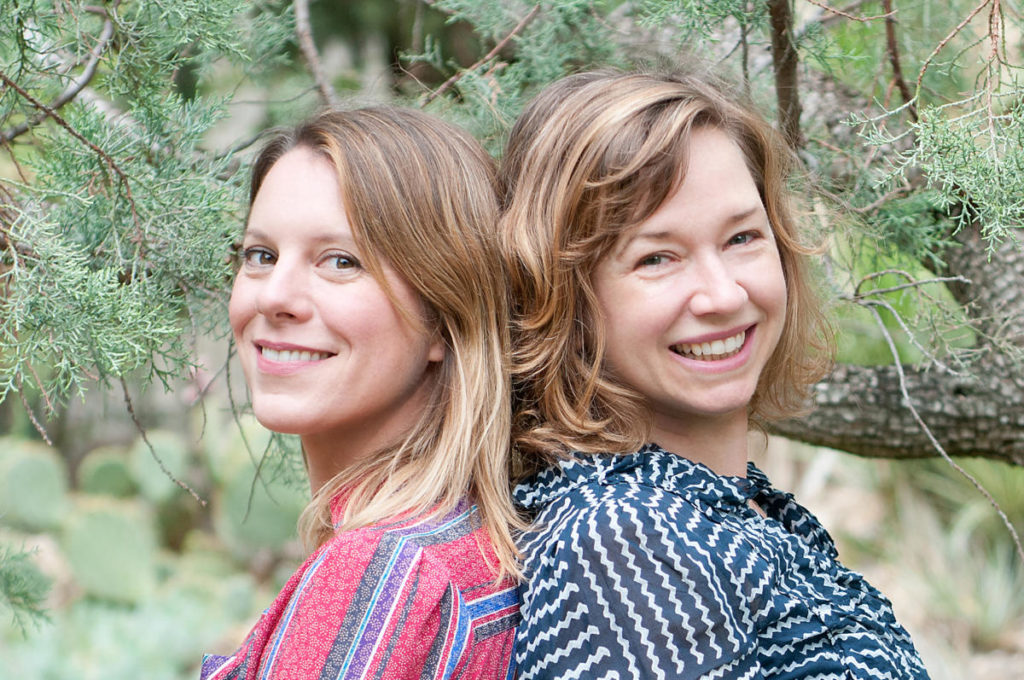 I met with them recently to talk about how they started their business and they told me it "was wonderfully challenging". There was a big learning curve for distilling, but also just to open and operate a business in a foreign country. They said they were very fortunate that they are able to work in nature and bring their spirits to people who are passionate about terroir and appreciate a good spirit that takes longer to produce than mass produced ones. While they may be outsiders by their passports, cultures and language, they felt absolutely welcomed in the South of France, all over France and they cannot wait until travel restrictions are lifted to bring their spirits to the rest of the world.
Let's talk a bit about their name, the word & concept behind "La Thériaque" comes from ancient Greece. Its described as "a potion used to treat a wide assortment of ailments". The Mediterranean region and especially Montpellier was a centre for these products for well over a thousand years. Then the first recorded mention of La Thériaque in Montpellier was around the 2nd century. This recipe first included snake venom, but the ingredients evolved over the centuries and in the 17th century the "Montpellier version" was renowned and considered one of the best all over Europe, not just the Mediterranean. The ancient tradition of distillation for medical purposes remained the norm in the south of France well into the early 19th century, when we first started to see distillation for recreational use. In 1805, the south of France, was home to over 1000 distilleries, producing more than two-fifths of all French spirits. Its popularity lasted for a rather long time, all the way until the beginning of the 20th century when the government first began to regulate medicine and outlawed these local remedies. My friend's chose the name as a nod to the region's history of La Thériaque and for the cheeky nature of calling spirits "cure-alls".
Lana and Sunshine's process is all natural and hand made. From foraging in the wild and picking each of the wild herbs, to the hand-mixing, bottling, labelling and waxing the final product. As many of you may know, gin is actually made from alcohol and juniper berries. Lana and Sunshine's process is a little different as they distill wine and add in their ingredients, all locally sourced from La Garrigue.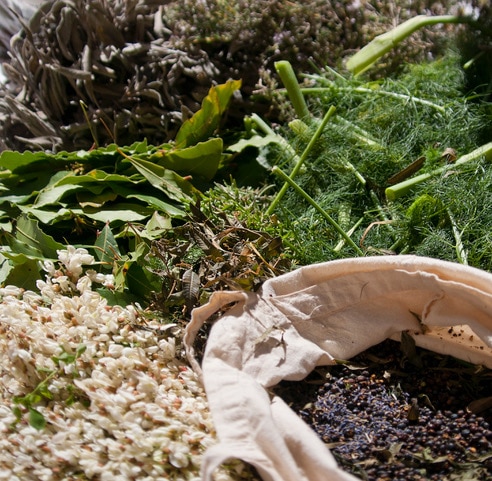 La Garrigue is the low shrubland region in France and many of the plants, berries and herbs have a resinous flavour. Recently it has been one of the hot products of haute cuisine. But the locals have been harvesting and making foods from these for centuries. It is often composed of kermes oak, lavender, thyme, and white cistus. There may be a few isolated trees. Garrigue is disjointed with widely spaced bush associations with open spaces, and is often extensive. It is associated with limestone and base rich soils, and calcium associated plants. Aside from dense thickets of kermes oak that punctuate the garrigue landscape, juniper and stunted holm oaks are the typical trees; aromatic lime-tolerant shrubs such as lavender, sage, rosemary, wild thyme and Artemisia are common garrigue plants.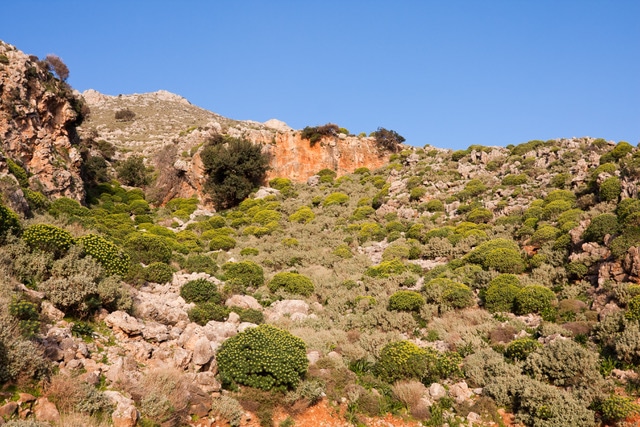 Distilling spirits from natural wine allows them to keep one foot in the world of wine and to maintain their relationships with the winemakers with whom they have a kindred spirit. Their days vary from one to the next, they may visit a winemaker and taste her wines, go foraging for plants, distill the wine and plants in their old still to make the most terroir-driven spirits they possibly can, or travelling around to shops, restaurants, bars and importers who share their philosophy of making natural, traditional spirits.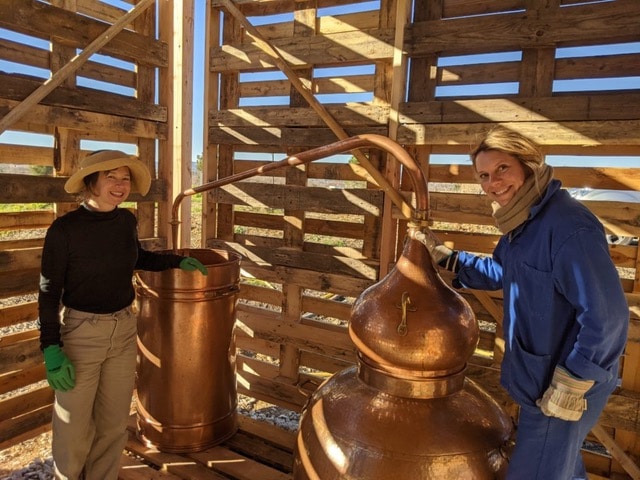 In these products Lana and Sunshine have created a secret recipe for their distinct flavours: La Garrigue and Pic-Pic.
Garrigue Gin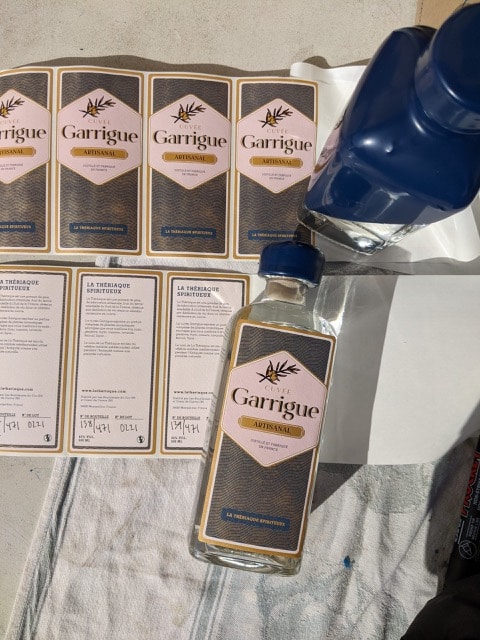 Is a complex gin made from native herbs, fruits and flowers of la Garrigue. It has a wonderfully strong and expressive aroma but is well balanced. La Garrigue Gin is meant to be a sipping gin. Great as a martini or shot. Many of their clients and friends have have fun playing with the intoxicating aromas and style. It's the perfect addition to the basic Martini. Just use half dry vermouth and half La Garrigue gin. Stir with ice to chill and then discard ice to drink. Garnish with olive or lemon peel.
I also make Gravlax with La Garrigue. It's so easy and foolproof. Just click here for the recipe.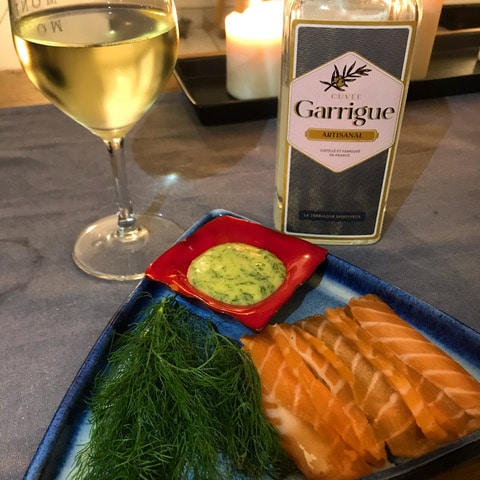 Pic–Pic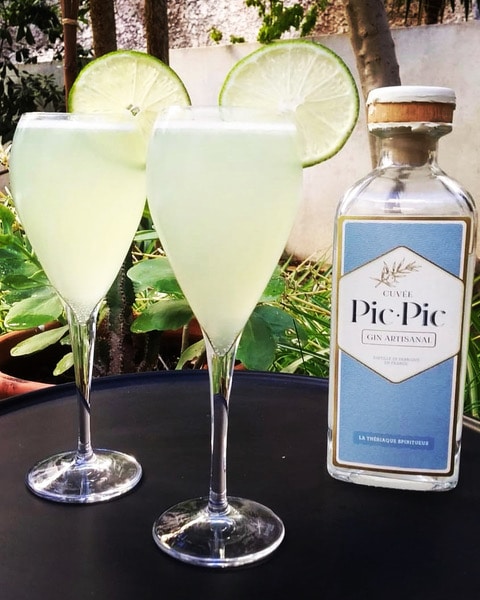 Pic-Pic is their traditional-style gin that presents the beauty of the wild juniper from the South of France. It is subtle, smooth and floral with great length. Arbouse, an indigenous fruit from this region, adds brightness and a familiar, yet distinctive, citrusy flavor. Pic-Pic is made for longdrinks and cocktails, but is also delicious with artisanal tonic.
A simple Gin Cocktail starts with 2 parts Pic-Pic gin, 1 part acid (Lemon, lime or any citrus juice), ½ part sweetener (simple syrup, agave, sugar). Garnish it and switch it up by adding your other favourite flavorings as you like. For the perfect Pic-Pic Cucumber Cocktail, try 3 parts Pic-Pic Gin, 2 parts cucumber juices, 1.5 parts lime juice a touch of sugar or simple syrup. Shake with ice and pour into a glass. Top it off with some sparkling water and cucumber or lime garnish.
I cannot recommend this south of France product enough. We've even given them as gifts to friends and clients, and it is always in stock in our bar at home. La Thériaque Spiritueux ship everywhere in Western European Union. Shipping costs will vary depending on country and number of bottles (they ship up to 6 bottles) and they offer two options for deliver regular or express shipping. Just click here on their logo to link to their e-shop: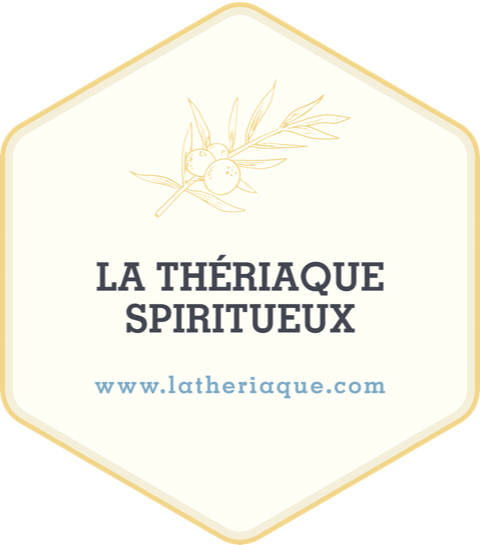 You can also find their products in many French cities, here is a list of those locations and it's growing fast. They also recently were recently interviewed for a podcast called 52 Martinis. It is quite interesting and you can hear them speak about how they started it all. Here is the link. They have also recently been featured in Whiskey Mag: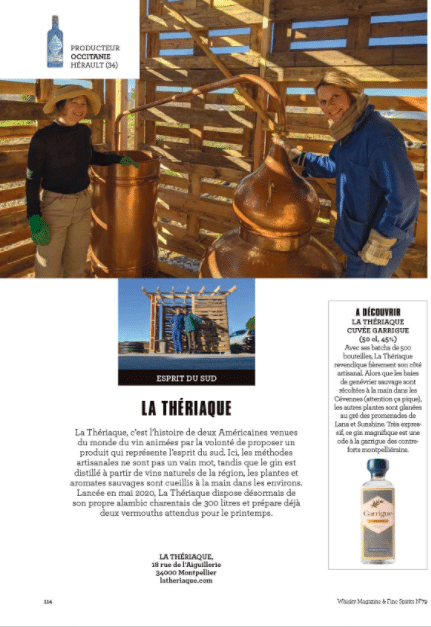 I'm just so happy for them to have launched their own business and encourage everyone to follow their dreams as Lana and Sunshine have. It's never too early or late to start your dream job. Remember, you only need permission from you to become an entrepreneur!
Vivre ma France,
Leo

PS – Remember one must consume alcohol in moderation and never drink and drive.
Receive the news in your emailbox
If you like this articles , you can subscribe to our weekly newsletter.