I was organizing a dinner for a client recently in Montreal, Canada, and I was shocked when I started calling restaurants to see about availability only to find out that so many of them have closed, permanently. Yes, it's been and continues to be a very tough times for restaurants. The pandemic has wreaked havoc on the industry, with many great restaurants forced to permanently close their doors. I ask all of my readers to try and support the restaurant community if only by order their food via takeout (but don't use those app services who take an estimate 30% cut from the restaurant, instead order directly and pick it up yourself). I wasn't sure, if I was even going to have enough restaurants to talk about this year, but luckily (in France) restaurants have been open for about 8 of the 12 months in 2021 and are currently open. All of these restaurants are located in the downtown of major urban areas and have a high-end urban feel.
As you know being a foodie, wherever I go, I try to eat in at least two great restaurants in town. Here are my top 10 choices of restaurants from the past year. Each of the restaurants was able to create a great evening and experience for me. Do keep in mind that I don't believe in rating restaurants by numbers, just by a pass or fail. Roman style – thumbs up or thumbs down.
I also remind my readers that I received no compensation from these restaurants in any shape or form, nor do I announce that I will be reviewing their restaurant prior to dining there. You can follow all of my restaurant reviews as VivreMaFrance online at Tripadvisor.com. If you have a restaurant that you would like me to review, let me know.
Bon appétit et Vivre ma France,

La Boussole
41 rue Saint Jean du Perot, 17000
La Rochelle, France
+ 33 5 46 50 50 48
www.laboussole-larochelle.fr/
It was an excellent experience, well worth our money, which was under 100€, with 3 course meal, two cocktails and wine. La Boussole was a great fusion of traditional La Rochellais and Thai cuisine. It's located close to l'Hôtel La Monnaie on the pedestrian street just around the corner, place de la chaine. and has been in business for almost 20 years. Their space is lovely, the terrace large and the food excellent. We were lucky enough to be seated outside on the terrace and enjoyed the surrounding lively atmosphere of the street. For food, we first started with the tartare au saumon aux herbes et piment d'Espelette and the pork nems with a coriander, mint and mesh salad. Delicious! Then, we had cassolette aka Cocottes, mine was red curry chicken with basil and my husbands was fruit de la mer, which included prawns, scallops, shrimp and salmon in yellow curry. Both were delicious and a modern take on the French classic, Cassoulet. We also had beautiful desserts, we shared the Lava Cake and Trio of Sorbets and drank a lovely dry white wine. The waiter was lovely, and told us about Les Secrets de Mayn which is a delicious carrot sauce made created, patented and made by the chef, May. She even gave us some with our meal to taste. Chef May also makes a beet sauce, so I ended up buying the two for my own pantry. I'm looking forward to using them alongside sauces for an extra kick. We were able to make reservations in the morning for the same day. But definitely make reservations, as they were booked and staff were hopping all evening. All in all, it was an excellent experience, well worth our money, which was under 100€, with two cocktails and wine.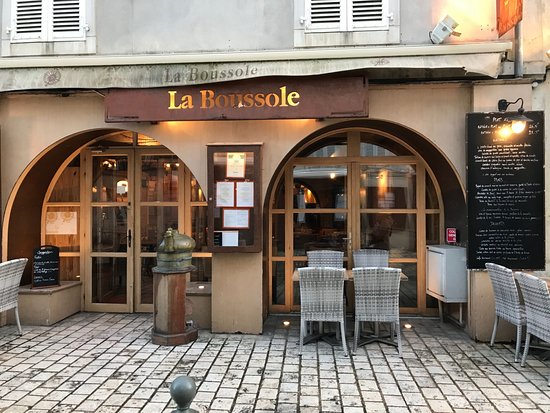 Le 4 Sergeants
49 Rue St Jean du Pérot
17000 La Rochelle, France
05 46 41 35 80
www.les4sergents.com/
Le 4 Sergeants is a must do if you are in La Rochelle for that special occasion or just one night. With one Michelin star, they deliver delicious food, great service and a decor which is truly sexy, stylish yet has that old world charm. Aptly named after the four Sergeants who were rebelled against the regime of Louis XVIII in the early 19th century and were sent to the guillotine for their crimes. But with their cruel death they became heroes to the underdogs and martyrs of the city to be forever remembered in La Rochelle. The interior design is stunning and includes an emblematic canopy, over 10 meters high, manufactured by Gustave Eiffel, of the Statue of Liberty and Eiffel Tower fame. We were two for dinner on our recent trip to La Rochelle, we shared the Tempura de filet de sardine in a Sauce Choron and the oysters. I had the Blancs de seiche Pied de cochon à l'Escabèche, which was melt in your mouth delicious and my hubby had the fish which was blanc de Merlu with a sauce à l'oseille with aubergine, also quite exquisite. With also had the Menton Lemon meringue pie and the profiteroles, along with a nice dry white wine. It wasn't that expensive either, all under 200€ for a Michelin Star restaurant!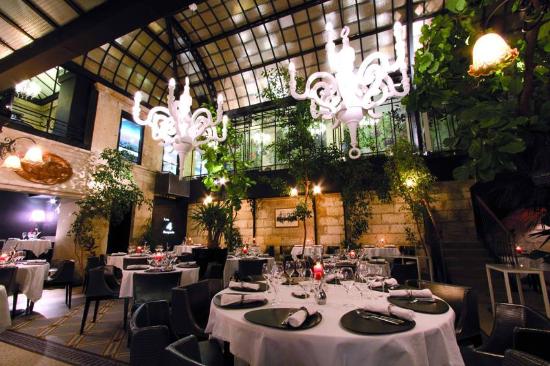 Meatballs for the People
Nytorgsgatan 30
116 40 Stockholm, Sweden
Tel. +46 8 466 60 99
www.meatball.se/
When my husband first told me the name of the restaurant, I thought he was joking, and that it must be the English translation of something cute in Swedish, but no, this is their real name! Aptly named too, as their meatballs are definitely for the people. They have over 20 kinds of meatballs ranging from seafood, to poultry, game, wild and local. We ordered the chef's special which was two each of four different kinds of meatballs. I had the bear, pork, chicken and veal and my hubby had the shrimp, elk, veal and reindeer. They were served with creamy and delicious mashed potatoes, lingon confitures and a veal gravy. Honestly, the best meatballs I have ever eaten. They also have vegetarian meatballs. The atmosphere is very relaxed and open with a variety of tables, bar and counter seating. They also buy eco-friendly products and most of their food is organic and gluten free (except the beef). Definitely a great fun place to eat well. We left quite happy but very full.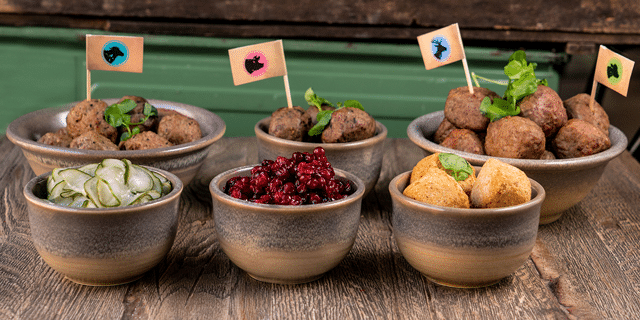 Häktet
82b Hornsgatan,
118 21 Sto ckholm, Sweden
+46 46 884 56 10
www.haktet.se/
My husband brought me here for my birthday and it was a truly wonderful and memorable night. The restaurant, bar, private club room and terrace, located in a former women's prison. The outside was are painted grey brick and don't really look like much. Although you can tell it is a great place, as there were no less than 3 doorpersons working the door, even in minus 10-degree weather. When we stepped in Häktet, you arrive immediately into the very busy and vibrant space. It was packed, but once we realized the restaurant was behind the bar, we quickly moved to the back to take our reservations. We were seated immediately and given menus by very attractive staff. The menu is the chef's choice, you either order it all or in pieces and you share each plate with another person. We ordered the entire menu and settled into our tasty gin gimlets served in retro martini glasses. Delightful. The atmosphere is loud for sure, but very lively and fashionable. The space is divided into five areas. The front bar, the middle dining room, the back dining room (all separated by draperies), then the private dinner room off the bar by the front door and the outside terrace. The menu was definitely one to remember. We started with the deep-fried flower sprouts with goat yoghurt. Then the pointed cabbage with fennel broth, fennel pollen, almond cream and crushed almonds. Scallops with beurre blanc, salsify and trout roe, then Mushrooms with potato foam, lingonberry, hazelnuts and truffle. Followed by thinly sliced veal with kale, pickles, anchovy mayonnaise and Wrångebäck (Swedish cheese) and Grilled wild boar with butternut squash, brussel sprouts and a cabbage broth with roasted garlic. See why I said it was wonderful? Their homemade bread for two with whipped butter is to die for. Something also surprised me, the toilets. There are two bathrooms, but in one, there are two toilets, side by side, so you can pee in partners. Definitely make reservations, and go earlier unless you like the late-night crowd. Our reservations were for 9pm and we stayed until midnight. It turns into a club around 11pm. It's fantastic and I'd go back in a heartbeat. Häktet is open 7 days a week.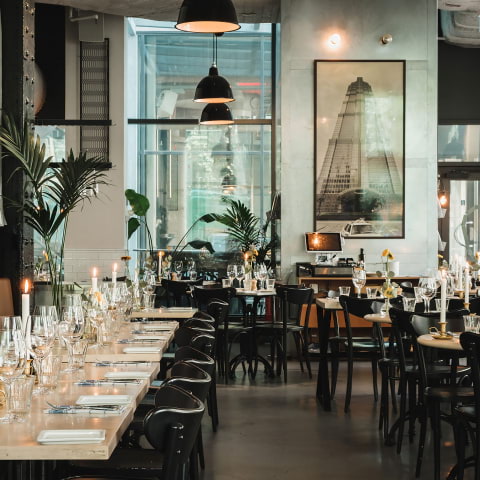 Ta' Kris Restaurant
80 Fawwara Lane, Sliema,
Sliema SLM 1670 Malta
+356 2133 7367
www.takrisrestaurant.com/
We really wanted an authentic Maltese dinner when while visiting friends on the island. And Ta'Kris does not disappoint. It's kind of off the beaten path along an alley in Sliema, but once you arrive you realize it is definitely a local restaurant. The inside is all wood with a grand fireplace, and there are some tables outside. Because of covid, we decided to dine alfresco and chose the terrace. We shared the gorgeous snails in tomato sauce, which was quite a treat. Smaller than we were used to, but very tasty indeed. My hubby ordered almost crusted roasted Lampuki (the local name for Mahi-mahi, with vegetables and I had the beef rib in a tomato sauce on a bed of mashed potatoes. It was very good. Defiantly make reservations if you can, as this place is hopping although, we lucked out with no reservation for two on a Wednesday night.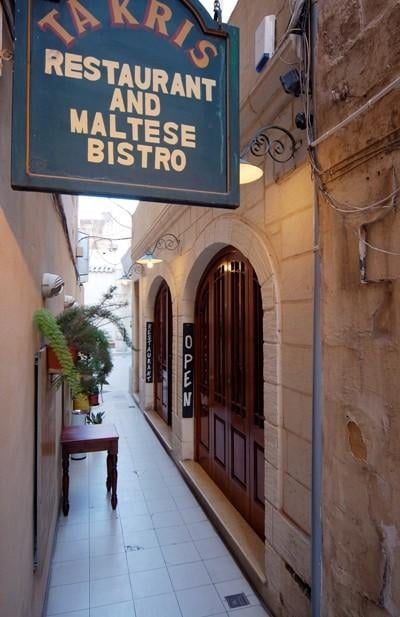 Giorgios
17, Tigne Seafront, Sliema
SLM 1670 Malta
+356 2134 2456
Our most favourite bistro in Sliema, Malta was Giorgio's. It is a lively Italian bistro serving all day from morning to the late-night crowd. There is a breakfast and lunch menu, but we chose to eat dinner there twice while visiting the area. First, because it was located close to our hotel, but secondly because the food and service was out of the world. We really felt at home and loved the people watching. I recommend you get any of the pastas, they are all great and many of them were gluten free. The pizzas also looked great with thick crusts. Over the two nights we had Pappardelle Carbonara, Tagliatelle Bolognaise, Garganelli and Rabbit liver and kidney beans and also the fried calamari. Wine was inexpensive by the glass, so that is how we ordered it. The staff were great, well dressed and fun to be around. One waiter even helped us with our site seeing planning. They also were very conscientious of the table placement re: covid. The clientele is a mix of young and old, but the morning crowd is definitely businessmen, travelers and the ladies who lunch. The best table in the place is beside the front door, facing out towards the boardwalk and the people walking by. It's a people watching kind of restaurant. No need for reservations, but they are busy, you may have to wait for a table, but it will be worth it.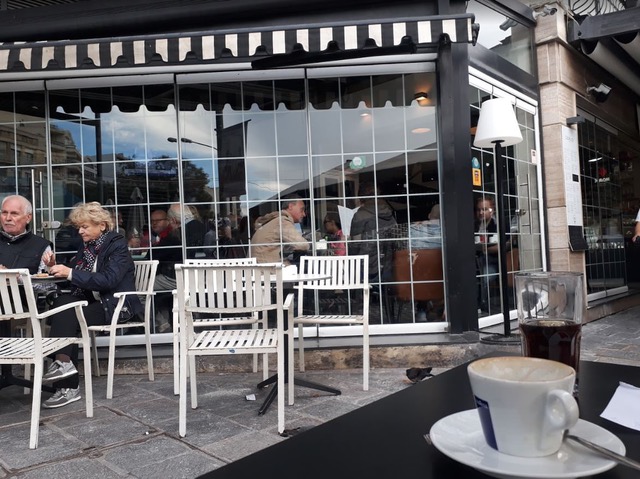 Cafe Léon Restaurant Agricole
12 rue du Plan D'Agde, 34000, Montpellier France
+33 4 67 60 56 83
https://www.facebook.com/pages/ Le-Café-Léon-Restaurant-Agricole/208128219219118
There is something to be said about a restaurant that has a large menu and does it well. Nothing is frozen here, like some restaurants with large menus. At Café Leon, everything is made fresh and it's all delicious. On my last outing here, we were there for lunch. My friend and I shared a bottle of crisp rosé and the ordered the table d'hôte. I had the rabbit ravioli and she had the seafood salad. I later had the roasted chicken with root vegetables and she ordered the Thai bowl. The food is great, the service is perfect and we loved sitting on the terrace people watching. They are located just down the street from the Saint Roch Church.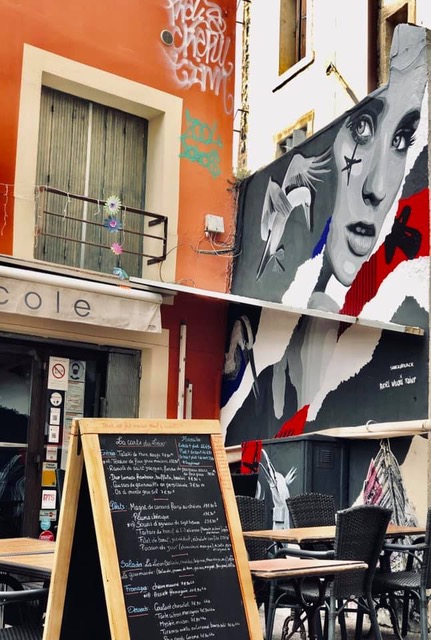 Rosemarie
3 rue des Soeurs Noires, 34000, Montpellier France
+33 4 67 66 15 95
www.facebook.com/RosemaryMontpellier
Rosemarie has been a hot spot in L'Eccuson for some time now and with good reason. It's a fantastic restaurant with one of the best terrace spaces in the city of Montpellier and they are serving Montpellier-styled food. I cannot rave enough about this space, the food and their staff. I've eaten here at least twice a month for years, many a Sunday late lunch and even the late-night crowd in the summer. On our recent visit, we were four in our party and it was around 2pm on a Saturday afternoon. We had to wait about 10 minutes for a table as they are always busy. Once we were seated, in the sun, we ordered the white house wine, which was a Chardonnay. I had the Persillée de bœuf and jus de moelle fume. My friends shared several dishes including the Arancini, Falafels, Carpaccio de octopus, cromesquis, feta, cucumber and pomegranate. For dessert, three of us had their ice cream, which was divine. It was all just delicious. Totally recommend coming here, especially if you are only in a town for a couple of days. Rosemarie is really one of the best places in the city to eat, hands-down.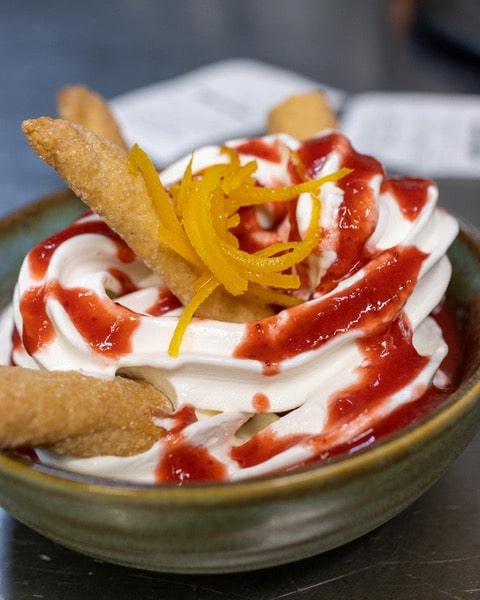 Table des Saveurs
7 avenue du Mal Joffe, 66120 Font Romeu
04 68 04 88 49
Their tag line is "Finesse with an altitude" and it is perfectly suited to them. This dreamy lunch and dinner spot is located high on a cliff overlooking the valley in Font Romeu. Most of the seats are facing the large window whose view is splendid. The food and service are excellent as well. We went here with friends, who knew the restaurant well, as they have a hoe in the area. We were not disappointed. We were there for lunch, I had the Daurade royale aux herbes de montagne et sa sauce vierge, my husband had the Assiette de saumon aux trois façons (tartare, gravlax et tataki au sésame), one friend chose the Pavé de Cabillaud Skrei en croûte d'herbes et sa crème au Parmesan and the fourth person chose the Filet de Loup, riz vénéré et sa crème aux agrumes. We all enjoyed a glass of dry white wine with our delicious meal. Everything was delightful. Make reservations, as they were busy when we were there. I would love to dine there at night, just to see the evening view of the valley.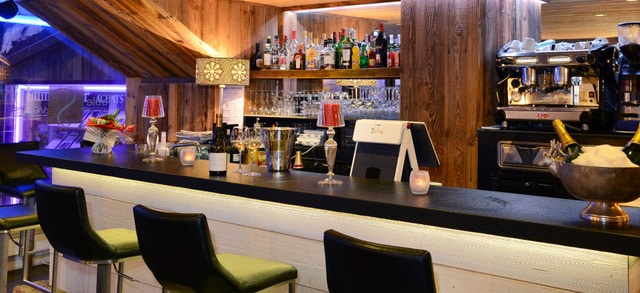 Le Réfectoire
Bistro Origine France
25 rue Hippolyte, Quartier des Arceau, 34000 Montpellier
04 99 66 57 66
If there is one restaurant you should visit while in Montpellier, Le Refectoire is the one! A delightful restaurant located by Les Arceaux with an amazing and talented resident chef. We discovered this fabulous restaurant through my neighbour, who also happens to be the chef. We've been several times, but our latest visit was in December and we had their holiday menu. It was delicious, well prepared and perfect. There were four us in our party, we had Le Croc qui croc au gouda (a small but tasty croque monsieur), the chestnut soup, and two people had the deconstructed riz de veau tacos. Delicious and gorgeous presentation too. Three of us then ordered the milk-fed pork shoulder and the fourth had the Saint Jacques au Bretagne, all of which were really well done and very delicious! We finished the menu with the chocolate mousse and the roasted clementine. Certainly, one of the best meals we have had! I cannot recommend them enough, Julien, the chef is a master at his craft!! They also have a lovely terrace to dine alfresco. We'll be back for sure!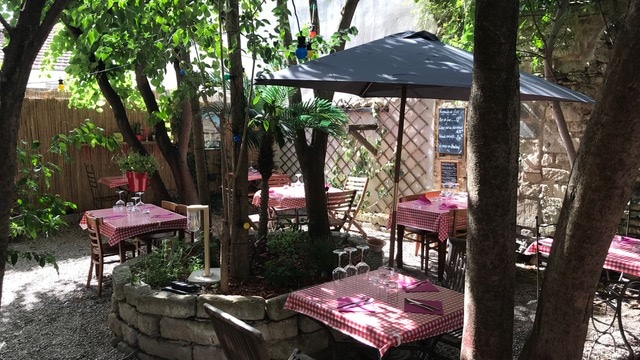 Bon appétit et Vivre ma France,

Receive the news in your emailbox
If you like this articles , you can subscribe to our weekly newsletter.