Here it is, my life in France. We did it, my husband and I. The warmer weather of southern France has been calling our name for years now and we finally accepted the call. We moved to latitude 43.61 and longitude 3.87. In the "sud de la France", Occitanie or to be more specific, Montpellier. An area known for 300 days of sunshine, beautiful beaches, style & panache.
For those of you who do not already know me, I am a gregarious event planner and a foodie. It's a wonderfully fun combination for life. This blog will be about my work and our lives, but also the interesting things I see and experience. It will also be a discussion on life's social aspects, with an eye on entertaining and event planning.
Montpellier is located in southern France along the picturesque Mediterranean between Barcelona and Nice. Located between the Cevennes Mountains and the sea, it has a warm climate and minimal rain. My favourite trees – Parasol Stone Pines, flowering Laurier-rose and Plane trees (with its camouflage-like bark) grow in the city center and the surrounding hills, speckled with limestone rocks. The city has a rich cultural history and today boast being a multi-cultural city and the most tolerant city in France. You can easily hear Arabic, Spanish, French, English and German anywhere you go. Locals travel in small cars, motorbikes or vélos (bicycles) and we have an excellent public transit system of electric trams stylized by local Occitanian and fashion Designer Christian Lacroix. The population is around about three hundred thousand and another two-fifty thousand coming from the surrounding urban areas pushing its population to a half-million people. Fifty percent of the population is under 34.
The city was founded around the 10th century and is home to the oldest and still active medical school in Europe, founded in 1160, and still has three Universities and a student population of seventy-five thousand. It is the 2nd place in France for learning French, as a second language. Its most important economic sectors are education & research along with technology & health. Of course the food, tourism and wine industry is also a large part of the economic success of Montpellier. Well over 5 million tourist a year travel to this city to taste some of the best beaches and vineyards in Europe.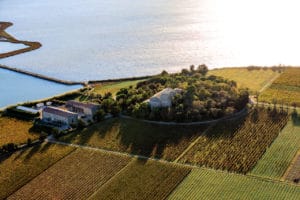 Montpellier is a collection of the most wonderful assortment of buildings you can imagine. Ornate, Renaissance facades, hôtels particuliers, along with modern glass structures, medieval towers and castle walls decorate the city. Small villages surround the city with more hôtels particuliers and les mas (farm houses). There are a scattering of former and current vineyards and former farmland. Famous architects such as Ricardo Bofill (Antigone), Sou Fujimoto (L'Arbre Blanc), Phillipe Starck (Nuage), Jean Nouvel (City Hall) and Zaha Hadid (Pierres Vives) designed many of the outlying buildings from the city center. It is a bounty of beauty everywhere.
Our home is located in the beautiful historic city center of Montpellier aka "L'Écusson" or shield for its coat of arms-like shape. I find myself getting lost in the medieval center, wandering the cobblestone streets lined with small ateliers, restaurants and nightclubs, only to stumble into a lovely French piazza with a fountain, trompe l'oeil and a little garden. These massive five hundred year-old limestone, cream-coloured hôtels particuliers cover an area of 5 kilometers of the original founding city, many of it pedestrian only. L'Écusson was constructed this way to reduce sunlight thereby allowing the apartments to remain cool. Important when the high is between 30 and 35 in the summer and sunny most every day of the year. the shutters and windows are a legislated into a uniform grey, which keeps the historic Mediterranean look unifying the neighbourhood. And gives a glorious historical theme.
My heart is in the kitchen and you will find me cooking everyday. I was raised in a family of 6, all guys except our mom, which gave me a fantastic education for family cooking. I even still cook most meals for 6 servings to this day, so we have plenty for the freezer on relaxing days. With me you can learn some tips in making French food as I experience it. I will show you how to make Profiteroles, one France's most famous desserts. As well as it's savory cousin, Gougère, made with Comté cheese and black pepper. Of course, there will be lots of ideas on how to select and buy flowers, make your own bouquets. Inspired by a dear friend and mentor, I am obsessed with napkin folds and how with a few simple steps, a table is transformed.
Join me on-site and in real-time, as I create weddings and private affairs. I will show you a few quick tips to top-up your game and achieve success in the home, a restaurant or abroad. I live in wine country and together we will go directly to vineyards to see how things are made. Learn how to select a menu for your home and pair it with wine. I will also cover fine dining, so you can experience it will me and this will include restaurant reviews. Follow me as I review restaurants, cities and places I have traveled to and will present a top list of restaurants each year. You can also follow my online recommendations as VivreMaFrance at Trip Advisor.com.
We are also in the process of buying a house. This will also be some of the things I will cover. From searching, finding and purchasing a home in France including working with a lawyer and notary. We will also discuss renovations including the the design and decor of the house and land. Currently the plan is to open an event space, Bed and Breakfast aka Gite de France (vacation house rentals) but like most things in life the plan is organic and is changing every day.
I am excited about this new stage in my life. I have lived my entire life in Canada, and am very grateful for that privilege, but now it is time for something new and something different. Time to strike a few more things off my bucket list. I am over 50, happy and looking forward. Please join me on this adventure of a lifetime.
Vivre ma France…

PS – A big thank you to the Office de tourisme & des congrès, Montpellier Méditerranée Métropole for some of the photos. The rest were taken by me.
Receive the news in your emailbox
If you like this articles , you can subscribe to our weekly newsletter.