Like many French cities, Montpellier has a treasure trove of wine bars and these places go hand in hand with the aperitif. Aptly known as apéro, is an evening custom here that blends friends, food and beverages. It is a pillar of French food, culture and society and in many cases takes place in a wine bar. Terraces and wine bars are a huge part of this French urbanite culture.
This tradition, also known as la prière du soir des Français (or evening prayer), isn't restricted to bars and cafés, with many people hosting friends and colleagues for a post-work apéro at home. According to Nelly Bonnet, the Secretary General of France's impressively titled Syndicat des Apéritifs à Croquer (the Federation of aperitif appetizers), "the apéro remains absolutely vital to the French, especially during tough times". Food and wine are sacred here and the apéro is the perfect bonding event.
There are specific drinks that are served at apéro. Ranging from Champagne, Kir, Pastis and Aperol, to fortified wines like port or sherry, and of course white and Rosé wines. Red wine is not part of the apéro as it does not stimulate the stomach but rather lighter wines do, but occasionally lighter red wines are served.
The other very important thing about apéro is the food. You need to eat something, while you having apéro. If it's in the home, it could start with olives; chips/crisps, moving up to smoked salmon on buttered rye with yogurt, cheese and charcuteries. Depending on the occasion, all ranges of hors-d'œuvres and canapés might be served. In a wine bar or restaurant, you may get the same, but also might find larger charcuterie planches served on huge, gorgeous wooden boards, chèvre and other soft cheese with a blueberry confit. It can be a bit of a smorgasbord. The theory is that you are opening your palate for dinner later. They can last a short as 30 minutes to up to 3 hours. Sometimes apéro does take the place of dinner and in that case is called apéro dînatoire or cocktail dînatoire. The key to them (and this is one of the reasons I love my adopted country) is: don't eat too much, as it is a pre-meal, meal. Nice!
Remember, apéro needs people: family and friends, and can be any day of the week. Whether in the home or a space, it is all about spending time to break bread together and be together. It is can be a hit with the office crowd, any day of the week. Perfect time to catch up with an old friend and not have to spend the entire evening together.
There are a lot of great wine bars in L'Eccuson of Montpellier, where we live. The following are my top suggestions. Each is unique and have their own great style.
Best Wine Bars
Times Café is located on rue Teissiers, a side street, beside Église Saint Roch, proprietors Mathieu and Olivier have been running this cool space for over five years and it is still a hot spot every night of the week. Offering excellent locally sourced wine options which change throughout the year along with great planches, local delicacies like tielles and tasty tapas. Have no fear; they also serve excellent beer on tap here. The décor is chic and laid back, outside on the terrace high tables and stools, with seating for over 20. Check out their La Guinguette nights, based on the real Paris speakeasies in the 1920s, held occasionally on Wednesdays. Open seven days a week from 5:30 pm to closing, it is a hit with the locals and tourist alike. This is an excellent place for a first date or blind date, but also great for a group of four. Reservations are a must if you want to sit outside


Le Glou Glou, is one fabulous place located near Le Corum. Everything from the cool décor, including a fabulous old table that seats 20, to the living room clusters of comfortable furniture are stylish and cool. They have a large hot and cold tapas menu and the waiters take their time with you to help you formulate your order. Serving huge platters of terrines, tapenades, sliced prepared meats and delectable cheeses along with hot pastas served in small tapas quantities. There is wine by the glass using dispensers for those who wish to taste many wines or by the bottle via your waiter. Glou Glou is well known, especially in the wine world, for its extensive and excellent wine list! Its an excellent place for a group event. Reservations are a must! There is no outside terrace.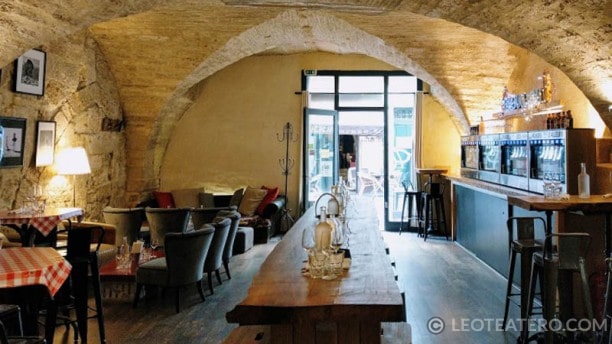 L'Acolyte is another wonderful restaurant and wine bar, located near the Musée de Fabre. Serving to both the apéro and dinner guests, the menu is typical Mediterranean fare. Bouzigues oysters, truffle ham, andouillettes and flavourful cheeses to name a few. The wine list is extensive and filled with lots of local choices, including many magnums. This is a great place for a date or anniversary dinner. We held our first wedding anniversary dinner here and loved it. There is a small terrace outside.
The biodynamic selection of Les Canons is spectacular. Located behind the Prefecture, they have an excellent menu and a full wine list. Many of my wine friends adore this place as they are serving organic and sulfur free wines. And their food is divine. It all looks and tastes great. Served by the young, friendly and knowledgeable staff.
The adorably named Un Dimanche Sous le Figuier (which means "like a Sunday under the fig tree") is another wonderful wine bar and restaurant too. It has been around for a while in L'Eccuson and there is a reason for that. It is a great dinner and drinks spot. They serve a BBQ menu with a French touch and my favourite, the fried onions. They have an outside space on the street that seat about 20 as well as the interior seating 30 and an excellent wine list, featuring many natural and organic wines!

Les Garçons is another new wine bar, which replaced the very popular Little Red Café on rue des Sœurs Noires. Owned by two young men, Antony and Adrien, this space is another hidden gem in the labyrinth of the L'Eccuson. A stylish and fun interior, they also have a great outside terrace with both high and low seating for 16. Serving local tapas, planches and cheeses, they also have great local wines. The atmosphere is young, hip and friendly. Tuesday is Jam nights with various musicians and singers performing inside. Open seven days a week from 6pm to 1am.
Owners Fabien and Julien named the bar Les tanins d'abord after the Georges Brassens' song "Les copains d'abord". They offer great charcuterie and cheese platters, some hot items too, over 50 different wines to choose from and desserts and bread are from Des Rêves et Du Pain, one of the most popular bakeries in town. Open seven days a week from 6pm to 1am, but note that it is a smaller place, so make a reservation.
Estivales De Montpellier
I cannot talk about apéro in Montpellier without talking about Les Estivales de Montpellier.  A huge outdoor, beautiful cocktail party taking place on L'Esplanade Charles-de-Gaulle, across from Place de la Comédie every Friday night during summer starting this Friday, July 12th and ending on August 30th. Created in 2001, by the former mayor George Frêche, these musical evenings are filled with dancing, wine tastings, caterers and a nighttime craft market.  Local wineries from across the region come and have stands where you can taste all different styles and colours. Plenty of food trucks with local and international cuisine (oysters, paella, tacos, etc.) are there for you to enjoy. Admission is 5€ and with that you get two free drinks, and many free tastings.  It's a fabulous place to meet with friends and have local, affordable wines.  And, if standing is not your thing, then bring a blanket and relax with your friends on the various greens spaces lining the edge of the cocktail, like the lawn of the Musée Fabre.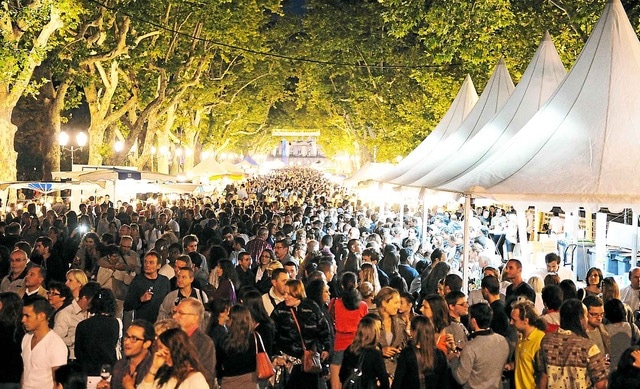 Here in France, people entertain differently because much of their lives are spent outside of the home, especially in the urban areas and I love this aspect for our lives. The apéro is just another way of enjoying and embracing my French life. And remember, it is also about spending time to be present in other people's lives. I see no better reason to partake.
Vivre ma France,

Receive the news in your emailbox
If you like this articles , you can subscribe to our weekly newsletter.