I did it. I climbed a mountain. Yes, me! Who knew I could? I never thought I would and wasn't truly interested until a good friend, Mimi, visiting from Switzerland insisted we go for a hike. I've never hiked anywhere. I've walked to places, strolled in towns, jogged or biked for sport, but never once have I actually gone hiking. I never saw the point, as there was no true goal to go somewhere just to come back, and always thought sport was about fast action. But Mimi, who hikes a lot, and my husband, who loves it too, insisted, so we chose Pic Saint-Loup (Saint Lupus Peak), as it is located a short 25 minutes from Montpellier. Pic Saint-Loup and L'Hortus are two twin mountains located minutes away from the Mediterranean and are both the location of some of the best hiking trails and the most beautiful natural sites in the area.
Mimi and Emmanuel

Mimi and me

Emmanuel and me
Our trek up Pic Saint-Loup started at the foothills of the Cévennes Mountains, to the north of Montpellier in an area of scrubland typical to Mediterranean regions known as the Garrigue. Its peak, reached by an hour and fifteen-minute hiking trail, rises to 658 meters, and is marked by a chapel, cross and offers breathtaking panoramas. From its summit, you can see L'Hortus, the plains, the lagoons and the coast of the Mediterranean Sea.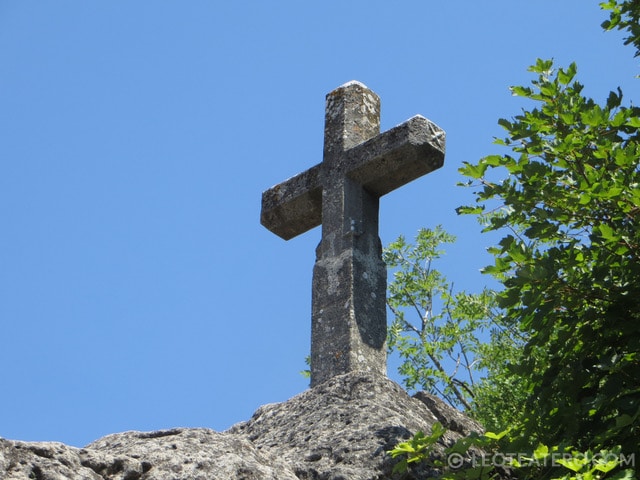 The limestone wall

Pic Saint-Loup

A glider flying by us at the peak
The vegetation of the Garrigue is adapted to the dryness of the summer drought and is made up of numerous Mediterranean species — Holm oak, Kermes oak, Aleppo pine, Arbutus trees, thyme, bay leaves, juniper, rosemary and rock rose. These help to make up the fragrant nature of wines from Pic Saint-Loup. Côteaux du Languedoc AOC – Pic Saint-Loup, is the most northerly of Languedoc's appellations and is quite popular. These wines are the pride of the region and are often found in restaurants and stores around the world. We ourselves often serve them to our guests. The rosés can of course be served during apéritif but also pair well with grilled meats or fish such as sardines or blue cheese based dishes such as pasta with gorgonzola, and are fab with an Osso-bucco. The reds are often served with tasty meats such as game or duck, but also pair well with spices such as in Indian cuisine.
But the history of the peak and its name does not come from wine. As the story goes three valiant knights, Guiral, Clair and Thieri Loup were in love with the beautiful Bertrade; the one that would marry her was to be designated as the bravest of all, after the religious wars. All three came back with extraordinary triumphs, but unfortunately the beautiful Bertrade died of despair while they were away. Defeated, they all retired to a mountain to live as hermits. Guiral went to Mont Saint-Guiral (near Aigoual), Clair to Mont Saint-Clair (near Sète), and Loup to Pic Saint-Loup. Each year, on March 19th the four of them are celebrated with a fire on top of Pic Saint-Loup, Loup having been the brother who lived the longest.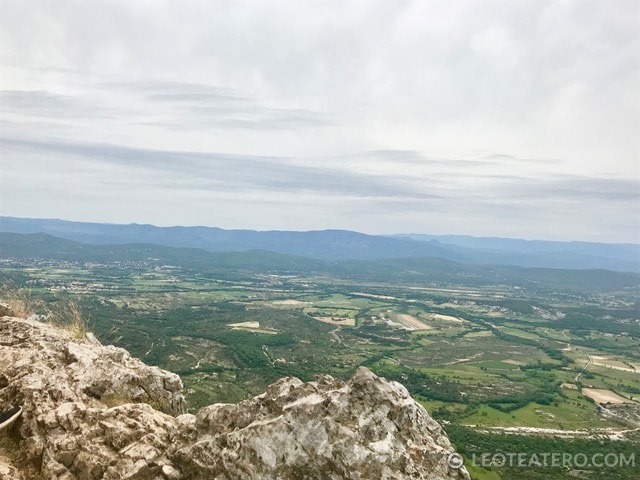 The Garrigue

Pic Saint-Loup
The Pic Saint-Loup region offers several sign posted hiking paths, accessible by foot, bike or horseback. Walking along small roads and old traditional tracks will enable you to immerse yourself in the cultural and natural heritage of the Hérault. You can also visit the medieval villages, and exceptional sites, some dating back to prehistoric times, and take a fresh look at the outback and the vineyards of the Languedoc. Miles from the buzzing city regain your balance by strolling in the countryside and get a view of the surrounding countryside by climbing the paths of the Pic Saint-Loup or of the Séranne. You can choose your hikes from among nine hiking routes in the area. At the heart of the Hérault, from the Camargue to the Larzac, get away from it all with your family or friends for rides and rambles between earth and sky.
For more information on hiking Pic Saint-Loup and its many trails, check out Grand Pic Saint-Loup Office of Tourism.
The terrain was rough

and very stoney

and even more stones

Limestone from the mountain helped form the path for the hikers
La montagne de l'Hortus

The sister mountain of Pic Saint-Loup is l'Hortus, 512 meters high, located 20 km north of Montpellier, facing the peak of Pic Saint-Loup. It is constituted by the fracture of the plateau of Pompignan. Its impressive and very beautiful cliff of white limestone, more than a hundred meters high and more than a kilometer wide, is visible from all over Montpellier.
L'Hortus
The Grotto of Hortus is a Neanderthal shelter and served as a refuge for Neanderthals between 60,000 and 30,000 years ago. The excavation of the area revealed history on the climate, the flora and fauna, and of contemporary peoples who left an abundant Mousterian items (spear points, blades and bone scrapers) and bones of their peers. Unfortunately the site is not visitable to the general public.
A jewel of rock climbing the limestone verticality of Hortus has made it a Mecca for Languedoc climbing. Sixty or so magnificent routes run through this beautiful face, which offers a more pleasant and difficult climb (sixth to eighth degrees) than the north face of the nearby Saint-Loup peak. For more hiking information, go here.
Some tips about hiking safely
Never hike alone. You need a partner in case there is a problem or accident.
It's all about the ascent. Think height, not necessarily distance when climbing.
Start early in the day, for less people and better temperatures, and in case you underestimated the length of the journey.
Always verify the weather before making a climb.
Never underestimate the forces of nature, bring a raincoat and a hat.
Pack some munchies, water, insect spray and sunscreen in a knapsack. Drink before you become thirsty. ½ litre of water per hour of hiking per person.
Proper hiking shoes that give support to your ankles is a necessity. You can easily twist an ankle in running shoes.
Take short breaks, but do not sit down.
Do not leave the trail. This is how most hikers get into trouble.
Give hikers ascending the right of way.
Absorb the view and don't just take photos to remember it! Be in the moment, you just climbed a mountain!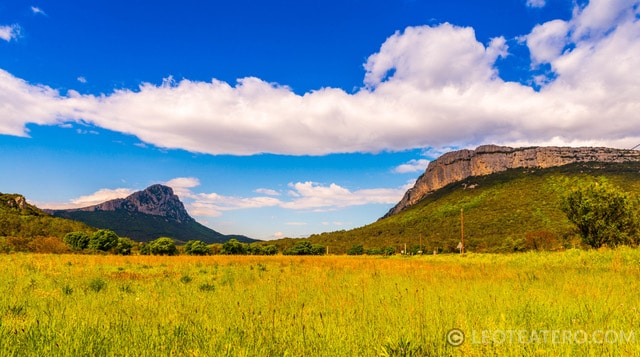 The mythic story of Pic Saint-Loup and L'Hortus
Of course, as with many other natural sites, there is a beautiful legend to "explain" the formation of these mountains and their cliffs.
Once upon a time, a young shepherd fell in love with a pretty shepherdess. On a full moon night, they swore they would love each other and stay together forever. One day, their quiet love was unfortunately disturbed when an old and rich merchant trading in the region also succumbed to the charm of the young shepherdess. He asked her parents to give him her hand in exchange of gold. They agreed.
Luckily, the beauty got wind of the plot and the lovers decided to run away. They ran for their lives, straight ahead until unfortunately, the mountain trapped them and they could move no further. The merchant and his dogs were on their trail and not far behind. Stopped by the natural wall, and unaware of what to do, they praised God to help them. Thankfully, not far away, a Giant heard their cries and ran to rescue them. Touched by their sorrow, he cracked the mountain open with his fist, creating a path for the lovers to run away. The giant then caught the merchant and locked him up in a cave. Prisoner, he started to cry and his tears became a stream that still runs today in the valley.
This legend is one of hope for the freedom to love. The dramatic landscape of these cliffs reminds us that we can move mountains for a good cause. It's a cute story with some facts based in reality. Indeed these two mountains would have been one, millions of years ago, and that a rupture caused the mountain to split it into two.
The path

Limestone rubble
Coming back to this first hiking experience, I felt so good after that I wanted to outline all the benefits of hiking. It obviously improves your mood, but also decreases your anxiety and even improves your memory. A recent study from Stanford University said that a 90-minute stroll in a natural environment can lead to measurable benefits for the brain, and may help combat depression. It definitely will remove or decrease stress; help you think more creatively and of course is good for your health, specifically your heart health. I also felt like a million bucks coming back down that mountain because I had conquered it. An achievement always lifts your spirits.
This may be why over 16 millions Frenchmen are regular hikers, that is 35% of the population aged 15-70. Even 230 000 are members of the La Fédération Française de la Randonnée Pédestre (French hiking federation), which develops and approves hiking trails throughout the country. The country is grid with trails of all lengths and difficulties (GR for Grande Randonnée and PR for Promenade et Randonnée), and every region has lots to offer, from mountain to countryside to seashores. You can look up www.ffrandonnee.fr for ideas and tips.
As I said earlier, I never though I would ever climb a mountain, but I am so very glad that I did for I cannot wait for the next hike. It is the best feeling and 20 minutes from my home. Hiking is a habit worth forming.
Vivre Ma France,

Receive the news in your emailbox
If you like this articles , you can subscribe to our weekly newsletter.