Nothing smells better than something cooked outside, the barbecue! It is a treat and a rare occasion for some, but for many a way of life. The word barbecue actually comes from the French words barbe-à-queue, literally, "from beard to tail" meaning, the whole of a pig being roasted on a spit. That word had not been used in France anymore, but it did make a resurgence back into the French language under the English spelling, barbecue. The word Les Grillades is also used for a barbecue and they are just as popular here as anywhere else. Barbecues always reminds me of our family cookouts as a kids. My parents were very adept at keeping four hungry and active young lads happy. Here are a few tips and ideas to make your next barbecue a hit no matter where you are.
Cooking outdoors, like cooking indoors, requires the right tools and a good plan. You should not guess or wing it, just plan it and write it down. You will reduce your stress in doing so. Armed with the right equipment and the right instructions, you'll be ready to tackle just about any recipe from a simple and perfectly cooked burger to succulent grilled steak and restaurant-perfect grilled tuna or simple and fresh grilled vegetables.
Barbecues
It may sound basic but there are two crucial things your burner needs if you want to make great barbecue food. The first thing is good heat, including hot and warm areas. This can be achieved by stacking the coals close to one side. On a gas barbecue, simply don't turn all of the burners on. The second thing you need is a lid. It locks in flavour and keeps the temperature constant like in an oven.
It is also important to have the right barbecue (check your local buyer guides for the best ones available to you). It can be gas, which is ready in about five minutes, or charcoal, which should be started about 45 minutes before cooking and needs more care in handling. Gas does not deliver the smokiness of charcoal but it still delivers great grilling flavours. Know your safety procedures and do not compromise. Keep a box of baking soda (bicarbonate) handy to put out the flames and never use flour or water as it will explode a fire. A permanent fire extinguisher located close to the grill is a smart idea especially when you are living in very dry areas prone to fires, like Montpellier.
Check in advance to ensure you have enough propane or charcoals, and clean the barbecue thoroughly on a regular basis. Carcinogenic residue can transfer to your food if the grill is dirty. Clean your grills properly and thoroughly. The barbecue should also be located 20 feet away from any building and on a level stone landing away from dry brush. Do not locate the barbecue close the seating or dining area, someone inevitably will get hurt.
Seating area
Create an outdoor space by putting up strings of summer lights. I use several strands of old Christmas white lights for this, and the French often like to use different coloured lights as you can sometimes see in Ginguettes (popular outdoors drinking and dance venues). Citronella candles will keep unwelcome bugs away and provide additional lighting. Have them hanging about the seating area. Arrange comfortable chairs or outdoor furniture to a U formation for easy coming and going, and be sure to have enough seating for everyone. You can easily and affordably rent chairs. If you will eat at a table, have it off to the side of the seating area, and do not place the table close to the barbecue either. Think about serving buffet style with people eating as they may, and why not actually use a red plaid tablecloth, a classic. I would also use dark coloured napkins as well as real dishes, easier to manage than paper plates.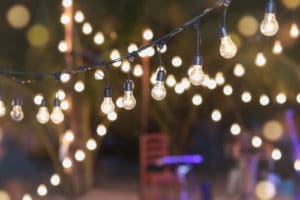 Get the right equipment.
You need long tongs, heat gloves and a long spatula and of course, an apron! For those attending a barbecue, remember aprons are great gifts to bring a host! Never use forks either, as they pierce the meats which then loose the juices. Serving trays, cutting trays, a table to hold your tools, food and cold drinks. Don't forget to have games on hand for children to keep them occupied and away from the barbecue. Also think of bringing insect repellent and sunscreen.
Be careful about cross-contamination.
Do not use the same board or tongs for cooked meat as for raw. Either wash them between uses, or use a separate pair of tongs and a separate chopping board for raw and cooked food. It's a great day for a barbecue, not for getting sick 😉
Marinate and spices
I cannot emphasize enough the importance of marinating and spicing your food properly. Never marinate for only an hour, but always overnight, except for fish which soaks flavours quite easily. Salt and pepper your food, and add your favourite spice or herb like Herbes de Provence, Zaatar or Montreal Steak Spice. You also need to brush your meat with the marinade while it is grilling to avoid it from drying out. Ideally every turn you make on the piece of meat, should also mean you marinate again. You want the marinade to create a caramelized crust trapping the juice and flavours inside. Do not confuse marinade with barbecue sauce. Most barbecue sauces tend to have tomato and sugar, and they burn easily. They should be applied near the end of cooking only, as it is a surface treatment. While marinades should be done in advance and applied while cooking the meat.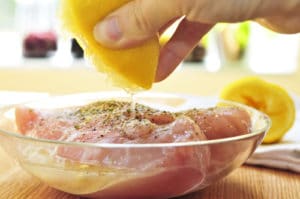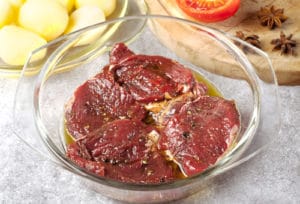 Grilling the perfect beef steak:
Grilling the perfect steak is a tough business in the barbecue world. Mastering this and you are the master of the grill. Here are a few of my quick tips to getting it right.
Don't buy anything too thick. You want 1.5″ to 2" (4 to 5 cm) thick, slightly marbled. It is the right size and combination of fat to meat ratio, which will deliver flavour. When in doubt ask the butcher directly.
Remove the steak from the refrigerator and let it rest for 1 hour. It needs to be at room temperature to cook through all the way. Salt and pepper once ready.
If you have a gas grill and charcoal grills it is easy to create two different heat areas on the grill. This will help you to sear the meat and then cook it slower on the cooler area.
Do not put the steak on too early. Be sure the grill is sufficiently hot. If you can hold your hand 2 inches above the grill for 2 seconds it is sufficiently hot.
Let the meat rest for 5 minutes before you eat it and do not cover it.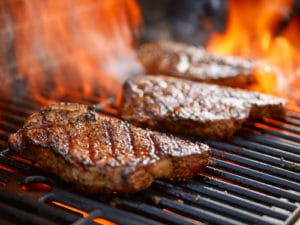 Burgers
In France, where beef is ground before your eyes at the butcher store, why not make your homemade hamburger? I have a simple and easy beef burger recipe that everyone likes. Be sure to buy beef with a higher fat content, say 10% to ensure you get juicy burgers. It doesn't always have to be beef, as lamb, chicken and turkey burgers are lovely lighter additions to the Grillades menu. A favourite trick of mine is to place a piece of cheese in the centre of the ground meat patty before grilling it. Another good idea is to not make them too big. And the golden rule is to never, ever squash them with the spatula.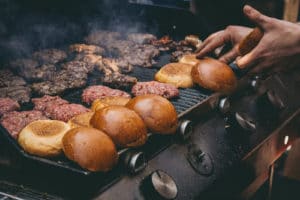 Seafood and Fish
Fish can be cooked easily in tinfoil or if you are a true griller, you already own a grill basket. Perfect for grilling fish, octopus or prawns and keeping it in one whole piece. If you don't have the basket, you can also wrap the fish in soaked banana leaves. Do not use flaky fish that has a low oil content (Cod, Haddock, Pollock), it will dry out quickly and fall apart. Instead use Salmon, Tuna, Herring or Sardines and use a whole gutted fish, not pieces. Simply oil and insert sliced lemon into the belly of the fish. Prawns can be threaded onto a kebab stick, whereas other shellfish can be placed directly onto the grill in their shell (oysters) or wrapped in a foil (mussels).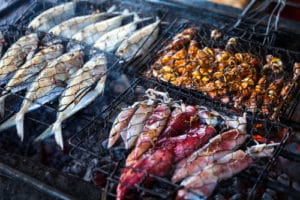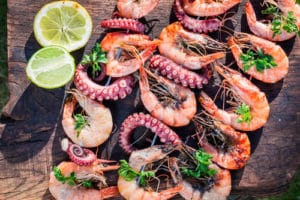 Sausages or Frankfurters
Merguez, Chipotle, Toulouse are just to name a few. At the local French markets there are large numbers of different sausages to grill, expand your palate and try something new! The key to sausages on the grill is to not prick them just before going on the barbecue. You will only release the juices onto the fire and lit them on fire and burn them. Prick them and par boil them first on the stove for 8-10 minutes (many use beer to do this) but water is also fine, and the extra fat will be expelled without catching fire. Then grill for 15 minutes turning four times to create your grill marks. Do not buy hotdogs, but instead buy real frankfurters, they are much tastier that their American cousins.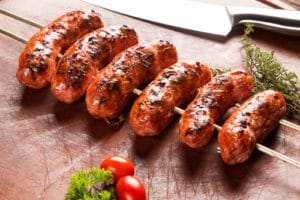 Vegetables
Slice your favourite vegetables length-wise to have bigger pieces. I also dress mine with oil, salt and pepper in advance of barbecuing. Working in batches, grill the vegetables until tender and lightly charred all over, about 10 minutes for corn on the cob, 8 for peppers, 7 minutes for the zucchini, aubergine/eggplant, and mushrooms; 4 minutes for the asparagus and onions. Leave in a metal tray, near the barbecue, do not cover or you will begin to steam them. Remember, vegetables can be eaten at room temperature and often have more flavour.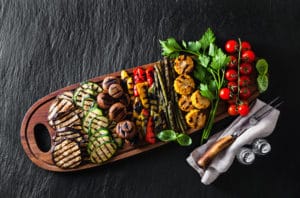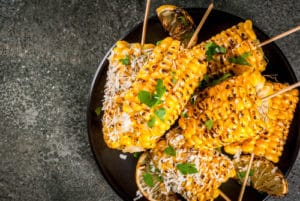 Great side dishes
Not many people want to only eat meat, so be sure to have some fabulous sides available. Make these one or two days before to ensure the flavours blend and are ready for the big day. Seven layer dip, guacamole, humus and a leafy green salad with light vinaigrette are all great additions. I like to serve Canadian favourites like, Canadian Picnic Potato Salad and Canadian Creamy Coleslaw, both huge hits at my barbecues and picnics.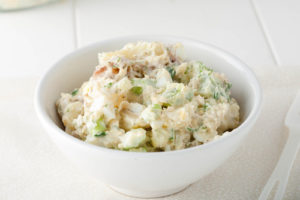 A great simple summer desert
The French Pastèque (aka Watermelon) or Charentais (cantaloupe) are big hits at French barbecues. Or you could even make S'mores, a traditional camping dessert made of hot marshmallow and chocolate sandwiched between graham wafers. Order a cake or dessert if you must, but go for summer flavours, fruits, berries and light things. Most people will indulge more in the barbecue.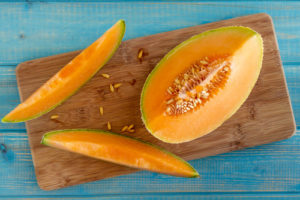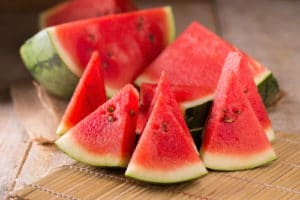 A wonderful stocked cold bar
If you are serving alcohol, make sure you are also serving great non-alcoholic drinks too. Not just soft drinks. Try making homemade lemonade. It is the simplest of recipes (1 part lemon juice, 1 part sugar, 1 part water, shake well until sugar dissolves, then add 3 parts carbonated or regular water). Infused water and ice teas are other excellent additions. Gim Gimlets or Lemon martinis are great hits too. Be sure to mix everything in pitchers and have it all ready in the refrigerator. Use a large galvanized tub or a cleaned old wheel barrel filled with ice for the rosé wine and beer. Add a whole lemons, limes and cherries to make it look spectacular. The bar should be located beside the seating area and not near the barbecue.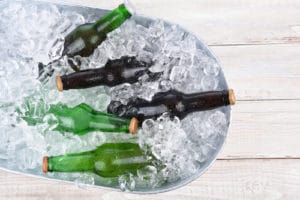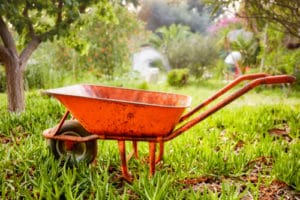 A few more great tips:
Oil the food, not the grill.
Don't move the food around too much. Everything should be turned roughly four times. Twice on each side, in either direction to get those perfect hash tag grill marks #.
Timing is everything and use a timer to get things right.
Get a great digital thermometer. There is nothing worse than undercooked bone-in chicken, 160°C is perfect, 140°C for perfect steak, à point. Test the interior temperature to be sure.
Pay attention to the smoke coming off the BBQ. White smoke is good; grey smoke is "check on it"; dark grey smoke is "remove it from the grill."
Do not walk away from the grill. You need to be there to move things around if things start smoking or burning. Keep your grilling to under 1 hour if you can. If you can afford it, this is the best job to hire someone for, so you can socialize with your guests.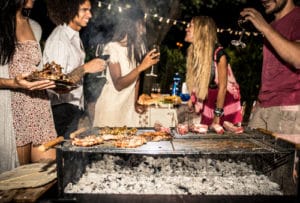 Having a barbecue will not only be fun for the day, but it can be better for your health. You tend to use less butter and grilled meats and vegetables retain their vitamins more from grilling. So whether you are preparing a barbecue for two or twenty, its time to get out there and get your grill on!
Vivre avec mes amis,

Receive the news in your emailbox
If you like this articles , you can subscribe to our weekly newsletter.