Brunch, a portmanteau of the words breakfast and lunch, may have started in England in the 19th century, but it is alive and well all over the English world, and in France too.
There are many theories as to how brunch came to pass. One comes directly from an article written by British author Guy Beringer. He suggested an alternative to the heavy, post-church Sunday meals in favour of lighter fare served late in the morning. "Brunch is cheerful, sociable and inciting," Beringer says. "It is talk-compelling. It puts you in a good temper, it makes you satisfied with yourself and your fellow beings, it sweeps away the worries and cobwebs of the week." Another theory from Carl Degler, a Stanford University professor in a 1980 Chicago Tribune article on the rise of America's brunch culture, said social change might be responsible for why Sunday brunch became so popular in North America. "After World War II, large numbers of American married women entered the workforce for the first time. Married women needed a relief on Sunday, too, thus the rise in popularity of Sunday brunch eaten out."
Either way Brunch has caught on and is here to stay. I adore brunch, it's one of my favourite things to do. I have many reasons to love brunch. It's two meals in one. A meal where sweet meets savoury. There is lots of wine or champagne to drink at noon. And you can wear what you like, occasionally even arriving in last night's outfit, for those who did not make it home from the previous night.
Brunch can be a wonderful experience, and for me to be able to do it in my home – well all the better then! Spending a few hours with my friends relaxing and lounging over coffee, champagne and some delightful food followed by dessert and usually a round of espresso or herbal teas. Don't let serving a brunch be a daunting task. I'm here to help. Just follow some of my advice here and you will be fine.
Like with all events, timing is key. Inviting people in a timely manner will ensure you fill the room. I do believe in giving people notice for brunch. I generally invite them with three to four weeks notice, depending on your guest. Although occasionally, I give a last minute invite or two, because why not add a last minute addition and add a new person to the mix. I do find that also inviting someone to your home on a Sunday gives you normally a higher rate of return on your invitations. People love brunch. It even exists in the French culture, especially in the more urban areas like Paris. In France, Sundays are usually reserved for spending time with your family and loved ones. I will do an article and menu on this repas dominical (Sunday meal) at another time. This is also why brunch in many French homes is held on Saturdays.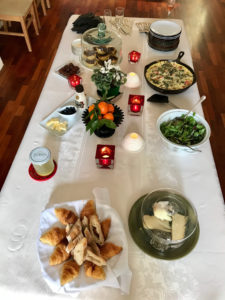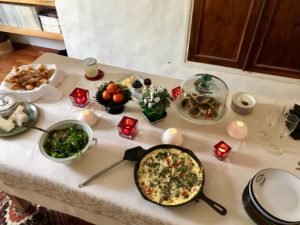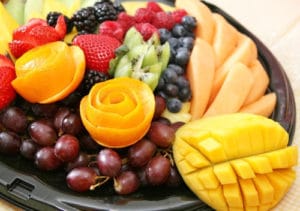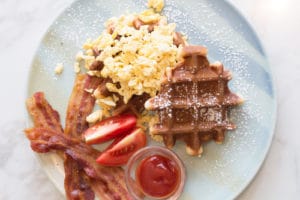 I also stand firm that you need to serve a variety of food not just for the fun of it as a foodie, but to ensure that all tastes and needs are represented. Everyone needs something great to eat. The obvious sweets & savoury items, but sometimes the not-so-obvious, non-egg, gluten free or lactose intolerant dishes need to be on the menu as well, especially if you are inviting people whom you are not close with and don't necessarily know what they'll eat. A nice way to remedy having to do this is to verify special food requirements with your guests, something I always do. You need to ensure that there will be plenty of food for them to eat, with or without dietary requirements as you are also serving alcohol.
Brunch
Chez Leo et Emmanuel
The Ultimate Duck Fat oven-roasted Potatoes
Perfect Scrambled Eggs with Chives
Bacon and Sausages
Scottish Smoked Salmon with Capers and Lemon
Leafy green salad with Passion Fruit Vinaigrette
Hot Blueberry Waffles & Canadian Maple Syrup
Viennoiseries
Lemon poppy seed Cupcakes with slick white icing
A Cloche of Cheeses
Fresh Fruit
Strong coffee with hot milk & tisanes
Drappier Brut Nature Champagne
Bouchard Pere & Fils Bourgogne Chardonnay Réserve
Fresh Orange juice & Sparkling Water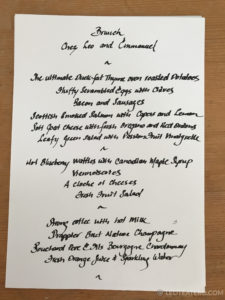 Timing is important and you don't want to be exhausted by the time your guests arrive. The nice thing about brunch foods is that many of them can be made ahead of time and either kept in the fridge or even frozen. For my menu, the waffles and cupcakes are made a week ahead and frozen. I take them out the morning on the day before my brunch to thaw and be iced. I do the fruit and smoked salmon platters the night before and cover in plastic film. I run to the boulangerie (baker) to pick up the Viennoiseries (small croissants, pain au chocolat) first thing and leave them in a basket with a cloth napkin protecting them. The bacon, sausage and potatoes can be made two hours before and left in the oven (covered) or even in chafing dishes at a very low temperature to keep them warm.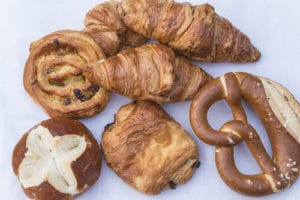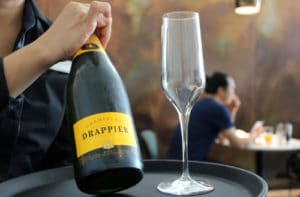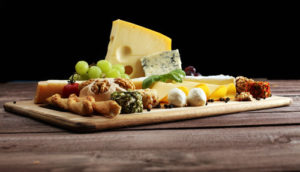 I set the bar up before the guests arrive, using large buckets with ice to hold the wine & champagne. I then place out all of the things that were made in advance – cupcakes, fruit, and cloche of cheeses. I make two pots of coffee and once everyone has their preferred drink, I finish making the rest of the food, like toasting the waffles and scrambling the eggs.
There is one thing I do miss from living in Canada – fresh Montreal style bagels! For a few years I lived very close to Fairmount Bagel in the Mile End district of Montreal and would pick them up all the time. They were always a hit at my brunches. Today, I have my friends bring me some when they are visiting, along with peanut butter (another item not easily available in the south of France). I do occasionally serve bagels at my brunches in France too. You can also sometimes find bagels in the larger cities in France.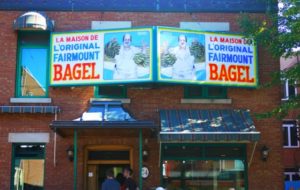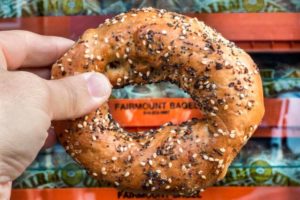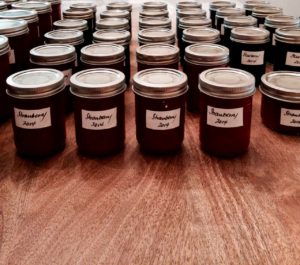 I am a firm believer that everyone who leaves my house after an event needs to leave with something, preferably food. This comes from my upbringing and watching my mother load people down with canning, jams or little presents as they are leaving. The trend is timeless and I still do it today. People love to bring little sweets home, especially those who do not cook. I always have a small cache of jams ready to hand out. For brunches I like to make small desserts or sweets, which are easily transportable for my guests. Boxes or bags for your treats are available at your local craft store.
Vivre ma France et bon appétit,

Receive the news in your emailbox
If you like this articles , you can subscribe to our weekly newsletter.