The smell of the beach naturally soothes many of us. It's been proven in studies that show it relieves stress and relaxes the mind. It is also one of the reasons we moved to Montpellier. Indeed with over 300+ days of sunshine, the beaches here are huge draws in the area. The beach is only 10 km or 15 minutes away from Montpellier, and we take advantage of that closeness by going to the beach as much as we can. By car, bike, bus or tram beaches around Montpellier are easily accessible. All beaches in the country are public as the shore cannot be a private land, however in some parts of the country like on the Riviera, the rocky coast and abundant construction limits the beach space. The Occitanie region has however plenty of remaining unconstructed coastlines with wild dunes and long and wide sandy beaches, many protected by the Government. This gives them a majestic beauty, and many carrying the prestigious eco-friendly Blue Flag award for their environmental awareness & protection.
One of the things that opened my eyes to the beauty of the Mediterranean seas is that the water is so clear and the waves are not as strong as you would find in an ocean. There are no worries about sharks either, especially for someone like myself who is the Jaws generation. There are no great white sharks here, but a few small fishes, crabs and the occasional jellyfish, but it is very uncommon to be stung. Larger fish and sharks do live in the Mediterranean, but they do not come close to the shoreline here.
Life in the region for many, means going for either an early morning swim or late evening swim, washing away the heat from the hot summer days. It is also easier morning and evenings for parking in the summer. Many workers go for lunch and a swim in May and June before all tourists arrive.
In many of the beaches, which I will talk about later, you can do a variety of fun and sporty activities, like fishing (often off season), boating or jet skiing, kite surfing, windsurfing (there are lots of places to rent equipment). During the winter aerobic groups even go power walking in water. There are even volleyball areas for the public. Of course, on the high luxury end you can easily have cocktails and lunch at beach clubs. Do not take the car, instead take a taxi, UBER or car service), from downtown Montpellier it would cost about 25€.
There are also activities close to the beach, which you can pair with a partial day the beach. You can go horseback riding or visiting a Manade (with real cowboys known as les gardian) in Camargue, see a winery (popular Rosé sand wines), or go hiking and bird watching in the Etangs (natural ornithological reserve) with flamingos, wild swans, herons and many other species. Check out the Parc ornithologique de Pont de Gau, Réserve naturelle de l'estagnol as well a list of all of the Etangs (lagoons) along the coast such as Etang de l'Or for more information on these lagoons.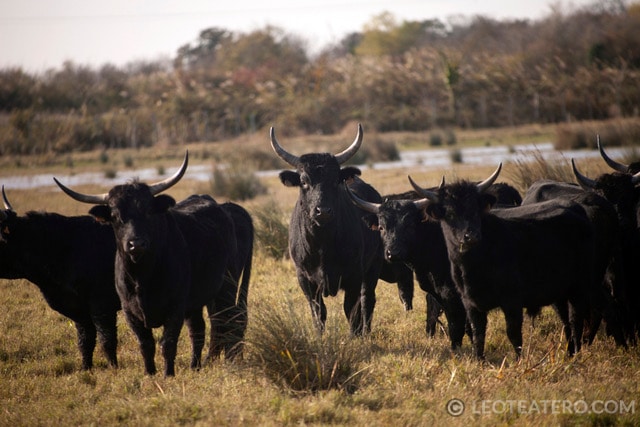 Many of the beaches are located in seaside towns and have a collection of local restaurants. Of course oysters and mussels are specialties in the region, so you could dine at oyster producers along the shoreline, like Atelier & Co. If you just want a simple bite to each there is also access to sandwiches in food trucks or snack bars on just off the beach. On the beach, they sell a variety of fabulous local things, like donuts and candied peanuts, along with an assortment of drinks and ice creams.
Here are a few tips to make your beach journey easy, fun and eco friendly:
Bring a big beach bag to hold everything. You can buy them at the markets here for around 10€.
Bottles of water. Don't buy plastic bottles instead use reusable ones. We use our sports bottles, half frozen with ice.
Bottle of rosé and something for apéro, pate, cheese, crudités or chips.
Mason or Jam jars with sealable lids make excellent beach glasses, but you can also buy plastic ones (with lids)
A beach umbrella, a small cooler or wine bag with ice/ freezer packs, and a comfortable blanket to lay everything on.
Sunscreen: ensure you use eco friendly sunscreens to limit seafood (mainly mollusks) contamination, which is an increasing issue. Do not put them on just before going in the water, as you will not only lose part of their benefit but increase water contamination So swim first, then apply protection to your skin later.
Beach Clubs
One of our favorites ways to indulge in the southern sun and beach is going to a beach club once in a while. It is very relaxing and there are many beach clubs in the area to try out. Most have a similar style … four rows of lounge chairs or "transats de plage" with a kiosk on the beach for the attendants, a bar inside, an open-air dining room, and of course toilets and sometimes showers. The cost is between 16€ to 20€ per person for a transat. Waiters along the beach will serve your favorite cocktails, drinks and food. Most of these clubs turns into bars and nightclubs in the evening and typically the seating areas will be removed around 7pm. The real difference between them is design, service, pricing and food. They can be more relaxed and unpretentious, fun and happening, or classy and and the occasional snobby one. I have a few that I enjoy going to, as design is cool, food and service is good, and service and atmosphere are relaxed: they are Latzarro and Le White Beach. You can read more about them when I talk about the specific beaches later. Still, in order to enjoy your beach club experience, here are a few tips:
Make a reservation at least a few days in advance. You can also request the front row for a nominal price.
Bring your own towel and a light shirt or paréo (dress wrap) to sit in the dining room. Most do not allow just a bathing suit.
You cannot bring any food or water here, it all must be purchased from the beach attendants.
Tipping your beach waiter is a must at the end, but only if you had a good day.
Beaches near Montpellier, from East to West
L'Espiguette Beach
The Espiguette Beach is located after La Grande Motte, to the south of Port Camargue and Grau du Roi. It is one of the wildest beaches in the area and extends for close to 18 kilometers toward the beaches of Saintes Maries de la Mer. It has a desert like feeling with dunes sometimes 10 meters high. If you walk a little on the beach you may just find yourself alone in nature (although perhaps not at the height of summer).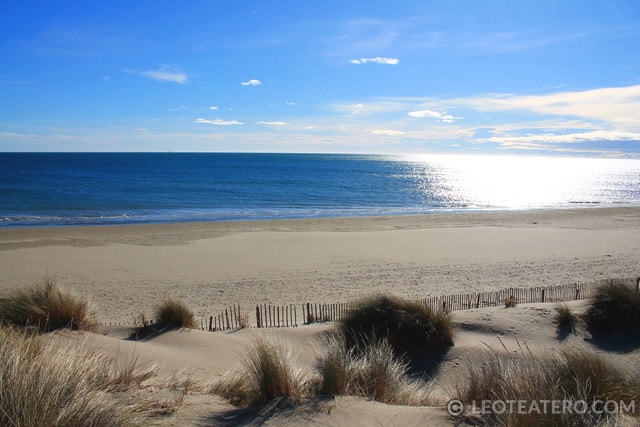 La Grande Motte
This seaside resort town was built in the 60s on what was once a swamp with beachfront dunes and had a population of 40. Jean Balladur, the architect drew inspiration from the Mayan pyramids of Mexico and the modern architecture of Brazil and build huge white structures throughout the entire city, all with great views of the Mediterranean or the Etang. It now has a population of 10,000 and welcomes 2 million people per year. An artificial irrigation system maintains a green and lush environment. There are large parks, sports services, public & private beaches, the marina & water sports facilities all in the similar white quirky designs. The great thing about La Grande Motte is that many of these pyramid apartments can easily be rented affordably for a week. With most everything accessible by foot too, it is life "living at the beach".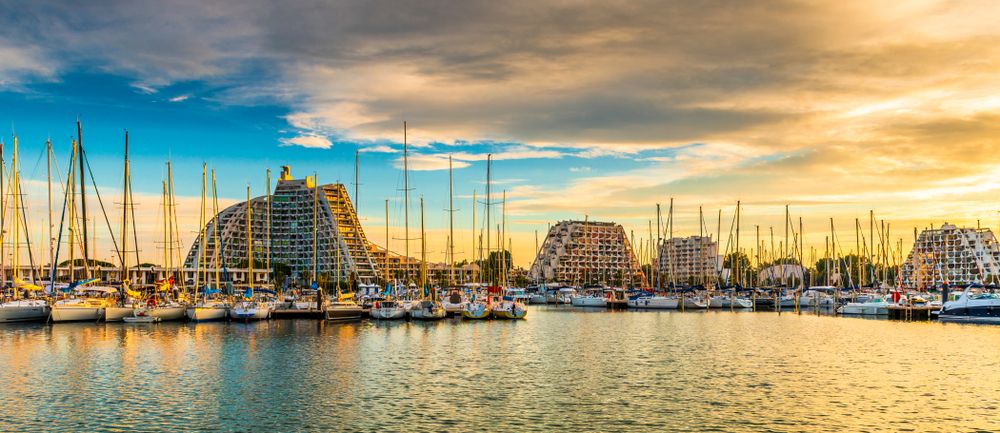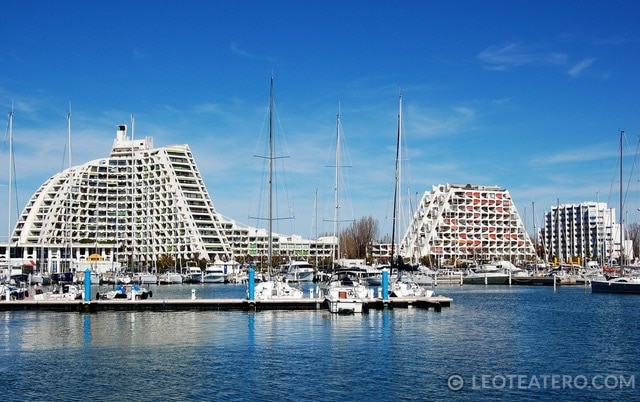 Restaurant Le Yacht Club is a beautiful restaurant serving seafood and has a wonderful for brunch. There are many beach clubs here but the best one is Le White Beach. Aptly named for its completely white interiors and lounge atmosphere. Be sure to make reservations well in advance for either.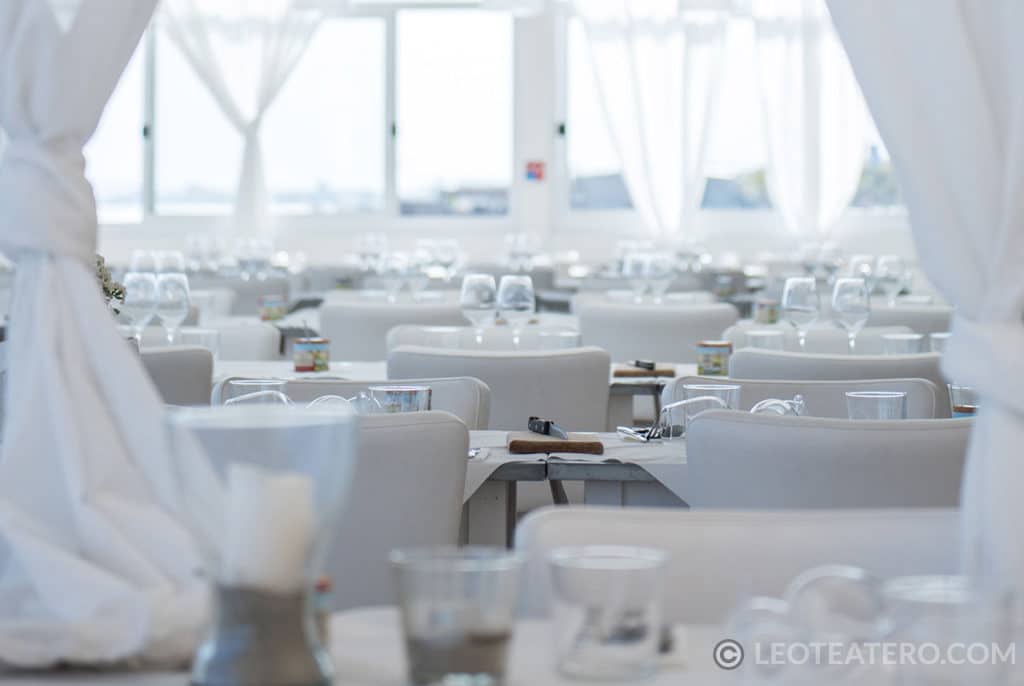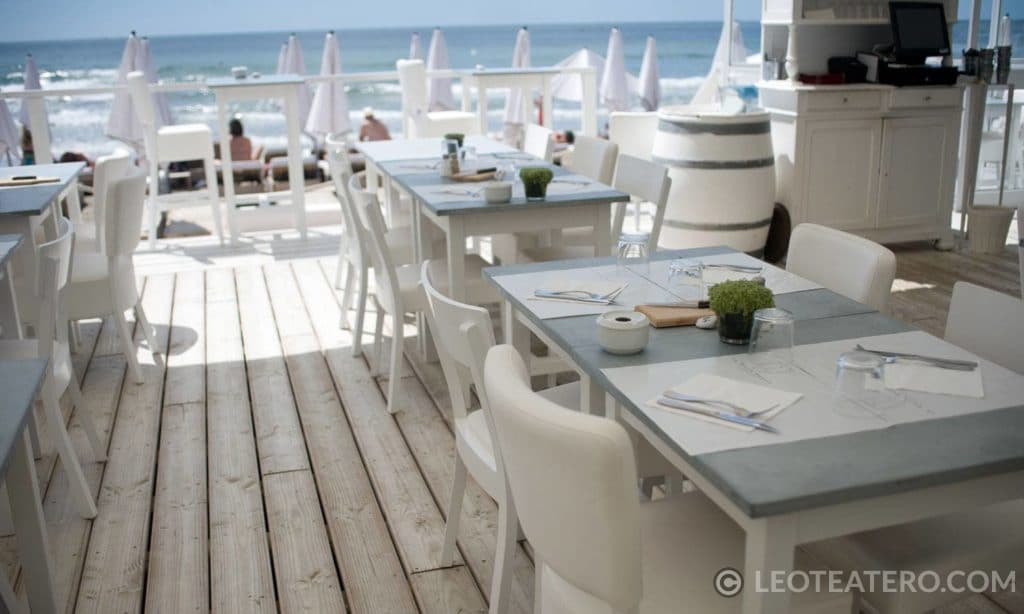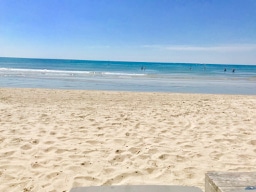 Le Petit Travers & Le Grand Travers
The beach is just east of Carnon (access by Petit travers) and west of La Grande Motte (access by Grand Travers) and yet it has a gorgeous wild feeling, as the land around it is a state-protected dune, pins parasol and wild grasses. The great thing about this place is that there are a limited number of parking spaces that cuts down on then number of people who can easily access the beach. We love how easy it is to pull up in your car just meters from the beach, too. There are outdoor toilets, some with outdoor showers near beach access points.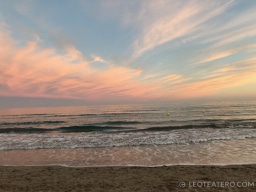 At the Grand Travers end, the beach itself is quite deep but the road and land are not creating limited parking. There are several accesses available for the handicapped (access 50 and 59) first-aid stations near access 50 with showers and toilets. You will find several beach clubs as well as a dog friendly area. One of my favourite beach clubs Latzarro is located along Le Petit Travers and is the perfect place to have a more pampered beach day. Tell them Leo sent you.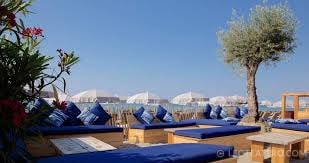 Access: You can access both Petit Travers and Grand Travers by taking the line 3 trams to Pérols Étang de l'Or. There you will find either:
A bus, which will take you to the start of Le Petit Travers. Buses run roughly every 15 minutes all day long. Note this bus is a separate ticket that your TAM passes. Tickets may be bought from the driver. The bus ride ends at Le Petit Travers, but there are free mini-buses (navettes) that drive along the beach road all the way to Le Grand Travers and La Grand Motte.
A shuttle bus (navette des plages) to Grand Travers and La Grande Motte. The Tram ticket includes the shuttle ride.
Bikes for rent
Carnon
Carnon-Plage is a seaside resort town to the southeast of Montpellier. It is the closest beach to the city and very accessible. Carnon Plage was built near the end of the 19th century and has been in use for bathers even before that. Originally built as a private beach for the rich, it no longer has a wild, unspoiled location that other beaches do, but does feel like an old beach community in some parts. It does have great supple white sand and is easily accessible by public transportation, making it a hit for generations of Montpelliérains and my French family too. There are a few businesses near the beach, but it is best you pack your own food and drink. The journey from downtown Montpellier is a straight-line east using the TAM line 3 Tram to Pérols Étang de l'Or (the last stop). Once you get off the train, simply about walk 10 minutes south to the main road, and the beach is located just behind it. There are lines of people walking to and from all day. Note, line 3 has two terminuses, so double check which tram you are getting onto, otherwise you will end up at Lattes Centre, and not the beach. You can also reach it by getting on the D62 towards La Grande Motte and exiting at Carnon.

Palavas-les-Flots
To the southwest of Montpellier is Palavas les Flots, an old fishing town which became a small resort in the 50s and 60s, with colorful houses and very popular with the locals. Named after the "birds of the marsh", be sure to pronounce the s at the end of Palavas when you say it. It is 12 kms from Montpellier city centre and is accessible from there by bike, along the river Lez. I like to pack my knapsack and bike to the beach. It is a flat ride, past horses and arriving at the marina, the beach is located on either side. Palavas-les-Flots has long curves of sand and pebbles protect from the waves by breakwaters, which is great for small children. There is even a children's rehabilitation hospital along the beach, allowing young patients direct access to the beach. Palavas-les-Flots also has a lively community beach scene, with lots of restaurants and stores. Earlier in the day it can be lovely with not too many people, but after 2pm or so, it becomes quite popular and is not for people looking for a quiet beach scene.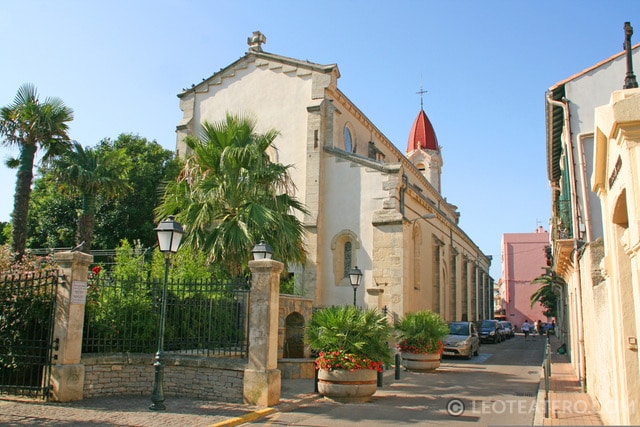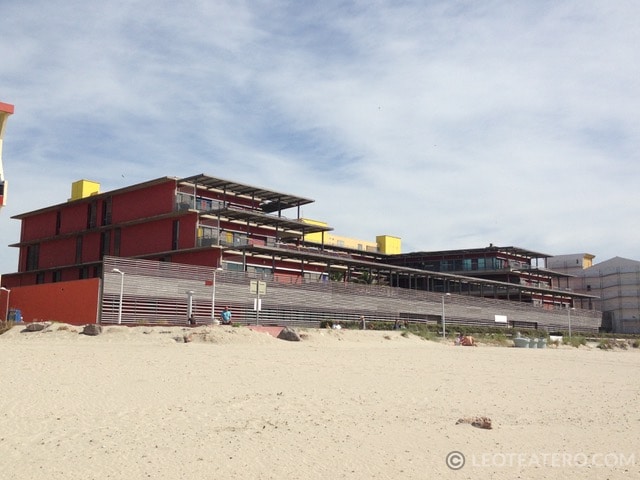 There is a great beach club here called La Plage Bonaventure. It has a stylish interior with great food and easy service. You can take the 131 buses from the Line 4 Tram at Garcia Lorca, which will drop you off in front of the big blue Concert Hall. The Beach is located behind the hall on the right. The Bus 131 timetable can be found here.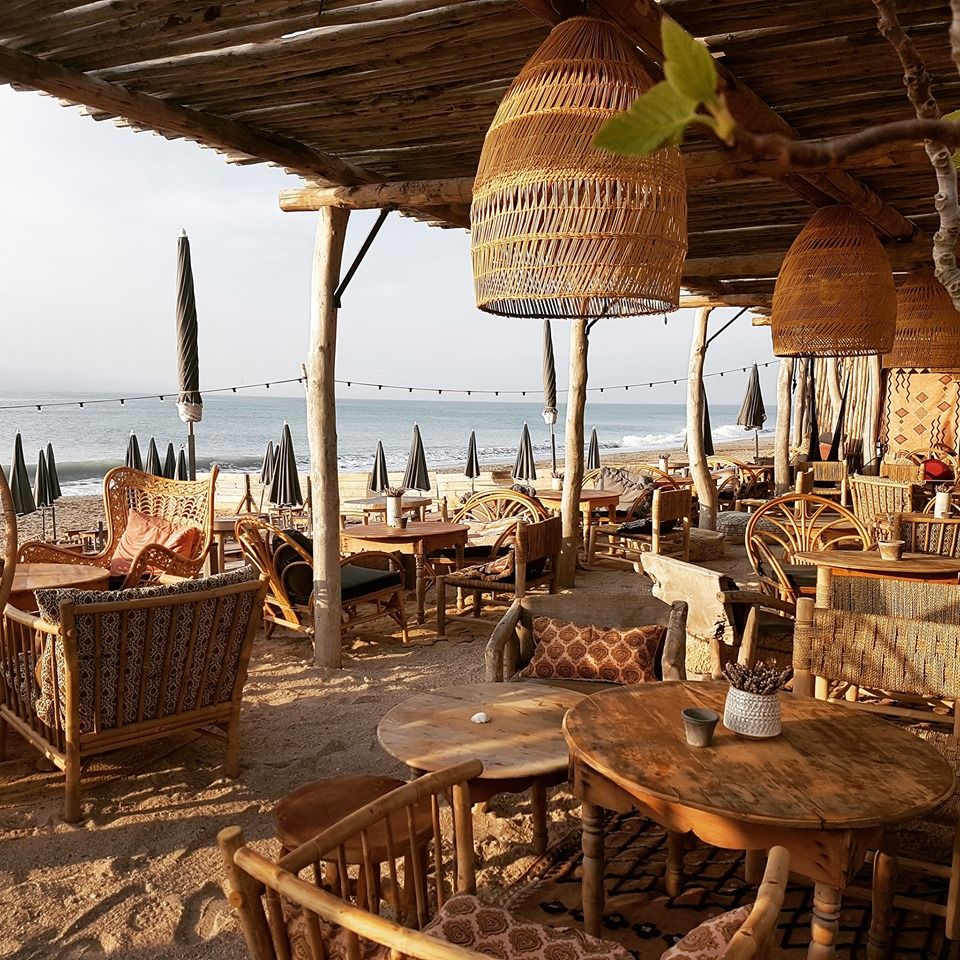 Plage de Maguelone
Southwest of Montpellier is Villeneuve-lès-Maguelone, a 5th century coastal village and charming town. This area directly has a lot of waterways, ponds with seawater, great for hiking and bird watching too. It's not so accessible by public transport but you can bike or drive there. The Maguelone beach has a huge and beautiful Roman Cathedral just to the north of the beach, where my husband used to play as a child, and a restaurant called Compagnons de Maguelone, managed by young people with disabilities. If you are driving, park at Canal du Rhône, continue to the beach on foot, or bike. Cross the bridge over the canal and follow the wide path along. It's a pleasant walk past herons and pale pink flamingos in the salty pond on your right and fields of vines on your left. There is also a small train in the summer that takes you from the car park to the beach during the day. The Carré Mer beach club is also located on Plage de Maguelone.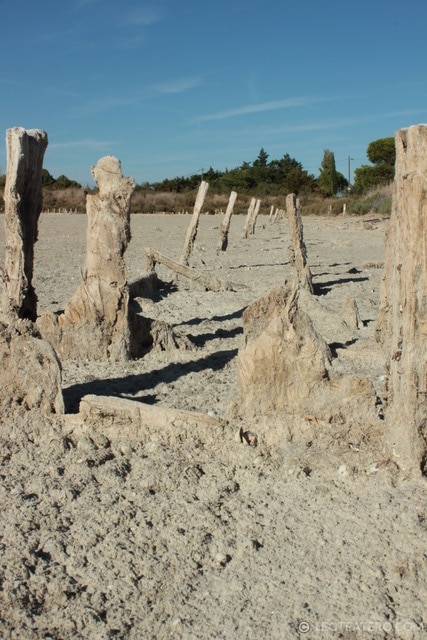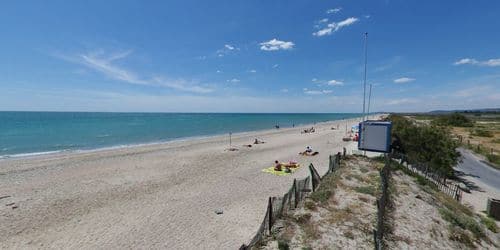 Aresquiers Beach
The Aresquiers Beach east of Frontignan and south of the town of Vic-la-Gardiole. Some parts of the beach is not as sandy as most in the area with lots of pebbles (known here as galets) but is very appreciated from locals as it is not as touristy and therefore less busy. The southwest part between Frontignan and Vic, south the Etang d'Ingril, is more sandy with dunes and in the summer it is monitored. Parking is along the beach road with several large car parks, but note: There is only one entrance, and it is located at the start of the lot. We had to drive past it to the next roundabout (5km) and turn back to get in. The northern section (east of the access road from Vic) has a more wild feeling and is mostly frequented by nudists, but with limited parking. Note access to this beach is via stairs.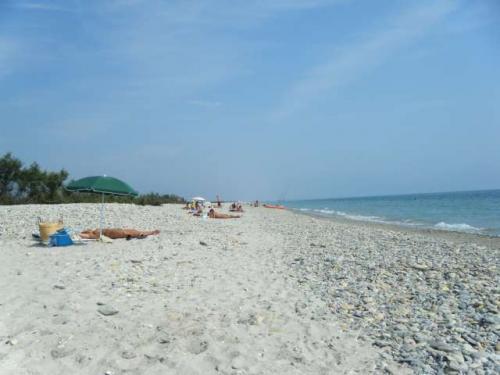 Sète
To the South East of Montpellier, you will find the large coastal town and port of Sète. This former fishing port is home to a thin 20km strip of beach, which separates the Mediterranean Sea from the Etang du Thau (Thau Lagoon), an inland lake that is famous for growing oysters and mussels (see my blog "The World is My Oyster"). The beach facilities have been upgraded, including widening of the beaches and introducing more parking facilities. Sète is also a great town to have a meal in after the beach. In the centre of Sète along the Grand Canal, you will find a lot of restaurants. The beach in Sète is east of the city accessible from the A9 through Sète or Marseillan on either side of the lagoon north of the beach. Avoid the east side of the city between Frontignan and Sète, as it is an industrial area more depressing than anything else.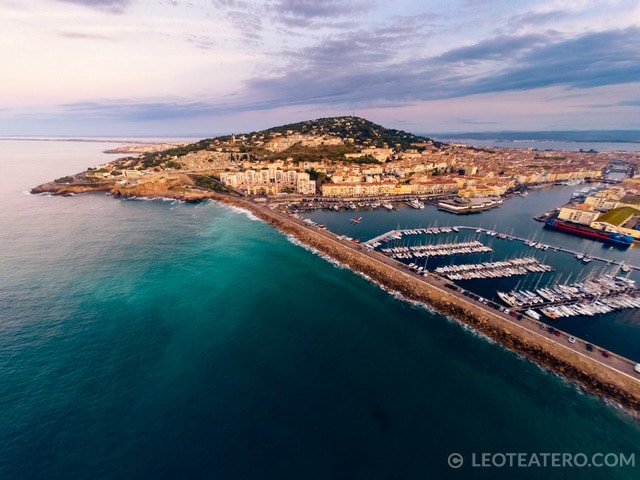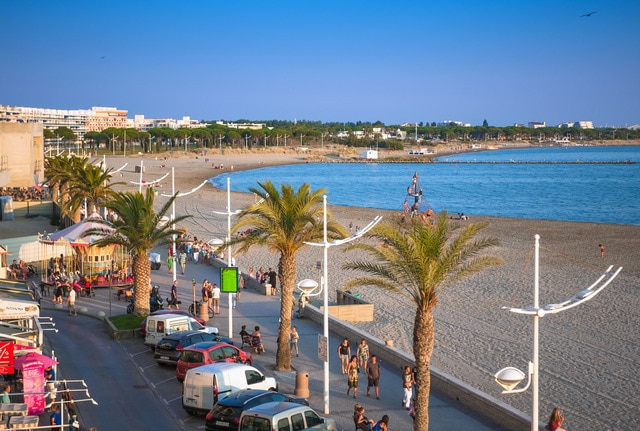 Nudist Beach In Cap D'agde
The beach forms part of Europe's largest nudist colony, and is actually one of the nicest beaches in Languedoc. Long and wide, it has fine sand and a limited number of buildings. Behind most of the beach are sand dunes. Official entrance to the complex and beach is €5 per person, but you can get to the beach by going to Marseillan beach and walking 10 mins to the south. The beach really is 100% nude.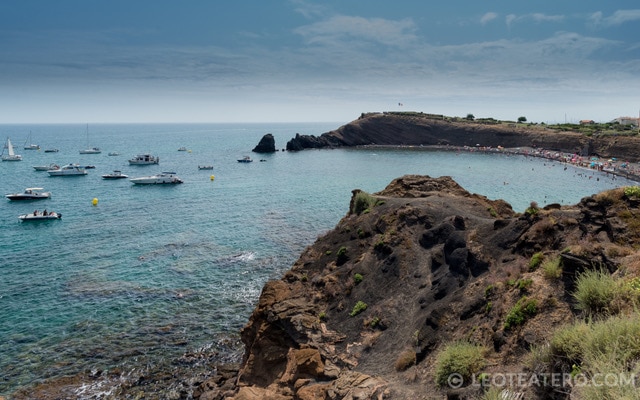 Beach Rules
But do not forget some rules about the beaches. Dogs are not allowed on most French beaches, however there are many dog-zoned beach areas. Just verify the display boards available online. Also, you may drink alcohol on the beach, unless specifically marked that you cannot (like the beaches In Nice). Remember, it is not illegal to drink in public in France, but rather it is illegal to be intoxicated in public.
Many beaches also have a lifeguard station in the summer months and this makes life at the beach a lot safer. Public beaches also have monitoring stations and usually display flags regarding swimming conditions. There are three colours in the French flag system:
Green flag is "safe to swim"
Yellow flag is, "not recommended but monitored"
Red flag is, "bathing forbidden"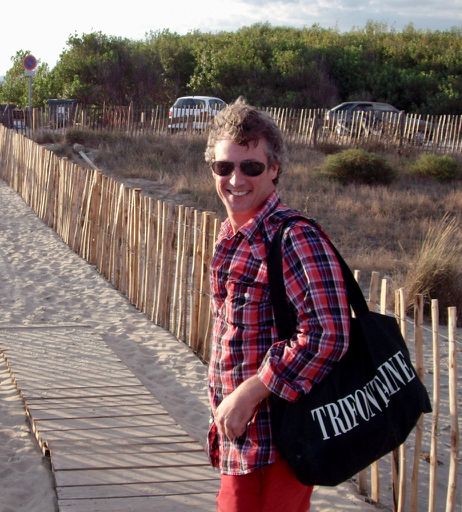 Always bring home more than what you brought to the beach. In order words, be sure to pick up after yourself and others too The beaches here are not too littered, as there are receptacles at most exit points for garbage and recycling. If everyone takes two items, discarded by someone else, we can all ensure a safe and healthy beach environment.
Spending time at the beach is a way of relaxing your mind and body. Make sure you make the most of it!
Vivre ma France,

Receive the news in your emailbox
If you like this articles , you can subscribe to our weekly newsletter.