Four years ago on a visit to France with good friends, we set out on a trek to find works of famed modernist architect and painter, Le Corbusier. We had an exciting time looking for his buildings and discovering the art behind one of the most important architects of the 20th century, and we even learned a thing or two along the way. Le Corbusier was a self-taught architect, urban planner, writer, designer, painter, sculptor and one of the pioneers of what is now called modern architecture. Born Charles Charles-Édouard Jeanneret in Switzerland in 1887, he went on to become a French citizen and had a career that spanned sixty years with his buildings located in twelve countries and on four continents around the world.
Le Corbusier began his career at a very early age. The son of a watchmaker and piano teacher, he went to art school at the age of 15 and was taught applied arts in watchmaking. After three years he left to attend a decorative school of arts and began painting, something he continued for the rest of his life.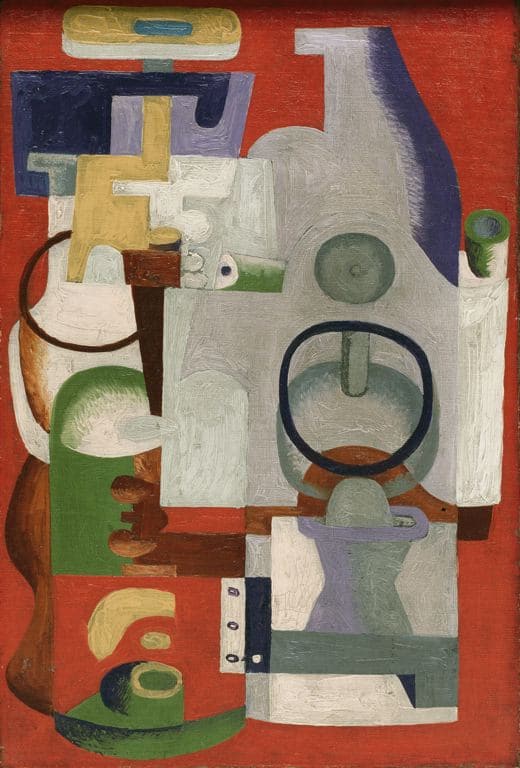 He was a self-taught architect who would go to museums and libraries to aide in his education. In 1905, when Le Corbusier was 18, he and two other students, under the supervision of an architect designed their first house. They went on to design two more houses to great success. He then travelled to Italy and stayed in a Florence Charterhouse, a monastery with small cells for the monks. Designing small bedrooms or cells would become an ever-present theme in much of his future works.
He started working in Paris in the Roaring 1920s, he starting going by a new name Le Corbusier. It's a variation of his grandparents names, and roughly translates "the crow like person". In those days it was common to take on a one-word pseudonym, a tradition that carries on today in many artistic fields of work. He gained work experience training with the Perret Brothers of Paris, and the study and technique of reinforced concrete, something that also would be ever-present, in his life's work. He also spoke perfect German, having also worked in Berlin for the architect and industrial designer, Peter Behrens, who also employed Ludwig Mies van der Rohe.
His big success really started around 1927, when he co-authored with his cousin, Pierre Jeanneret, the new principles of modern architecture. This 'modern look' just means simplicity in terms of form and design. Modern architecture is based on abstraction, which means simple shapes and forms and clean lines. Simply put plain, geometric forms, rectangular shapes, and linear features make the characteristics of modern architecture.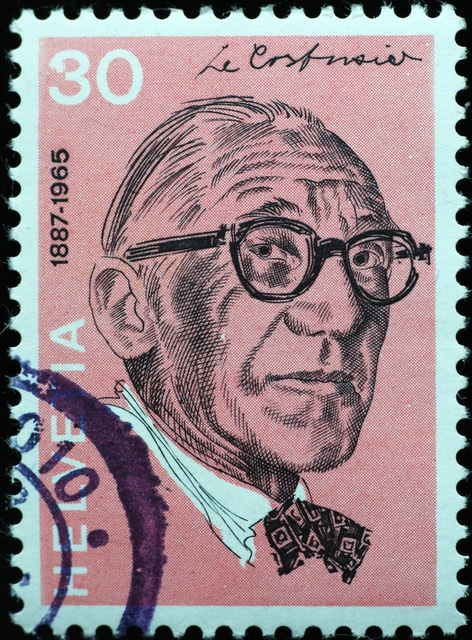 Titled Les cinq points de l'architecture modern, the concept was a game changer in architecture. The basic idea is that the space should be open and harmonious with it's setting. The five points are:
The Pylon – the building is raised up on reinforced concrete pylons, which allows for free circulation on the ground level, and eliminates dark and damp parts of the house.
The Roof Terrace – a traditional sloping roof is replaced with a flat roof and re-purposed as a garden, for promenades, sports or even a swimming pool.
The Free Plan – load-bearing walls are replaced by steel or reinforced concrete columns, so the interior can be freely designed, and interior walls can put anywhere, or left out entirely.
The Ribbon Window – since the walls do not support the house, the windows can run the entire length of the house; so all rooms can get equal light.
The Free Façade – since the building is supported by columns in the interior, the façade can be much lighter and more open, or made entirely of glass.
On our hunt for Le Corbusier, we first travelled to Marseilles to see one of the first modern high rises to have been built, La Cité Radieuse. The striking building measures 165 m in length, 24 m in width and 56 m in height and was built between 1947 and 1951 and built with cement. The graphic style became Le Corbusier's famous signature. His experiment for a new way to live: La Cité Radieuse has 337 apartments of 23 different types, all comfortable and modern homes for the period. In addition to the individual spaces there are numerous "extensions of the home" aimed to encourage these new types of multi-dwelling high rises, with an internal street with shops, including the architectural bookshop and publisher Imbernon, a bar, restaurant and a hotel. The roof terrace also provides a relaxation area with paddling pool, playground and a stage sheltered by a windbreaker for outdoor shows. There is also a nursery school and gym on the top floor which in 2013 became the MAMO modern art centre.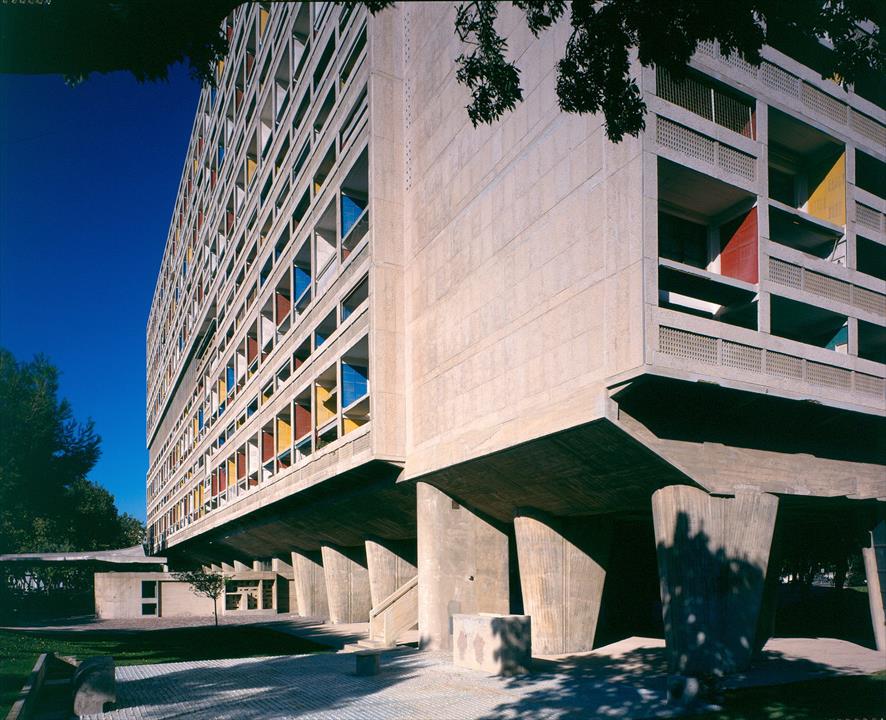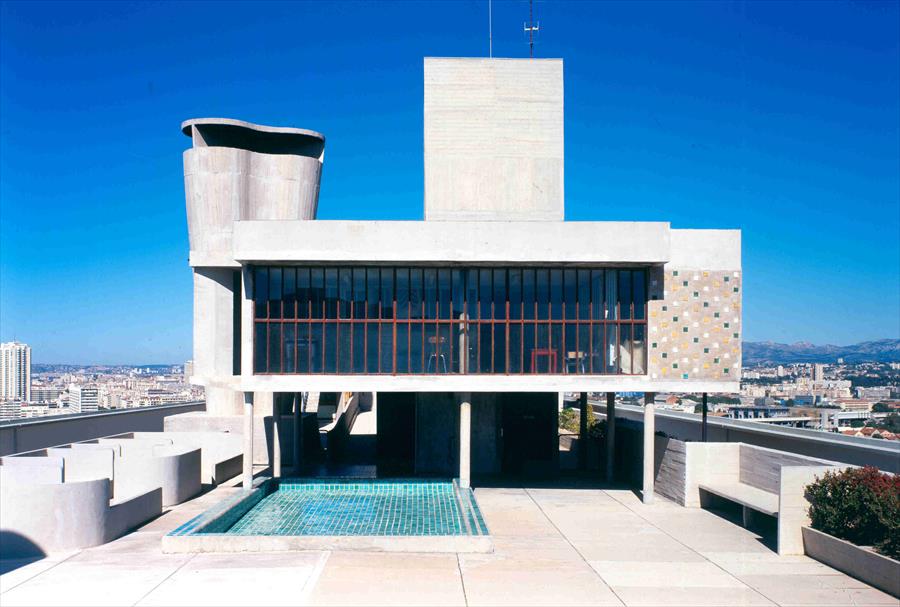 We then headed to Nice and the location of E-1027 a modernist villa in Roquebrune-Cap-Martin, designed and built by Irish architect and furniture designer Eileen Gray in 1929. It is a work ahead of its time: L-shaped and flat-roofed with floor-to-ceiling windows and a spiral stairway to the guest room, E-1027 was both small, yet open. The name of the house, E-1027, was a code, which was Eileen Gray's way of noting her relationship with Jean Badovici as lovers at the time when built, a fact not necessarily in the public domain. The code is E standing for Eileen, 10 for Jean, 2 for Badovici and 7 for Gray: E-1027.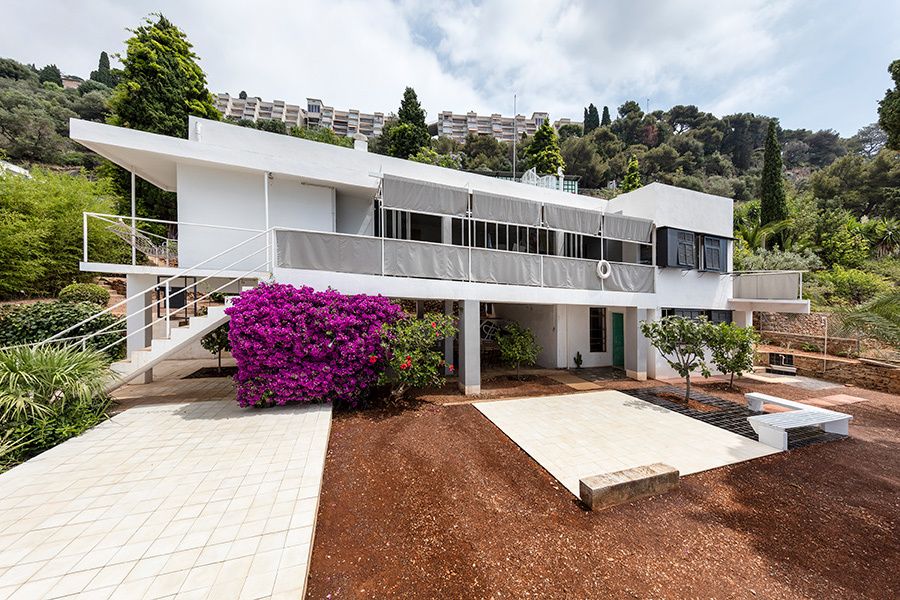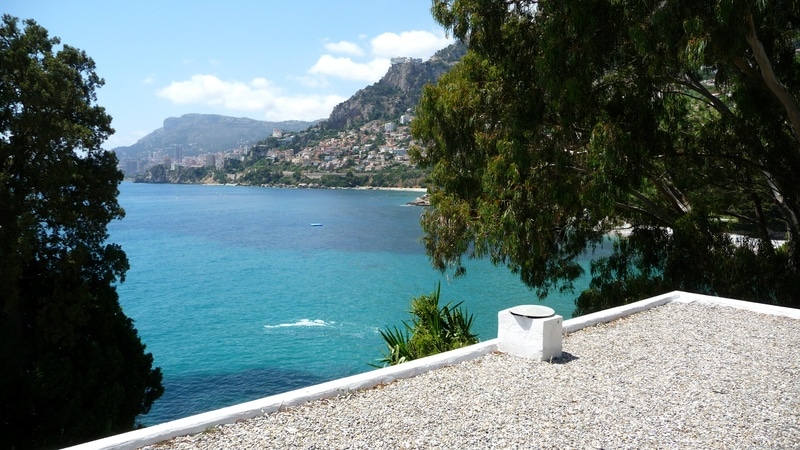 In the late 1930s, Le Corbusier stayed at E-1027, as he and Badovici were friends. While Gray was away, he defaced the walls of her landmark home with eight sexually suggestive murals, which he had painted in the nude. This violation onto Gray's pure white design infuriated the artist; she considered the murals to be vandalism. Whether he painted these murals out of respect for her work or jealousy of her accomplishment, Le Corbusier became intricately tied with the future of the house to Gray's chigrin. He even tried to purchase it for himself, and eventually bought a piece of property just east of E-1027, where he built small, rustic cell like cabins, his Cabanon de vacances overlooking E-1027, which he used for vacations.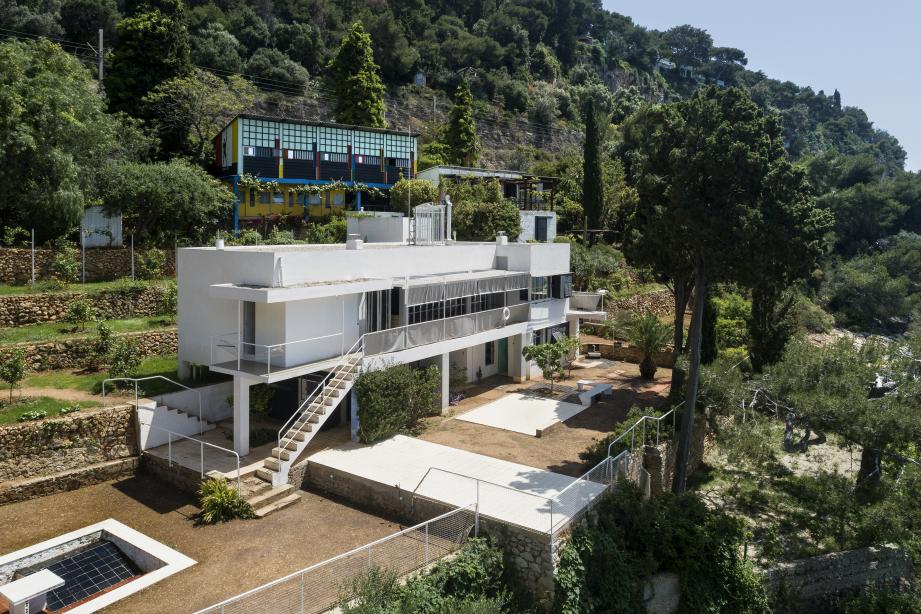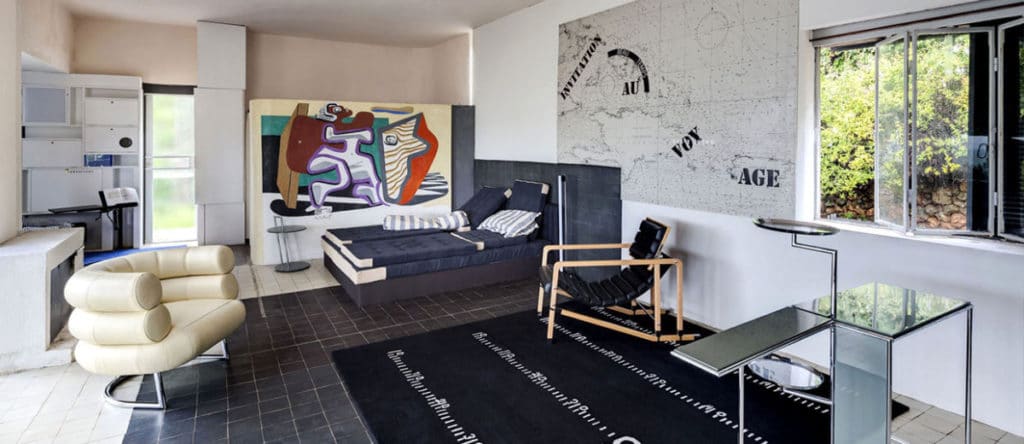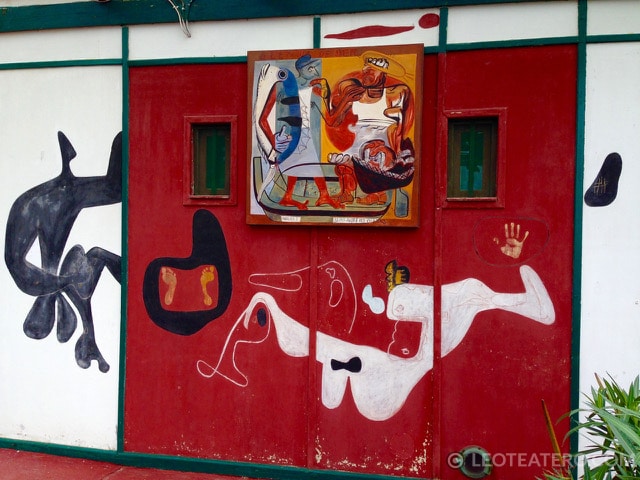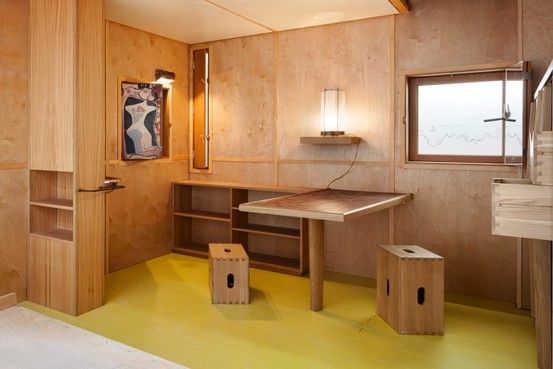 So we left the Mediterranean and headed towards our third stop was Le couvent Sainte-Marie de La Tourette, a Dominican Order Monastery located on a picturesque hillside just outside Lyon. This was a joint project designed by Le Corbusier and Iannis Xenakis constructed between 1956 and 1960. La Tourette is also considered one of the most important buildings of the late Modernist style. The Monastery is a huge and austere design, but once you are within its walls it is an open, airy, comfortable space, like a fortress on a sloping hill. You can book a private tour and lunch. Unfortunately, we were help up by a windstorm and arrived two hours late. Fortunately, the monks let us have lunch in their huge dining room and were able to take a very rare self-guided tour through the building. As it happened, British artist Anish Kapour was showcasing some of his work in the building. You may recall this is the artist who designed and exclusively licensed the controversial blackest black paint, which has virtually no reflecting qualities.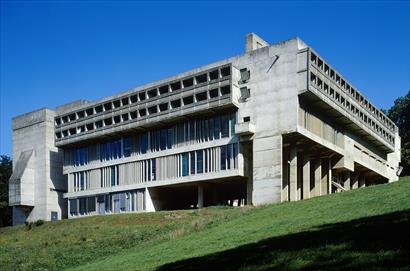 Our next stop was, Chapelle Notre-Dame-du-Haut de Ronchamp (Our Lady of the Heights), a Roman Catholic chapel in Ronchamp, France. It is one of the finest examples of Le Corbusier's work and one of the most important examples of twentieth-century religious architecture. The chapel is a working religious building and is under the guardianship of the private foundation Association de l'Œuvre de Notre-Dame du Haut, attracting over 80,000 visitors each year. Le Corbusier first visited the remote mountain site of Ronchamp in May 1950, saw the ruins of the old chapel, and drew sketches of possible forms. He wrote afterwards: "In building this chapel, I wanted to create a place of silence, of peace, of prayer, of interior joy. The feeling of the sacred animated our effort. Some things are sacred, others aren't, whether they're religious or not."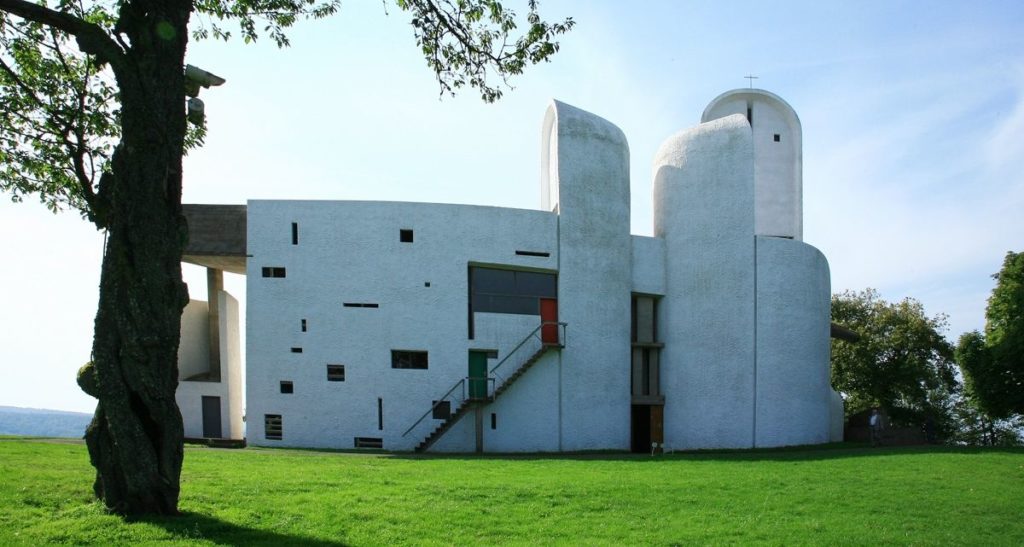 We then travelled to Paris for our final stop of this voyage, to visit Fondation Le Corbusier, a private museum and archive honoring the work of Le Corbusier. It operates Maison La Roche, a museum located in the 16th arrondissement, which is open daily except Sunday. The museum has wonderful collection of his works. Also, thanks to the museum, you now can tour the Paris apartment of Le Corbusier.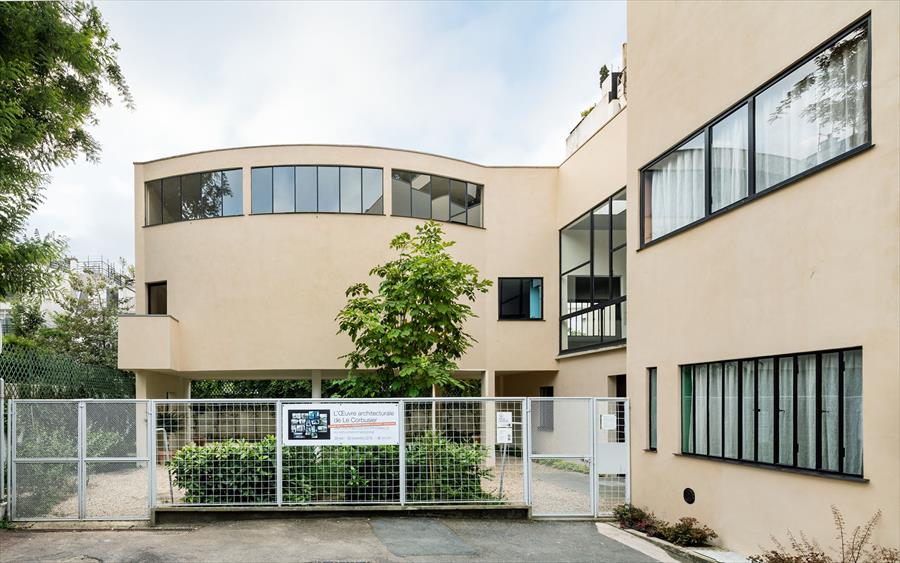 Another example of Le Corbusier's influence is the iconic United Nations Building in New York City. The design was organized by a leading group of international architects, nominated by member governments, including Le Corbusier, Oscar Niemeyer of Brazil and eight others from around the world, who would choose the winner. The head of the committee was American architect Wallace K. Harrison, known for being the architect and advisor of Nelson Rockefeller, who donated the land for the new UN building. Both Le Corbusier and Niemeyer had submitted designs and in the end, along with Harrison, the headquarters was built according to their combined/joint plans.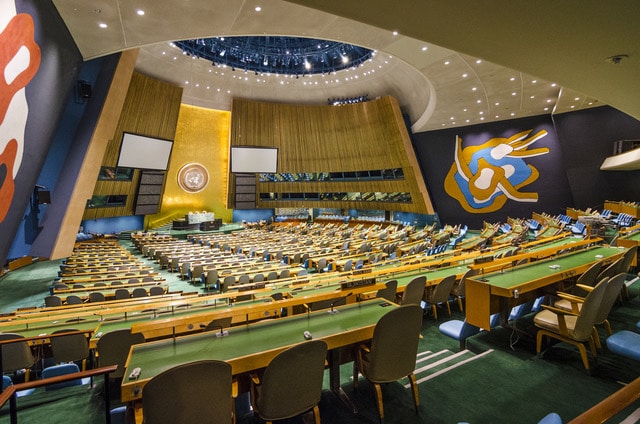 Here are a few more iconic Le Corbusier buildings found around the world.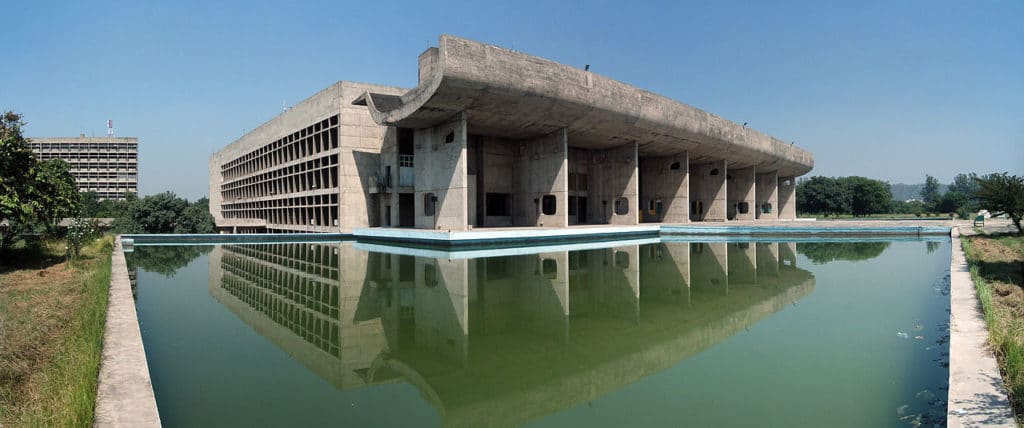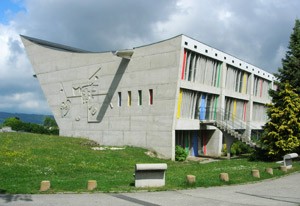 Le Corbusier married a fashion model by the name of Yvonne Gallis, but he maintained a long-term affair with Swedish-American heiress Marguerite Tjader Harris. In 1929, Le Corbusier also had a passionate affair with the African-American and Parisian Entertainer Josephine Baker. They met on a ship bound for Buenos Aires, and by the end of the journey; Le Corbusier had sketched quite a collection of nude drawings of the young star, Baker, even though she was traveling with her husband.
Against his doctor's orders, on 27 August 1965, Le Corbusier went for a swim in the Mediterranean Sea at Roquebrune-Cap-Martin, France. Bathers found his body and he was pronounced dead. It was assumed that he suffered a heart attack while swimming. His funeral took place in the courtyard of the Louvre Palace on 1 September 1965, under the direction of writer and thinker André Malraux, who was at the time France's Minister of Culture.
After he died in those very waters, the whole area was declared a Site Moderne, and deemed an area of cultural and historical importance and international interest. Today, E-1027 is recognized as the founding element of this site.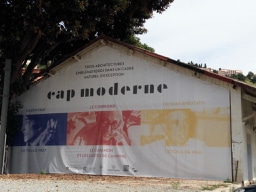 Most notably, in 2016, seventeen projects by Le Corbusier, in seven countries were inscribed in the list of UNESCO World Heritage Sites as The Architectural Work of Le Corbusier, an Outstanding Contribution to the Modern Movement.
Hunting Corbusier was a great vacation theme and I cannot wait to hunt down other important artists in France.
Vivre ma France,

Receive the news in your emailbox
If you like this articles , you can subscribe to our weekly newsletter.