What does one imagine when thinking of Provence? An abundance of fruit trees, gardens lush with plants with mountains in the background?   Beautiful Plane trees aligned on the street's edge canopying the street with a arch of leaves?   Or is it the scents in the air … with poppies everywhere and rows upon rows of purple lavender?   I can tell you it is all of that and so much more!
The Region of Provence-Alpes-Côte d'Azur is located in the southeast corner of France between Italy, the Mediterranean Sea and the Rhone River and is home to incredible places like Nice, Cannes, Avignon, Aix-en-Provence and Marseilles.   This vast region has mountains; a large river, a delta and the Mediterranean Sea, giving it hot and dry summers and mild winters.  Meaning little snow and the plenty of sunshine, perfect for fruit farming and for grapes.
The mythic wind, le Mistral is a feature of the climate in the western part of the Region; it blows from the north bringing clear and dry weather.   The eastern part of the department is more protected from the Mistral.   This wind is capable of reaching speeds of over 100 kilometers an hour, blowing over everything in its path.  Yet even with its potential for destruction, it is a vital component to the French wine regions of Provence, The Rhone and even parts neighbouring Occitaine, where we live in Montpellier.   The winds can be so strong that they rid the area of virtually all cloud cover, ensuring bright and sunny days that are perfect for ripening fruit and especially grapes.   In addition, the winds help to normalize temperatures, ensuring it is neither too cold, nor too hot.   Some people claim that Le Mistral can cause headaches, anxiety or restlessness, even in animals too.   Some even claim that it causes mental instability and can drive  people mad.   The painter, Van Gogh painted many scenes here too.   In a letter he referenced the mistral saying "he was so determined to finish a painting that once he drove the legs of his easel into the ground, strapped the canvas in place, and kept on painting in spite of the wind".
Besides it's beauty, the weather and its charms, Provence has a fantastic long history, including being one of the earliest pre-historic known sites of human habitat in Europe, going back hundreds of thousands of years.   You can visit caves with walls covered in paintings and engravings.   More recent civilizations were started by the Celtics at about 900 BC, and then later by Greek colonists in 600 BC.  It was eventually conquered by Rome at the end of the 2nd century BC and was under Roman rule for over a thousand years.  In more modern times, from 879 until 1486, it was a semi-independent state ruled by the Counts of Provence.   During the 14th century, the Catholic Church – under a series of French-born popes – moved its headquarters from the in-fighting of Rome to Avignon, thus beginning the most splendid period in the city's – and region's – history.  Yes, France is the only other country to be house a Pope.  The Palais des papes d'Avignon, a medieval and gothic fortress and palace held six papal conclaves spanning 60 years, which still stands today.  You can tour this magnificent structure as well.
In 1481, the title of Provence passed to Louis XI, King of France, and in 1486 was legally incorporated into France.  Provence has been a part of France for over 400 years, but the people of Provence, particularly in the interior, have kept a cultural identity that persists to this day
It was part of that cultural identity that British author Peter Mayle dryly wrote about when he published "A Year in Provence" chronicling his first year as a British Expat in Ménerbes in the Luberon.  It soon became an International Best Seller and put Provence on the Anglophone map.   British and Anglophones started moving to France and setting up la vie française.  Prices were much cheaper than in England and the lifestyle much more agreeable.  This has also helped in making Provence one of the most sought after and top vacation spots in the world and it is also, after careful consideration, where we have chosen to buy a home.
So my husband and I invited my mother to join us on this fact-finding mission.  Our house hunting journey took us to three different areas in Provence: Luberon, Les Alpilles and Les Baronnies, all located in the Western side of Provence, close to Avignon.   Our journey, by car was wonderful, passing orchards upon orchards of cherries; apricots, peaches and olives.  Rows of lavender, strawberries, tomatoes and vineyards.  Through small villages and beautiful towns to mountains and gorges.  It is such a breathtaking place to see and experience.  One moment you are up in the sky driving in the mountains through clouds and the next moment down in the valley passing picturesque villages.
We have now toured properties all over France.  In Bretagne (Brittany), Normandie (Normandy), Bordeaux and even in the Cote D'Or (Dijon), but we keep coming back to life near the Mediterranean.  Life near the southern coast has such inspiring landscapes and views, not to mention the sun and weather.
Sadly the six houses we saw during our short stay did not make the cut for us.  None of them met our list of requirements, once we saw them.  We are now moving into our second year and we remain positive that we will find the right one.  On a happy note we did stay in three wonderful B&Bs or Maison d'Hôtes, which I whole-heartedly recommend for any traveller to the region. Each was unique but they all shared three important things, style; comfort and service.
The first was La Maison des Baux arts in Maussane-les-Alpilles. Our host Roland, a painter was wonderful, charming and handsome to boot! The food and service for breakfast was divine and the house and gardens are home to a fantastic collection of art and collectables and a great place to recline and relax. Roland's artistic imprint can be seen in everything.

Our second place was Au Ralenti du Lierre in the villages of Beaumettes in Gordes. Our hosts were equally lovely and welcoming. Their 16th century mas (farmhouse) is built on a hillside and the garden is quite steep, reaching behind the pool all the way back to the rock face of the small mountain behind it.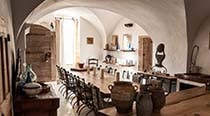 Our final place was L'Ancienne Cure in Buis les Baronnies, hosted by Francoise and Patrick. Again such friendly and helpful hosts! Their home is an old Priory of the Catholic Church located beside it and it's beautiful. They have spacious rooms decorated with style and panache. You can easily see that their previous life as hoteliers in Paris gave the a perfect background for their Maison d'Hôtes.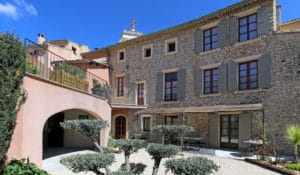 Besides beautiful vacation homes, the area is also known for another famous French traditions – Santons, small hand-painted terracotta nativity scene figurines.   It also brought to the French table dishes such as aioli sauce, Herbes des Provence, Bouillabaisse (fish-soup), ratatouille, pissaladière (anchovy tarts) and my personal favourite Brandade de Morue from the neighboring Nîmes (salted cod with mashed potatoes baked in the oven).
During our journey, we could not stop talking about the wealth of beauty which is everywhere in everything thing. From the carefully designed terraces of vineyards to the private gardens hidden behind fences, but for all to view when driving high on a mountaintop to the wild lavender, rosemary, sage and thyme and towering oaks and pine trees. It truly is breathless and a lot to take-in in just four days, which is clearly not enough time.
We enjoyed our little journey to Provence and we will soon be back looking at more properties in the coming weeks, so stayed tuned!
Thanks also to the Aix-en-Provence Tourism office for some of the photos.  The rest were taken by me.
Vivre ma France,

Receive the news in your emailbox
If you like this articles , you can subscribe to our weekly newsletter.