As an event planner and foodie, I have spent three decades planning cocktails, parties and dinners and I can tell you that there are four basic elements that need to be aligned in order to have a great dinner in a restaurant.
The space needs to have a nice flow and make one feel comfortable. Many great restaurants are in the form of a circle, so the flow of energy is better and is kept in movement. What does the space do for you? A successful restaurant has an environment that matches the food it is serving and the customers it attracts.
Ambience – who else is in the room? What is the tone of the space? The feel? The vibe? A restaurant that focuses on selling upscale food should create an environment of dim lights, soft music and high-quality items, such as wine glasses and well-cushioned booths. A restaurant that focuses on selling fun and colorful pizzas to children should have an environment that's colorful and exciting.
Service. How you are stewarded from arrival to departure is so important. Customers are the lifeblood of restaurants, and if employees do not make a point to satisfy the customer, the restaurant will see fewer and fewer people walk through the doors.
These first three elements have an effect on your experience, but of course what you eat & drink is the most important element. Successful restaurants consistently serve fresh food that is exactly as described on the menu. Screw up the food and everything is a bust.
Many other things may come into play and I think this past year's list can be summed up with one word – local. Most of these restaurants not only are using local producers and suppliers but the food is mostly local as well. Something to think about it!
As you know being a foodie, wherever I go, I try to eat in at least two great restaurants in town. Here are my top 10 choices of restaurants from the past year. Each of the restaurants was able to create a great evening and experience for me. Do keep in mind that I don't believe in rating restaurants by numbers, just by a pass or fail. Roman style – thumbs up or thumbs down.
You can follow all of my restaurant reviews as VivreMaFrance online at Tripadvisor.com. You can also see Leo's List of Restaurants 2018, and if you have a restaurant that you would like me to review, let me know. Enjoy!
Bon appétit et Vivre ma France,

fishers in the city
58 Thistle Street, Edinburgh, Scotland EH2 1EN www.fisherrestaurants.co.uk/ +44 131 225 5109

In a city not necessarily known for its food, we found a seafood lover paradise. Fishers in the city is located in the Newtown area and it's a stylish and lively space with the kitchen opening onto the restaurant. The staff was attentive, relaxed and quite friendly, and we even had a good laugh with them. The food was the best meal many of us had in Edinburgh, and we are still talking about it. We got a last minute reservation for 9pm. There were three of us and so we shared a platter of locally sourced Pacific Rock Oysters with a bottle of dry Alsatian Riesling. We then shared the Scottish Seafood platter, the crab and crayfish cakes and the lemon Sole and Courgette Carbonara. To finish it off, we shared the Sticky Toffee Pudding with ice cream, a wonderful surprise right to the very end! I definitely will be making reservations again (very recommended as they are busy) and heading straight back to Fishers on our next trip to Edinburgh. Note that there is another Fishers restaurant in Leith. You can also enjoy the Shore Bar next door with live music.
Monsieur Bleu
20 avenue de New York | Palais de Tokyo, 75116 Paris, France, www.monsieurbleu.com 33 01 47 20 90 47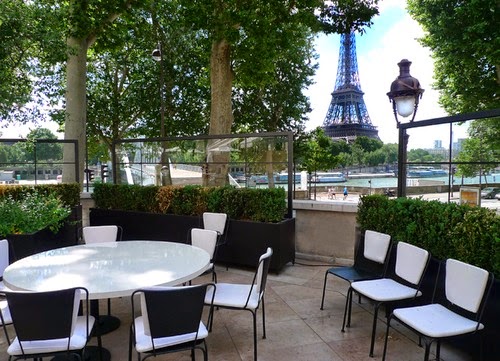 If you want to experience a classy and luxurious Paris dining experience, then Monsieur Bleu is for you. Located in the stunning Palais de Tokyo, which was built for the 1937 world exposition, just steps away from the Eiffel Tower and the Seine, this beautiful art-deco restaurant designed by famous architect Joseph Dirand combines everything one needs for an outstanding dining experience. The staff was attractive, attentive and dressed in the traditional haute restaurant style – tuxedos! There is a main dining room as well as one for private events, and a large terrace overlooking the Seine, with plenty of space to people watch and take in the view of the Eiffel Tower. The menu is the creation of Chef Benoit Dargère and is simple but divine. We were a large group in our party (16) and with reservations; they were able to accommodate us easily. The food was divine and served with style and class. If you want to celebrate Bastille Day with the best, then this is the place for you. They take reservations a year in advance for the 14th of July celebrations, so book now if you want to go!
La Portena
50 Place des Corps Saints, 84000, Avignon, France, (no website), but on TripAdvisor and Facebook +33 4 90 03 32 07

While out with friends looking for a late night bite in Avignon, we happened across this little gem of a restaurant. Located on a vibrant square with seating both inside and outside, it was simply perfect! The food is deliciously homemade, and you can even see them preparing it, as the kitchen is partially open to the restaurant. The Argentinian menu has lots of options, especially for vegetarians. The owner waited on us, and was lovely and very friendly. We shared a plate of empanadas to begin, followed by the Crab Salad, Crepes Panisse and a Risotto with a bottle of Etchart Torrotes, a dry Argentinian wine. We even ended up sharing apple tartlets for dessert. On the night we were there, beautiful live Argentinian guitar music was playing; it was just the right amount to give this place the feeling of a tiny South American cabaret! Do make reservations, especially during the Avignon Festival, to make sure you don't miss this little taste of Argentina in the south of France.
La Paresseur
Restaurant & Cuisine du Marché, 15 rue Jules latreilhe, 34000 Montpellier, France (no website), but on TripAdvisor and Facebook +33 04 67 67 12 07

This is one of those places where you know the people behind the restaurant are foodies, just by what looking at the menu. There are a lot of 'at the moment suggestions', which I love. Located on a tiny street full of bar and restaurant terraces in the Eccuson neighbourhood of Montpellier, La Paresseur is classic French food with a modern update, exceptionally well done. They actually produce most of the vegetables themselves in their own bio garden, which makes it 100% local, seasonal and with little carbon footprint. We started with a planche de charcuterie, including a huge piece of foie-gras served with the tastiest homemade fig confiture. We then ordered the rabbit ravioli and the burger, cooked to perfection, followed by the tiramisu de saison and a café gourmand (espresso with small dessert bites). An enormous wine list overlooks the restaurant giving with gorgeous arched stonewalls give it the feeling like you are eating in an old Mas (southern French farmhouse). The décor is modern, clean and chic. The staff are courteous and helpful. Do make a reservation though this place is always busy. You also may run into the Chef's beautiful dog who occasionally greets diners, so don't be alarmed.
Le Pyrénéen
14 allee du President Franklin Roosevelt, 31000 Toulouse, France, (no website), but on TripAdvisor & Facebook +33 05 61 23 38 88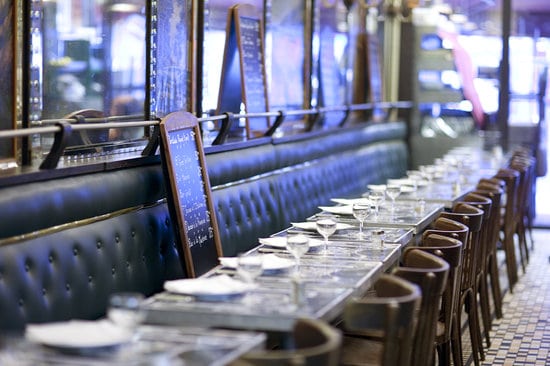 One of the things I love best about large French cities is that they always have these traditional Brasseries and bistros serving the best in regional French cuisine. Toulouse has one of these exact places in Le Pyrénéen, established in 1925. We had a fantastic dinner at this bustling brasserie, with smartly dressed waiters and fashionable guests in an exquisite art-deco décor. The stained glass ceilings are incredible and the ambiance is delightful, with waiters briskly bringing food to the tables. It is the type of place where couples or friends come before or after a theatre show or a movie, and it is lively and echoing with animated conversations and debates. The tables are close and you easily start chatting with your neighbours. The food is extraordinary too! Of course, we started off sharing six oysters, followed by the escargot de Bourgogne (snails in garlic butter) and the Magret du Canard grillé with a crown of foie gras (grilled duck with liver pate) for me and the Salmon tartar and Andouillettes with a Mustard sauce for my hubby. We shared a lovely bottle of Chateau La Voulte Gasparets "Romain Pauc" and had no room for dessert. Of course being in Toulouse you might want to try the local specialties such as Cassoulet Toulousain, or the duck confit. It is the best traditional French restaurant that we have eaten at in a long time. We will be back, gents!
The Ivy Garden Restaurant
195 -197 King's Rd, Chelsea, London SW3 5EQ, England, www.theivychelseagarden.com/ +44 20 3301 0300

If you are looking for a real Chelsea hotspot, then look no further than The Ivy Garden. It's a lively, fun atmosphere and decorated just beautifully. An English restaurant with a brasserie service filled with lots of beautiful plants and fabrics and comfortable chairs, and intimate corners and a stunning terrace. Just the kind of place that makes you feel at home. Note to self, if you arrive without reservations just be glad to have a drink at the bar while you wait, a table always comes up. We had reservations and stepped into the room just after 10pm for a late night bite. It's a bustling place, busy most nights with smartly dressed wait staff all wearing crisp white shirts and a smile. The menu is a combination of local and international cuisine alongside a few Bespoke dishes serving food all day from breakfast to late night. I ordered the Monkfish and Prawn curry, and my two friends had the Grilled Tuna and the Roasted Salmon fillet. We shared two desserts too, the Crème Brûlée and the chocolate bomb as well as a bottle of Sancerre Blanc.
Brasserie de Montbenon
Allée E. Ansermet 3, 1003 Lausanne, Switzerland www.brasseriedemontbenon.ch +44 021 320 40 30


Located in one of the most stunning buildings in Lausanne, we arrived without a reservation, the restaurant was packed with people but they were able to accommodate us within 20 minutes. To our surprise, we were seated on Adirondack chairs on the back terrace, in front of a roaring fire overlooking Lake Geneva. We sipped our cocktails and enjoyed the unexpected surprise. It was wonderful to sit outside and have a quiet drink before stepping back into the huge, two level dining room that was hopping with action. There had to be seating for at least 200 in the room and it was in full force and lively. If you want a big boisterous dining room experience that this place is for you! Our waiter was fun and he quickly outlined the menu and we so ordered right away. We started with the oysters and then shared the Rillette de Pork Lo Caïon de Sévery. My two friends ordered the Scottish Salmon in a champagne and butter sauce with risotto Carnaroli and baby spinach and I had the Ravioli de Mauro with Ricotta and butternut squash. We also drank a local Riesling and everything was fantastic. I easily could have ordered anything from the menu, which was very terroir and seasonal. Tips though – go at lunch on the terrace for the amazing view of Lake Geneva and at night, ask for a window seat. I do recommend booking in advance as this place is always packed with people.
Nutbourne Battersea
29 Ransomes Dock, 35-37 Parkgate Road, Battersea, London, SW11 4NP www.gladwinbrothers.com/ +44 020 7350 0555

This is the 3rd restaurant from the Gladwin brothers Richard, Oliver and Gregory and the namesake of their family farm & vineyard in West Sussex and like their other two it is a sharing style, foodies restaurant, very relaxed and friendly. The Gladwin brothers use their three unique skills; one being a farmer, the other a chef and the third a restaurateur, and present the local produce in an eclectic daily menu, with meats cooked on the open fire; dishes that are hearty, wholesome and full of flavour. I love their food concept of farming and foraging and they have clearly done it well. We shared Oysters Rockefeller and the Tarama salata and a bottle of Nutbourne Chardonnay. I had the Rabbit Wellington and my dinner guest had the pan-roasted Hake. Everything from the room, to the decor and service was excellent. Don't forget to buy the cookbook called The Shed based on their concept of local and wild and get a glimpse inside the Nutbourne World of the Gladwin brothers.
MARCEL
3, rue des Eaux-Vives, 1207 Geneva, Switzerland www.restaurantmarcel.ch/ +44 022 735 33 33

Marcel is one of those kinds of restaurants that you when you find it, you feel like a big secret has been revealed to you! Hiding behind darkened windows and a huge velvet black curtain at the front door, you enter Marcel and it feels like another world, packed with people happily waiting for their food. A foodies' restaurant for sure, with a very broad menu that includes your favourite savory meats, wonderful fresh and exciting salads and the most amazing brunch items. We were there for Brunch and all three of us ordered a version of the Eggs Benedict. Mine was the basic, and my two friends ordered the Norwegian and the Avocado. We all had the glorious fresh made coffee, and even treated ourselves to sharing a little cheesecake. Everything was fabulous, from the wait staff to the ambiance. Take note though, the space is small and you might have to wait to get a table, but trust me the wait is worth it. They also have two other restaurants both located in Paris, one in the 7th and one the 18th arrondissement.
Jaja
3 rue Sainte-Croix de la Bretonnerie, 75004 Paris, France www.jaja-resto.com/ 01 42 74 71 52

We have eaten at Jaja several times over the past few years and keep coming back for the great food, cute space and lovely hosts. The place is located in an old Hôtel Particulier, on one of the busiest streets in the Marais. As you enter, you discover a petite urban garden almost like a secret haven. In front of you is the terrace and beautiful glass ceiling of the dining room. The décor is bistro style and divine. The menu changes a lot but the chef does French classics with a twist and uses ultra-fresh organic and craft products. Another thing I love about this place is that they list all of the suppliers that they work with, so you know where everything is coming from too. They have a great wine list and ten Grands Crus served by the glass! On our last visit, we were four in our group and they were able to fit us in without a reservation on the terrace. I had the Prawn and vegetables ravioli with Thai bisque, and my friends had the Rack of veal from Pays Basque, pan-fried zucchini and shiitake (shared for two) and the Rabbit on wild fennel and orange from Sorrento, balsamic vinegar. We shared two bottles of the Roussillon Côtes Catalanes, Le Soula and the Alsace Riesling, Riquewihr. Everything was delightful! We will be back. Make reservations, as we were lucky!
Receive the news in your emailbox
If you like this articles , you can subscribe to our weekly newsletter.