I love baking cookies, squares and pies and so for me, many Holiday Season desserts have a no-guilt feel as you devour them. And one needs to be prepared for this guilt free season and you can be with just a few little suggestions on how to make all of those delicious bites of heaven. I have a few great ideas, tips and recipes to help you make it through the holidays in one piece, while holding your head high with homemade delectable goodies.
In France the traditional Christmas Cookie for many is the bredele, small biscuits from Alsace. The biscuits come in many shapes, sizes and flavors such as lemon, honey, and almond. The recipes dates back to the 14th century and became quite popular in the early 19th century, when cookie-cutters were introduced to French kitchens. Today, the biscuits are often made at home and stored in tin boxes to keep them fresh until Christmas Eve, when they are usually served with tea, coffee, or Alsatian wine.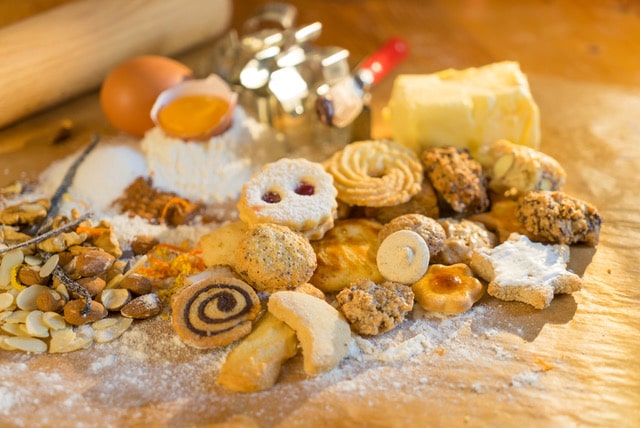 Meringues or meringues bises (meringue drops or kisses) are available most everywhere in Europe. Small drops of the meringue batter, consisting of whipped egg whites, sugar and an extract like vanilla or citrus, are piped out and then baked until puffed up and crispy. Light and airy, these meringue cookies come in a variety of flavours, colours and textures. They are a perfect way to use up leftover egg whites, and are easy to make. Think of your favourite tastes, citrus, lavender, use some herbs perhaps, basil lemon perhaps? Cinnamon and nutmeg? Passionfruit?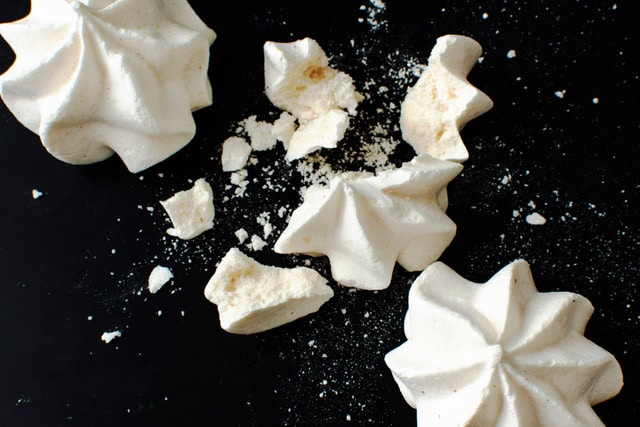 Sablés are also a French classic, but this time from Brittany, first produced in the 17th century for royalty. According to the story, it was named sablé in honor of the Marquise de Sablé. But it is also called a sablé (sand) because of its colour and crumbly texture, which is a result of large quantities of butter and egg yolks used to make them. The cookies can be flavored with a wide variety of ingredients, like chocolate, lemon or orange zest, lavender, and sometimes even savoury ones with cheese.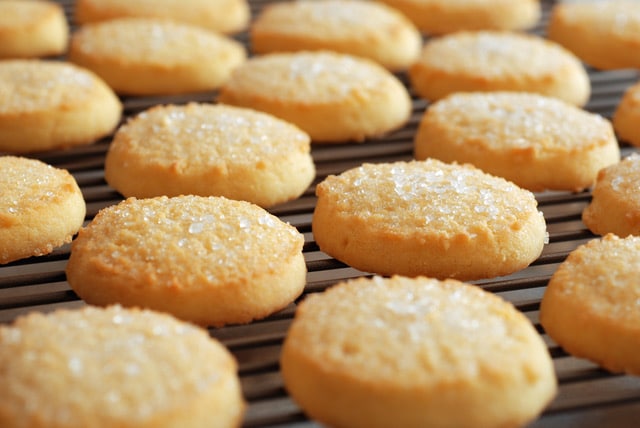 There are many other little treats like Madeleines, Cannelle Palmiers and Macarons (Macaroons) which are made from almond flour. My Canadian favourites are Peanut Butter Cookies, Sugar Cookies, Shortbread Cookies, Gingerbread Cookies, Oatmeal Sandwich Pies, Linzer Tarts, Apple and Lemon Pies and Butter Tarts. I am sure you have a few favourite family recipes, so make them, but perhaps add a few new ones to the mix, like Linzer tarts, meringues or bredele.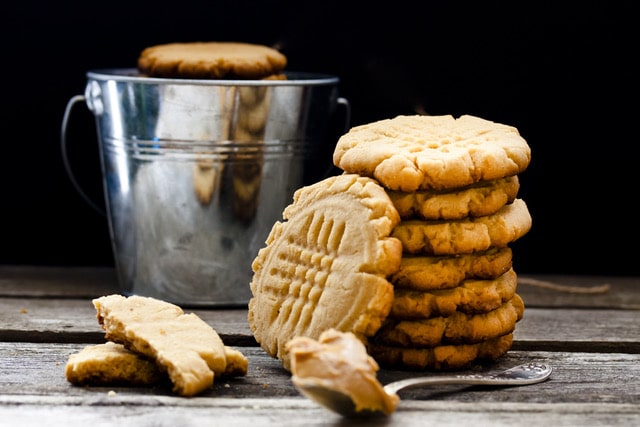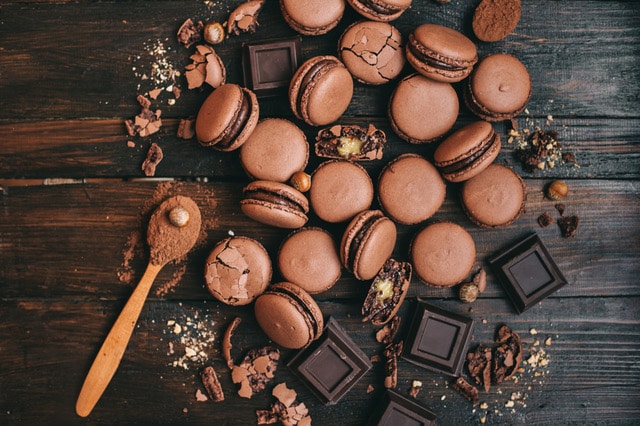 Top Baking Tips
Get pen and paper in hand and plan out your desserts, make a list and then collect all of the ingredients, so you are not running to the store mid-baking to pick up more eggs. This is the most common mistake, people are not prepared in advance. I can tell you immediately you need to buy milk, unsalted butter, eggs, flour and sugar to have in your pantry ready to go to make a last minute dessert for that last-minute invitation you received and you need to bake something quick. Perhaps also almonds, condensed milk and chocolate.
My most important baking tip is baked items generally freeze well, so you can freeze your cookies leading up to the holidays. If you make cookies six times over the month of December and either store or freeze them (depending on the cookie), you'll have loads for the holidays and will have gifts and food on hand for those friends who drop by unexpectedly. Just remember that once your cookies are cooled, stack and arrange them in an airtight plastic storage container with layers of parchment or waxed paper between the layers. If you have a large freezer, freeze the cookies flat on baking trays and then place them in plastic containers. Label them. When ready to use, thaw for 2 hours on the kitchen counter on a plate. You can always warm them in a semi-hot oven (160°C/ 310ºF) for a few minutes. But mostly, I just let them thaw on the counter in the morning and they are ready to go for the evening. If you find they become hard to quickly, place a slice of white bread in the container and overnight, they'll become soft and chewy again in the morning. Other great tips are:
The best chocolate contains only cocoa butter and no other fats. Read the label; if the chocolate contains vegetable oils, it isn't the best quality chocolate you can buy. Check out my blog on chocolate for further information and buy fair trade chocolate.
Stop opening the oven while baking. This is such a common mistake for beginner bakers. Opening the oven door lets heat out and changes the air pressure of the baking environment, which will affect what you are baking. If you must look, use the oven light or a flashlight, but keep the door closed until the minimum baking time has passed. I do however; rotate my baking once during cooking for even results.
Understand your stove and all of its functions properly.
Always make sure your oven is completely preheated before you bake. Placing cookies, dough or batter in an oven when the temperature is still changing will harm them and impede browning, rising, or result in under or over-cooked centers. Also always use parchment paper or a Silpat sheets (nonstick baking mat), it insures even cooking and stops overbrowning. Do not cook directly on metal sheets.
Pies like cold ingredients and cakes like warm ingredients. For the best pie results use cold butter and ice-cold water (I actually put ice cubes in mine), this will help your pies be crispy and light. For cakes, make sure all the ingredients are at room temperature, including your eggs, which frankly can be stored on the counter permanently. If you need to warm cold eggs, place them in a bowl of warm water for 5 minutes. Unless a recipe specifically says so (like pie dough), all ingredients should be room temperature. Gather your ingredients on the counter for 60 to 90 minutes before you start baking.
Do not use the microwave to soften butter or cream cheese. The high heat of the microwave will usually over-soften these items or even melt them, resulting in baked goods that spread out too much or a batter that is too thin. Give your butter and cream cheese a good 30 minutes to one hour to reach room temperature for optimum mixing. To speed up the process, cut the hard product into small pieces and leave them on a plate on the counter. They should be soft in about 20 minutes.
Use fresh ingredients especially the spices. If you are using last year's holiday spies, like cinnamon or nutmeg, but new ones, as most of the taste will have dissipated, and this includes baking soda and baking powder. A great way to tell if the soda is off is to put a teaspoon in a cup and add a teaspoon of an acid like lemon juice or vinegar and see if it bubbles. Not a lot of bubbles use it for cleaning the tub and buy another for baking. For baking powder, again place ½ teaspoon in a bowl and add ¼ cup of boiling water. If it bubbles violently it is still good, little bubbles, and throw it out and buy another.
For the best results, always use pure vanilla extract, not imitation. I make my own with 12 vanilla beans and a bottle of vodka. Simply snip the ends of the beans and let them soak in the vodka for 30 days, and voila, perfect vanilla extract at a fraction of the price. It makes a huge difference, is half the price and can be used in cocktails too!
A pinch of salt brings out the flavors in sweet baked goods; so while we are all trying to reduce our salt intake, don't scrimp on it in your baked goods. However, you must use unsalted butter for baking or better yet use European-style butter, which has a higher amount of butterfat to water and starts with the best quality cream.
Baking is an exact science. The most important thing is to read the recipe in its entirety, before you start baking and follow it correctly, especially the first time. Measure all your ingredients carefully, using a glass measuring cup for wet ingredients and regular cups and teaspoons for dry ingredients. Many bakers can "wing it", but I do not recommend doing so as it raises the chance of making mistakes that won't taste great and waste your precious time.
Sifting is important, but you don't need always need a sifter. I use a wire mesh strainer and two bowls, but you can also sift flour in a bowl with a whisk.
Never crack an egg directly into the mixing bowl, always do this is a separate smaller bowl. This way if you get some shell in the egg, use another shell to scoop it out. Eggshells are like magnets for each other and they are drawn together. It will also prevent you from opening an egg into your batter only to find that it has gone bad. Also not that when a recipe calls for a egg, it means a large grade A egg. As well, when a recipe calls for milk, it is homogeneous milk, not skim.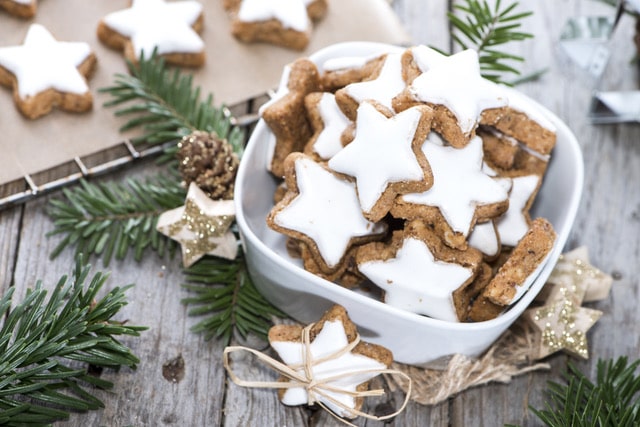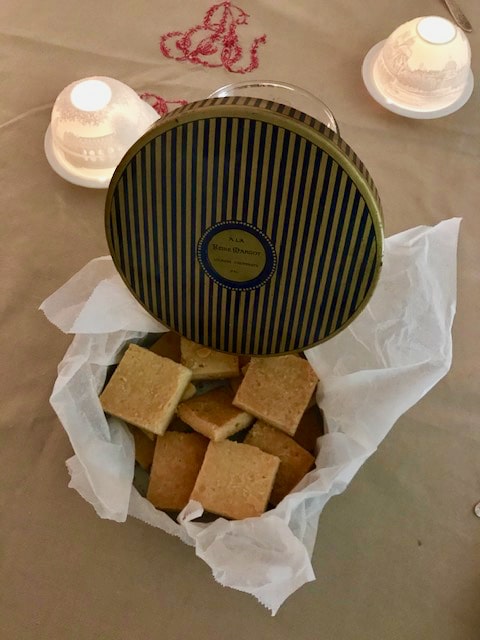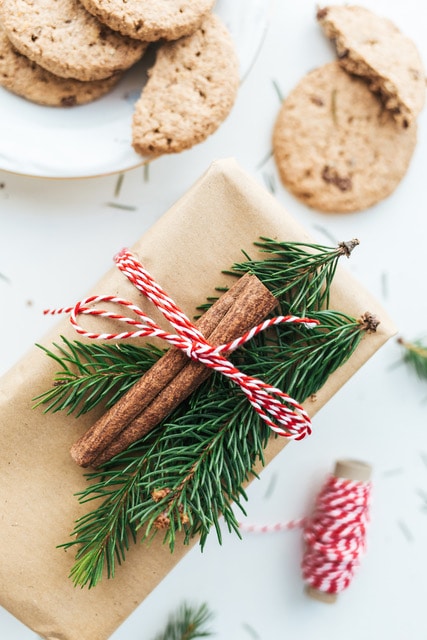 Wrapping your the cookies or squares is another important step, and it is easy as ever. Simply buy clear bags, stack the treats like a tower and top it off with a bow. You could also go more eco-friendly and wrap the cookie tower in a beautiful linen dish towel. Alternatively, I collect antique metal containers all year long and find them usually for under 10€. I place the goodies in waxed paper or parchment and then wrap the tin in a bow. The recipient gets a great homemade treat and a little addition to their kitchen.
There is also nothing wrong with using online services to assist you in your baking and gifting needs, especially if this is something you are doing within a business environment. Two of my personal favourites in the United States are Good Karmal and Dancing Deer. Here you will find the most delicious variety of mouth-watering caramels, which can have your logo and/or message printed on them. Each one comes with a message or uplifting quote. I order a box and scatter them in any gift baskets that I make, along with origami stars. The other company, Dancing Deer, sells an assortment of cookies, brownies and sweets, and again they deliver right to someone's door. Delish!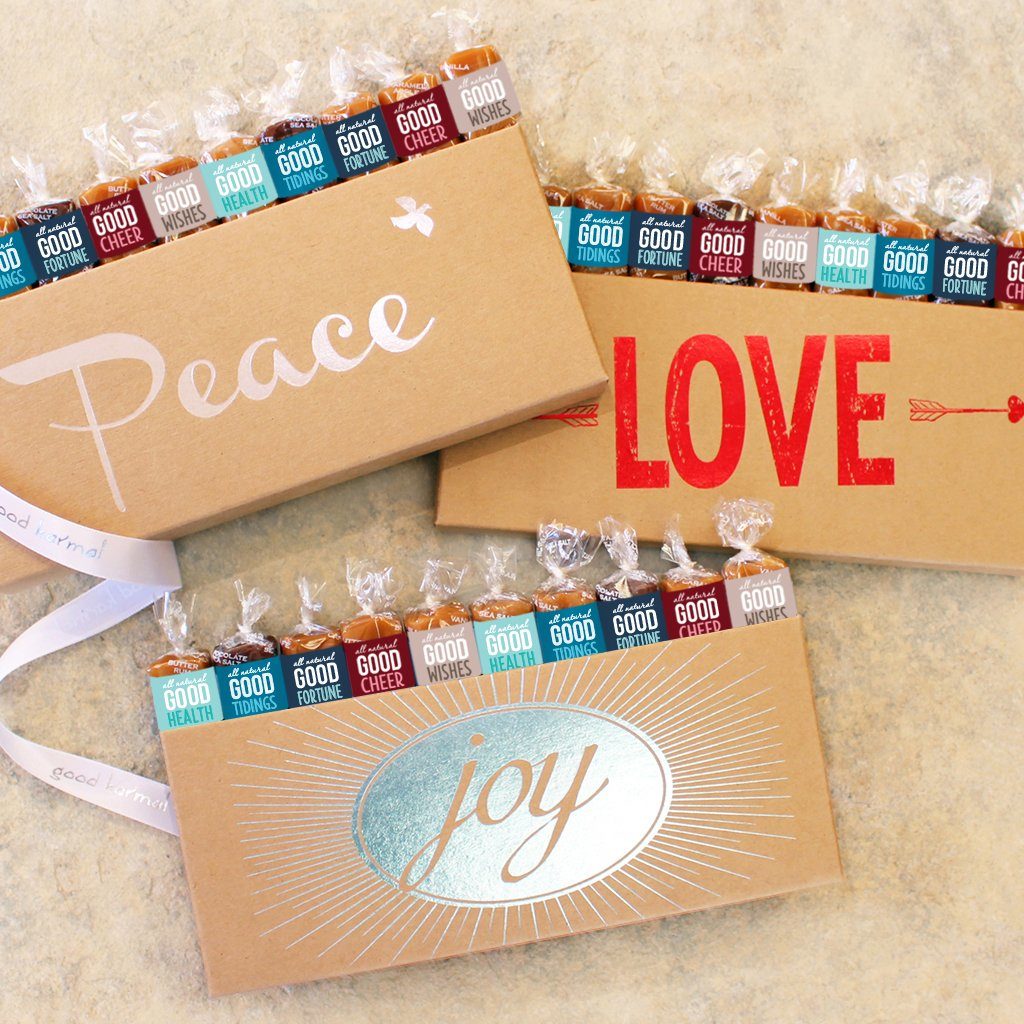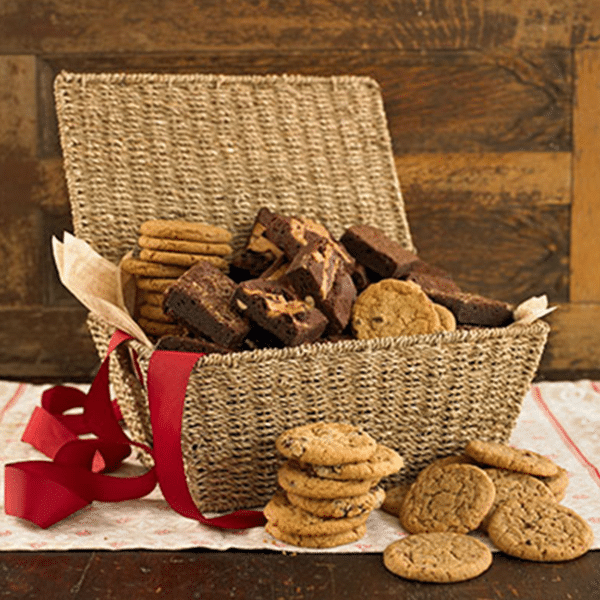 In Canada, there is The Finer Cookie Company run by Montrealer Kimberley Roberts. Excellent food and she ships all over North America. My most favourite shortbread baker is a dear friend, Peggy, owner of Gryphon Bakery on Monkland Avenue in Notre Dame de Grace. Peggy makes the most mouth watering shortbread and scones in the world. Sweet Flour located in Toronto is another one that I have used for years for many of my clients needs. In the United Kingdom there is of course Waitrose and M&S, and Harrods. In Scotland, the best shortbread is made by Chrystals Shortbread Company.
Getting your holiday baking done and out of the way will leave you more time to spend with your friends and family during the holiday season. If you make just one or two desserts every week between now and the end of the month, you will have up to 6 to 8 items ready to go for gifting or treat your guests with homemade delights.
Vivre ma France,

Receive the news in your emailbox
If you like this articles , you can subscribe to our weekly newsletter.