In these times of being in quarantine, it is important to do things that bring you joy and calm. Everyone can have added joy in their lives right now, you just need to create it. Many of us have been in quarantine for a month, and for sure we're all a bit Netflix-ed out by now, and likely to be spending another month in our home. As an event planner I've spent years creating happy and creative environments that people love. It's so important to have a place you love in your home allowing you to both relax and create. I know people making their own sourdough bread, kimchi or making their own cheese. I've been growing greens, baking pies and eating vegetarian Korean food with my husband. Everyone is unique and an individual, so create your own path and plan. Do your own thing. So, pick and choose what you like from my list or create your own. And let me know what and how you are doing during this time staying at home.
Colour block your books. Many of my friends who large numbers of books complain to me when I say this, but books look great on the shelf when they are place in groupings of the same colour. Another way to do this is to turn the books, so the binding is against the back and all the page colours are showing. Now that we are talking about books, remember you have all this guilt free time to read your favourite books. Perhaps you could read the top 100 books or the best books of the 21st century, in your language/country of choice. Don't think you need to read them all, I would suggest 4 would be a great number to have finished by the time quarantine is over.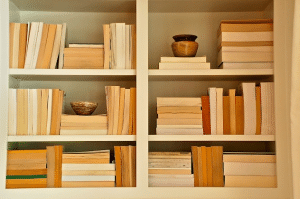 Make art. I recently spent a few lovely afternoons decoupaging old boxes and creating new little pieces of joy to add to my décor or to give to friends. Paper, scissors, glue and you are ready to go. Like colouring, it is a great way to de-stress yourself. Grab your pencils or brushes and get your inner artist on! We all have creativity inside of us. Don't have paint or pencils? How about origami? I've made origami stars for years to decorate the Christmas tree, tables and decor for parties. Here is a tutorial to make an origami star in 1 minute. Trust me, it can be done. My blog next week will be all about how to decoupage. Below is a example of one of the boxes I've made.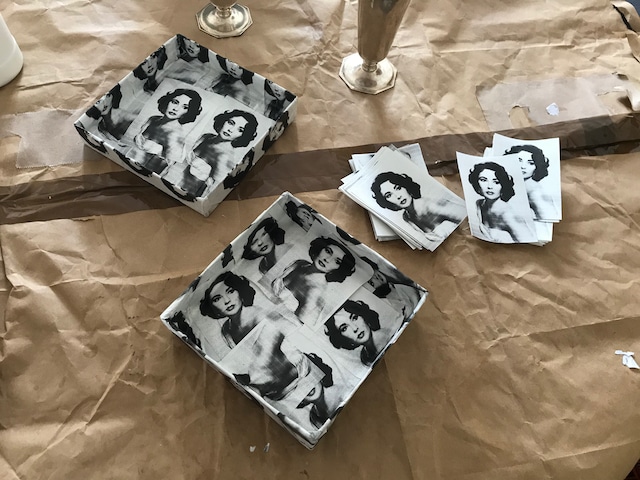 Groom and repot your plants. All plants, especially those in indoor pots need to have new soil every year or so. Here is a quick step by step process. Keeping in mind, you don't need to necessarily get a bigger pot, ust change the earth so it will grow better.
Lightly water the plant.
Remove the plant from it's old pot.
Prune the root ball and untangle old roots.
Whether you keep the same pot or use a bigger one, verify the pot has good drainage pebbles or cut old plastic pots into 1 inch pieces and place at the bottom, then cover the drainage holes with a porous material like a coffee filter.
Layer soil in the new pot (add any fertilizers if you have them)
Place the plant in it's new pot.
Place fresh soil all around it, pack it down firmly, then water it lightly.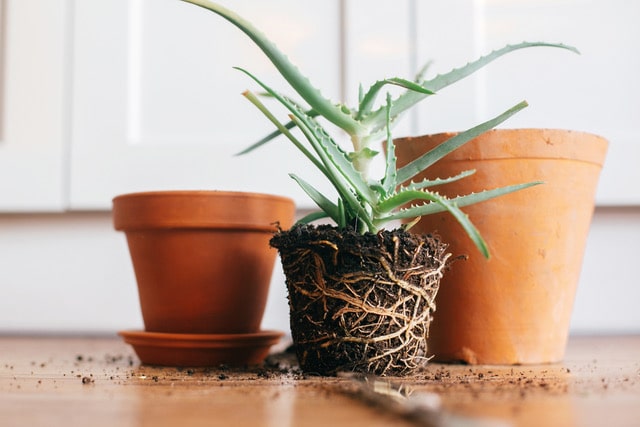 Cursive Handwriting. Nothing is better than a handwritten note or card except one with beautiful penmanship. My mother made me practice my handwriting as a young child which lead to me writing in calligraphy. Something I still use today. So, practice your own or alternatively teach your children how to do this. It is shocking, but in many countries, cursive is no longer taught in schools. There is no better gift than a handwritten note.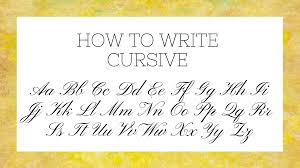 Exercise. Being in quarantine physically and mentally can be hard, so exercise and move. If you are sporty person, you already know what to do. But for those of us who are not, try yoga and low intensity workouts. You can easily find videos online to help you accomplish this. Alternatively, put your running shoes on and go for a brisk walk. The key is that you need to build a sweat. Once you have started sweating, continue for another 20 minutes. This will help keep the extra pounds off your body.
Hold virtual dinner parties or have apéro with your friends. Quarantine should not stop us from connecting. While we may not see each other in person, we can on video. Set up a time to chat, enjoy a bite or have a drink with your friends. If you cannot video, call people or write emails to your friends. Tell people how much they mean to you and how much you love them. There is no better time than now, when many of us are feeling isolated and alone (even in families) to hear how important someone is to you and your life. Cherish your loved ones.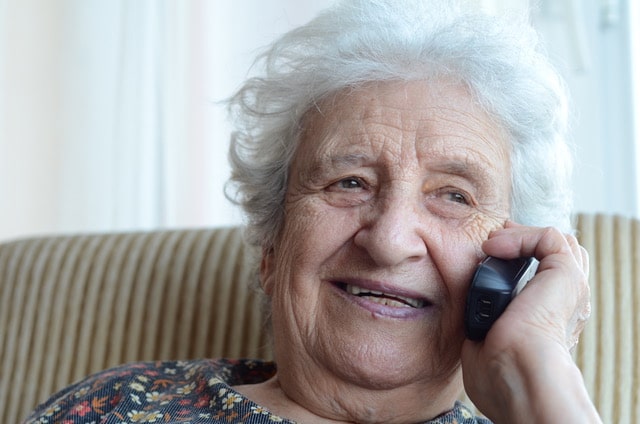 Don't spend the day on Facebook. You'll only be more tense and more upset. Instead, limit how long you will spend time on social networking sites to say 30 minutes maximum. Limit the news as well. Select one or two places to get your information and again set time limits for watching or reading the news. 30 minutes is also a good number here.
Play online games. One of my favourite things to do at home is to play online scrabble. It's free, easily accessible and a lot of fun. The link is here. I'm online a few times a week.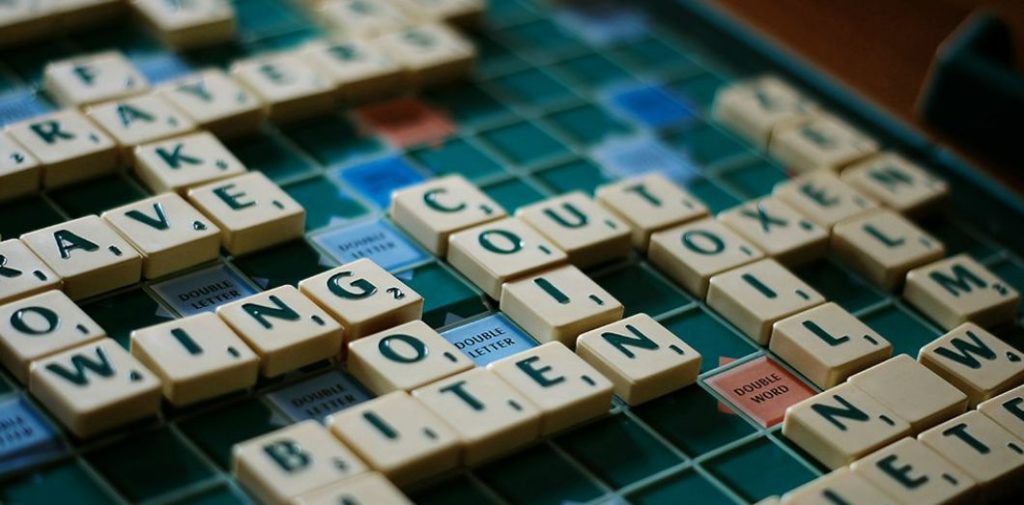 Use your computer as a window into something much better than social networking sites. France is an incredible vacation destination that you should consider for your future travels. In the meantime, you can experience la vie en rose by taking virtual tours of the world's greatest monuments. Go onto Youtube and search for your favourite places. Many have virtual tours. You can also read about my experiences living in France. I've written over 75 blogs now in the past two years and have enjoyed every one and every moment. From how Red and White wines, and Champagnes are made, to visiting French Royal Chateaux like Le Louvre, Versailles, Fontainebleau and including favourite Chenonceau, as well as how to entertain along with French cuisine and recipes galore.

For those of us that are wishing to make our homes a little more organized, consider the following projects. Laundry Machine Deep Clean. First you need to clean the inside of the washing machine. Add two cups of white vinegar to detergent dispenser and run it through a complete cycle. Run another cycle at the hottest water temperature, this time adding one-half cup of baking soda to the drum and no vinegar. Remember do not combine vinegar and baking soda as it will create a frothy explosion like a mini volcano and damage your machine. Once the machine cycle is finished, wipe down the drum of washer with a damp clean cloth. Once the machine has been cleaned, then do a deep clean of your duvet cover and sheets. Place them in the washing machine with a ½ cup of baking soda, sprinkle on top. Add your normal amount of detergent. This is also great for towels and clothing that smells old and a little moldy. For the duvets, most need to be dry-cleaned but a great freshening trick is to hang it out on your clothes line or from your window in the fresh air. If you love ironing, like me, one can also iron your tea towels, pillow cases, duvet cover and sheets to give a crisper clean affect. Your bed will feel like a crisp sheets in a fine hotel room in no time.
Clean out your closets. In the first week of being at home, I immediately went straight to our closets and started going through everything. I first started with shoes, then moved onto accessories, then finally the actual clothes. I eventually organized everything by colour for easy access. While I understand the notions of Marie Kondo, I fall into the category of clothes horse and pack rat. When I do give things away, I create two groups. Those things that my friends would like and those things I will give to charity. Place these things in bags and distribute once the confinement is over.
Deep clean one room either every day or every week. Spend an hour or two cleaning under the furniture, under the carpets. I find that removing anything breakable from the room first is a good idea. Place a damp cloth on a broomstick and wipe the corners of the ceilings down. Vacuum furniture, pillows, etc. This also could be a good time to rearrange the furniture. When I am ready for a big room reorganization, I first draw a floor plan before moving heavy furniture to limit the number of times we need to lift.
Polish the Silver using boiling water. There are many ways to do this with chemicals and a lot of wiping, but the easiest is to use the baking soda, hot water and tin foil. That's right, no scrubbing required. Line a plastic bucket or bowl with tin foil. Place silver pieces in the bucket, Sprinkle between ½ and 1 cup of baking soda over. Pour boiling water over the silver pieces, ensuring that you cover everything and that the silver is submerged. Watch as the water foams and bubbles. Wait 10 minutes. Using a wooden spoon or tongs lift out cleaned silver. Wash with warm water and soap. Dry with a cloth and then buff if need be with a soft cloth. For more information about silver, check out my blog on silver.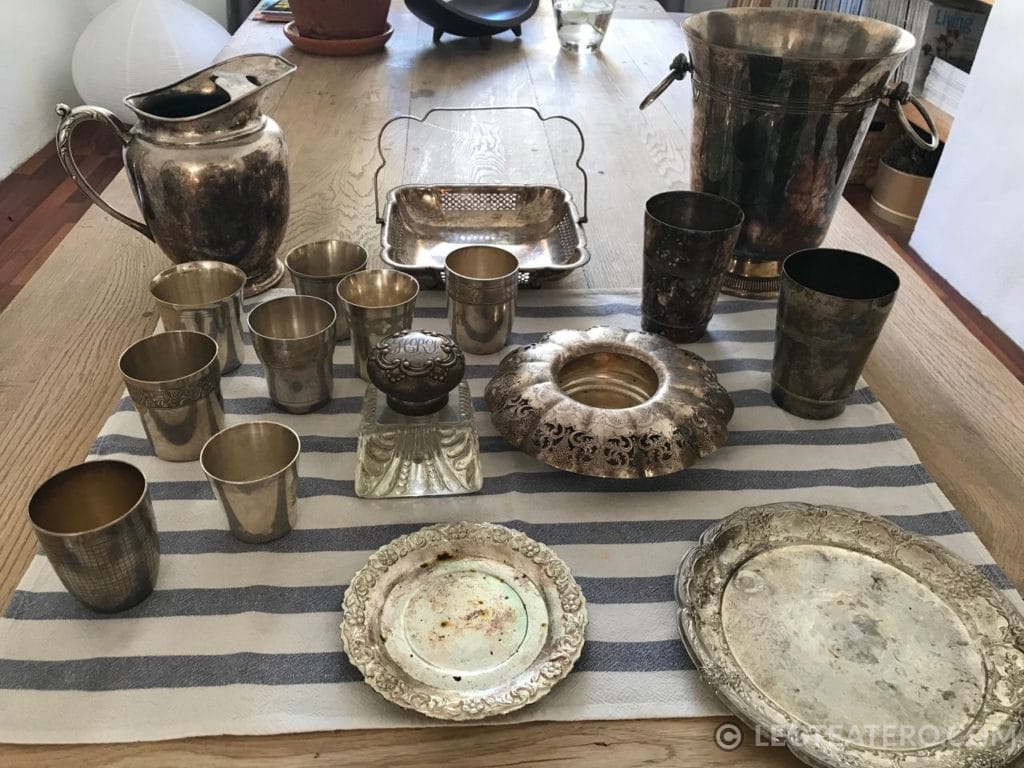 Alphabetize your Recipes. I was visiting a friend recently and discovered his recipes were in a binder all alphabetized. I cannot believe I never thought to do this. Take two binders, one for sweet and one for savoury recipes and two set of tabs with the alphabet. You can also make your own tabs easily using clear tape and post-a-notes. When I finally put everything in order, I quickly realized that a portion of my recipes were doubles. In fact, I had 4 copies of the same recipe. You'll be ever so happy when searching for recipes to find them in seconds with this quick little trick. Thanks Dr. Rob for this one!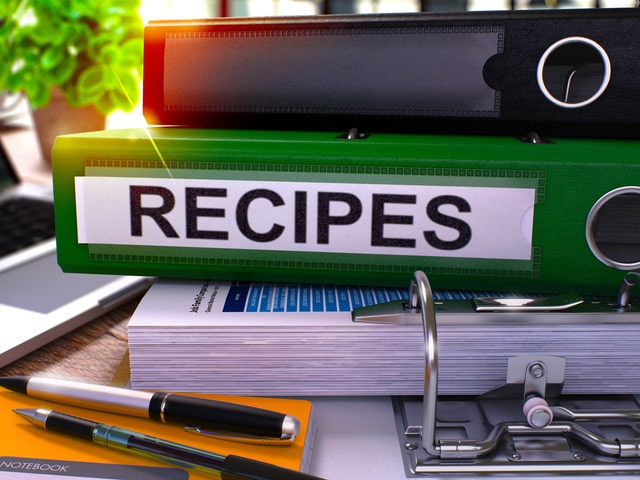 Expand or perfect your cooking repertoire. Now use that newly organized recipe binder or go online and follow your favourite chef and make food. This is the time to master that difficult recipe. For those who are cooking-challenged, now can be the time to change that. Begin with simple things like hummus, scrambled eggs with cheese, soups or brownies. Try making a marinara sauce, or breaded chicken tenders or even a western omelet. I wrote a blog on the top recipes you should be able to make. Most of them are quite easy. Check it out here. If you start cooking a little bit with some success, you will feel more inspired to cook more.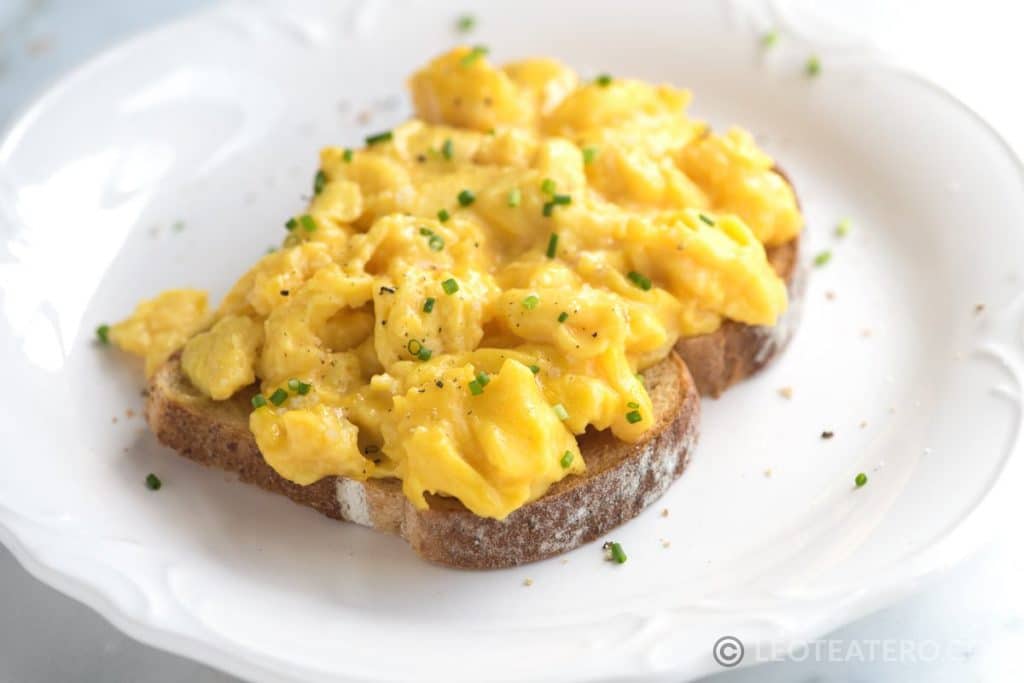 Write restaurant reviews of your favourite restaurants and hotels. I write reviews regularly on Trip Advisor for my yearly restaurant lists. It's fun, easy and you can support your favourite places who might be in financial difficulty right now. Your review is free advertising for them. You can even take it further, if you are able to, order food delivery from your favourite place.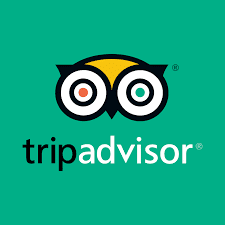 Thank health workers who you know. Email them, text them and tell them how much you appreciate their work. These people are putting themselves on the line and in some cases are quarantined from their families too. Let them know it is not gone unnoticed. Make them food, ask if there is anything you can do to help them and or their family. Many of them are separated from their family for risk of passing along the virus. Here in France, every night precisely at 8pm, the entire country applauds the work of our health care professionals. It feels great because you finally see you neighbours, albeit on the balconies or in their windows. We are all in this together. Solidarity is a good thing.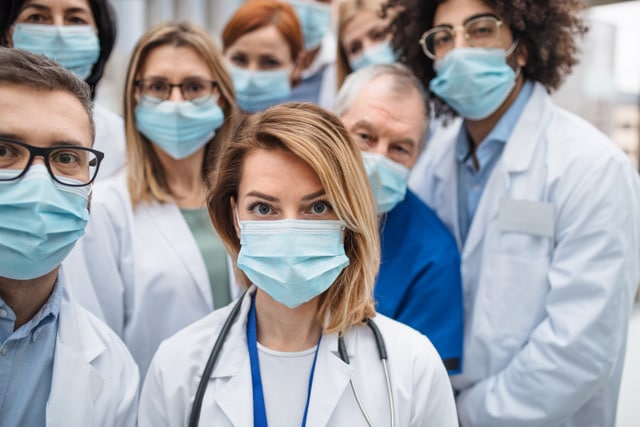 Pay it forward. There was a great movement a few years ago about "paying it forward", meaning do something for someone else without expecting anything in return, including a thank you. Call your older relatives and neighbours to chat. Make food and leave it at the door of your confined friends or family. Make jam, muffins, soups, anything. Help people order food online from their grocery stores. Many people do not know how to do this and the service exists, so why not help someone out?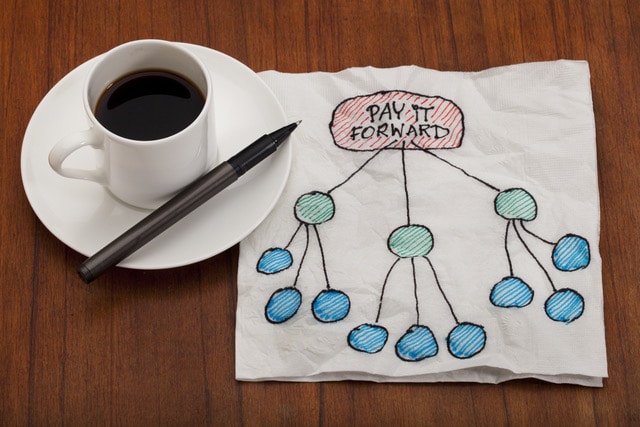 Stay safe, #stayathome, and we will get through this together.
Vivre ma France,

Receive the news in your emailbox
If you like this articles , you can subscribe to our weekly newsletter.